Archived News
Rep. Queen announces reelection bid
Wednesday, November 13, 2019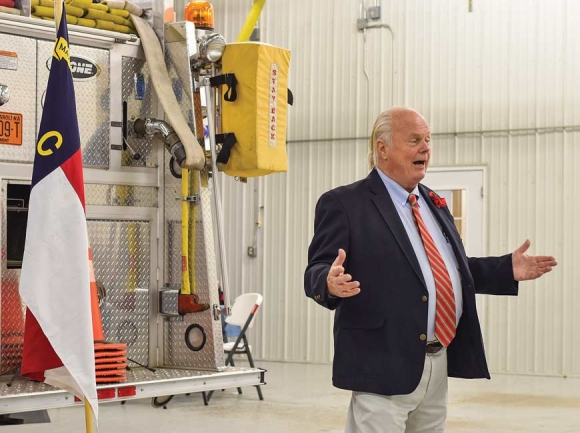 Waynesville Democrat Joe Sam Queen addresses supporters at a firehouse in Jackson County Nov. 9. Cory Vaillancourt photo
For the tenth time in his long history of public service, Waynesville Democrat Joe Sam Queen announced his intent to represent his home county of Haywood in the North Carolina General Assembly.
"Joe Sam Queen is a fierce advocate for the people of Western North Carolina," said Buncombe County Democratic Sen. Terry Van Duyn, who introduced Queen at the Balsam-Willets-Ochre Hill Volunteer Fire Department in Jackson County on Nov. 9. "Especially on health care, especially on education, especially on the things that we care about. He is in the trenches every day. I love him dearly and I'm going to do everything I can to help him get re-elected."
For the fifth election in a row, Queen will face Bryson City Republican Mike Clampitt. Since 2012, the two men have carried on Western North Carolina's longest running political feud.
Queen defeated Clampitt in 2012 and then again in 2014, but in 2016 Clampitt prevailed as part of the conservative surge that helped propel President Donald Trump to victory.
In 2018, Republicans suffered defeats across the nation and across North Carolina. That election was viewed as the first real test of Trump's electoral influence since taking office in 2017 and saw his party lose its majority in the U.S. House. Clampitt was also swept out of office that year by Queen, who helped break a veto-proof Republican supermajority in the N.C. House.
"Our strategy was to break the House supermajority in 2018 and then continue that momentum with the majority in 2020," said Myrna Campbell, chair of the Haywood County Democratic Party. "We also unexpectedly broke the supermajority in the Senate, which we weren't expected to do, so there was a lot more momentum there than what we really thought."
Last week, voters in so-called "off year" states cast further doubt on the approval of Republican candidates under a Republican president now embroiled in an impeachment inquiry. For the first time in 26 years, Democrats in Virginia took full control of the legislature under a Democratic governor, and Kentucky Democrats appear to have unseated their Republican governor.
"I am feeling really good about 2020," said Van Duyn, who will forego re-election to the Senate in order to run for lieutenant governor.
A recent court-mandated redraw of some state legislative districts didn't affect Queen's 119th District, but it does favor Democrats somewhat — so the question on many minds in Democratic circles is now whether swing state North Carolina will skew left in 2020, like Virginia just did.
"Well, I think it's possible," Campbell said. "But from what I've read recently, Trump is still polling fairly well in North Carolina and we have a tradition of going Democrat with the state and Republican with the presidential races. I think for this election, definitely there's some momentum within the Democratic Party. We're working to make sure that we do the same thing that we did in 2018 — have a Democratic candidate running for every seat in the North Carolina General Assembly."
Campbell said Democrats haven't yet identified a candidate to oppose Burnsville Republican Rep. Michele Presnell's presumed re-election, nor have they found one to contest Rep. Kevin Corbin's bid to replace fellow Franklin Republican Jim Davis in the Senate, so keeping Queen in the House remains critical for western Democrats.
"It matters," Queen said. "For the citizens of North Carolina to have a quality education, expand Medicaid for 7,000 or 8,000 in my district to have health care, it matters. To protect our environment, our waters, our beautiful mountain landscape, for jobs in broadband, it matters. That's why I'm running, because you got to work to get this done."