Archived News
Macon commissioner hopes to succeed Rep. Corbin
Wednesday, November 13, 2019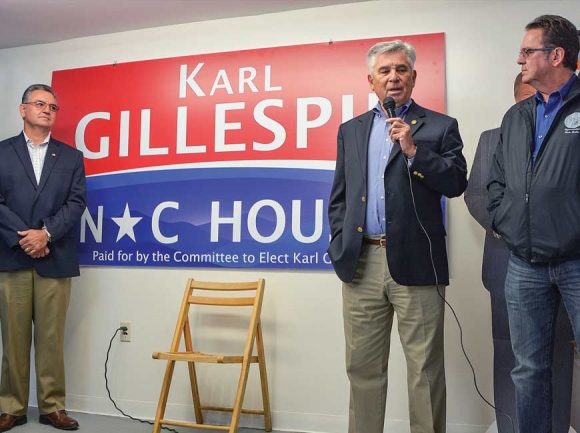 Macon County Commissioner Karl Gillespie (left) looks on as former Macon commissioners Jim Davis and Kevin Corbin (right) introduce him. Cory Vaillancourt photo
Although Franklin Republican Rep. Kevin Corbin has decided to run for the state Senate in 2020, Western North Carolina Republicans are intent on keeping his House seat out of Democratic hands.
"We're very strong here in Macon County," said Carla Miller, chair of the Macon County Republican Party. "We have a three-to-one edge with our voters, we're very conservative and we will definitely re-elect our president."
They'll also likely send another Republican to Raleigh to represent the 120th District, which consists of Cherokee, Clay, Graham and Macon counties, and they already have someone lined up for the job.
"He has an outstanding track record, he's a great businessman, and he's with the right team," Miller said of freshman Macon County Commissioner Karl Gillespie. Last Saturday, Gillespie became the first GOP candidate to announce a run for Corbin's District 120 seat, and launched his campaign with a slogan created by his wife Janet — "Let's go to the House!"
A fifth-generation resident of Macon County, Gillespie was born and raised in the area but left for almost two decades to work across the globe in the communications industry. He returned in 1999, and with his wife founded National Communications, a turnkey low voltage contractor specializing in everything from fire alarms to fiber optics. He's also a cattle rancher.
"I think he'll make a strong candidate. It's very easy for folks down in Raleigh and in the eastern part of the state to forget about where we are. To them, we're a piece of North Carolina that Rand McNally cuts off and sticks under Charlotte," said Corbin. "I have gone down to Raleigh with a passion for Western North Carolina and pushed for these counties. It's not about politics. Forget about the R's and the D's. It's about our district, our people and getting the resources we need from the state, whether that be education money or internet. Those are two areas I've worked hard on, and I think Karl will continue that fight."
In September, Sen. Jim Davis, R-Franklin, announced that after a decade as a Macon County commissioner and a decade as North Carolina's westernmost senator, he'd retire from public service.
Davis' announcement was followed immediately by one from Corbin, who after two decades on the Macon County School Board, six years on the Macon County commission and four years in the House will seek Davis' Senate seat, with Davis' endorsement.
Gillespie, in turn, will finish his first term on the Macon County commission right about the time he hopes to follow Corbin to the state legislature.
Corbin said that as an elected official he couldn't formally endorse Gillespie — other Republican candidates may emerge, and parties are supposed to remain neutral in the primaries — but he did say that he supports Gillespie's effort to succeed him, and would donate $10,000 to the House Republican Caucus for use in races as they see fit.
If successful, Gillespie would further bolster the reputation of the Macon County Commission as consistent cultivators of influential Raleigh Republicans.
"I think that's because of the talent pool that's here," said Davis. "We have excellent talent in the other counties as well, so I don't want to denigrate them at all, but we just have really good people out here in the west who are interested in state government, and that's a good thing."
Like the moderate Corbin, Gillespie isn't afraid to buck members of his own party with his support for Medicaid expansion.
"Yes, I'll be following Rep. Corbin on that," said Gillespie. "I think that that there's a middle ground that we can strike in that regard, because we've got to get off dead center and move forward with that."
Also like Corbin, Gillespie understands the effect of high-speed internet — or, rather, the lack thereof — on his rural district's economy.
"One of the biggest issues that we have, in my mind, is lack of broadband," he said. "That's kind of my background. I understand it very well, so I have a particular interest in that. You will see me being very active, or as active as I can be, in regards to broadband expansion."
Corbin has the distinction of winning every District 120 race he's entered, including primaries, with at least 72 percent of the vote. In 2016, Corbin's counties supported President Donald Trump with more than 75 percent of the vote, and in 2018, they supported Asheville Republican Congressman Mark Meadows with more than 82 percent.
No Democrat has yet announced a bid to oppose Gillespie, but one name frequently mentioned — Franklin High School teacher and football coach Bobby Kuppers, who lost to Davis by 20 points in 2018 — said he wasn't planning on it.