Archived Arts & Entertainment
Folkmoot 'Mountain Memories' series
Tuesday, November 12, 2019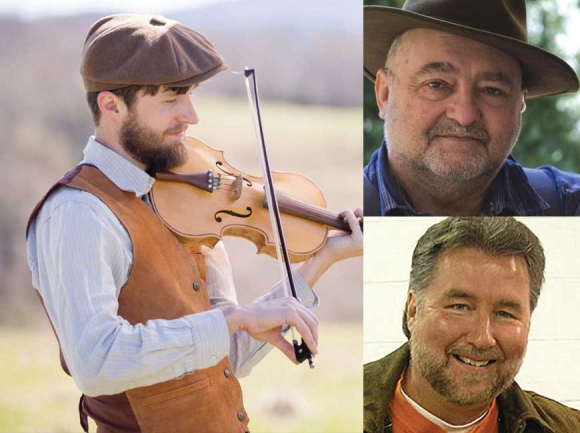 William Ritter (left). Bobby McMillon (top right); Bob Plott (bottom right).
Folkmoot is proud to partner with the Mountain Memories organization and Waynesville's own Bob Plott to launch the Mountain Memories performance series at historic Queen Auditorium on the Folkmoot campus.
The series opens with "Mountain Memories No. 1: A Hazelwood Gathering" at Saturday, Nov. 16, at the Folkmoot Friendship Center in Waynesville. Doors open at 6 p.m. with food and beverages available in the cafeteria. The "Mountain Memories" show starts at 7 p.m. in the auditorium.
In the spirit of radio variety shows of years past, each "Mountain Memories" performance follows a loose theme, but together they promote traditional Southern Appalachian culture in an accurate and positive way through music, dance and storytelling.
"Mountain Memories No. 1: A Hazelwood Gathering," features a focus on the history of the town and historic Hazelwood School, along with a "passing the torch" theme of sharing traditional culture from generation to generation. The evening begins with a guest presentation by local historian Alex McKay. Heavy hors d'oeuvres are included in the ticket price in the center's dining hall, during which McKay will speak about the history of the town.
The event then shifts to Queen Auditorium, just down the hall, where Waynesville's Bob Plott will serve as Master of Ceremonies. The Plott family has deep roots in Haywood County, and Bob is an award-winning historian, author and educator, as well as a breeder of Plott Hounds.
He'll guide guests through a program that includes a talented lineup of mountain artists:
• North Carolina Folk Heritage Award recipient Bobby McMillon has performed broadly as a singer and storyteller. He's appeared at the Smithsonian's Festival of American Folklife, the A. P. Carter Memorial Festival, national storytelling conferences, and the Festival for the Eno, where the stories and music of his family members from Cocke County, Tennessee, and Yancey County found broad appeal. McMillon will present traditional ballads, stories and string tunes.
• Bakersville native and Western Carolina University graduate William Ritter plays banjo, fiddle, guitar, and other "stringed things." With interests that lie in the direction of old apple trees and mountain humor, Ritter will share the stage with McMillon for traditional ballads.
• Aaron Ratcliffe is a native of Haywood County's Big Stomp Mountain. A champion flatfoot dancer, superb singer, guitar player and fiddler, he now teaches at Appalachian State University. Ratcliffe will perform traditional music and dances of Haywood County, sometimes accompanied by Ritter.
• Cherokee storyteller and musician Matthew Tooni, a native of Painttown community on the Qualla Boundary, is an award-winning recording artist and a member of the Medicine Lake Traditional Dancers, a heritage dance group descended from the Raven Rock Dancers, founded in the 1980s by Walker Calhoun.
• As a teller of Cherokee stories for more than 30 years, Kathi Littlejohn is reaching a new audience with her YouTube video series "Cherokee History & Stories: What Happened Here," in which she visits important sites from Cherokee history whose significance is in danger of being lost to time.
"My biggest hope is to tell the stories and protect those sites," Littlejohn said. "We literally go past them every day. I wish that people would visit the sites, feel what happened there, and then use the stories in their own lives. I think that anybody that realizes something happened right there gives them a deeper understanding of things that are happening now."
Parking is available in front and behind the historic Hazelwood School for all Folkmoot events. Tickets are $20 and available for both events at www.folkmoot.org.
Folkmoot's year-round programs are supported by Vincintus Haywood, Town of Waynesville, the Mountaineer, VisitNCSmokies.org, The Smoky Mountain News, the Cherokee Preservation Foundation, Blue Ridge National Heritage Area and the Mast General Store.
Folkmoot is a nonprofit organization dedicated to celebrating many cultures in one community. The Folkmoot Friendship Center is located in the Historic Hazelwood School at 112 Virginia Avenue in Waynesville. Staff can be reached by phone at 828.452.2997 or by email at This email address is being protected from spambots. You need JavaScript enabled to view it..
A second Mountain Memories show, "A Mountain Christmas" is scheduled for Saturday, Dec. 14 at Queen Auditorium.