Archived Arts & Entertainment
Don't ever let life pass you by: Incubus roars through Asheville
Friday, November 08, 2019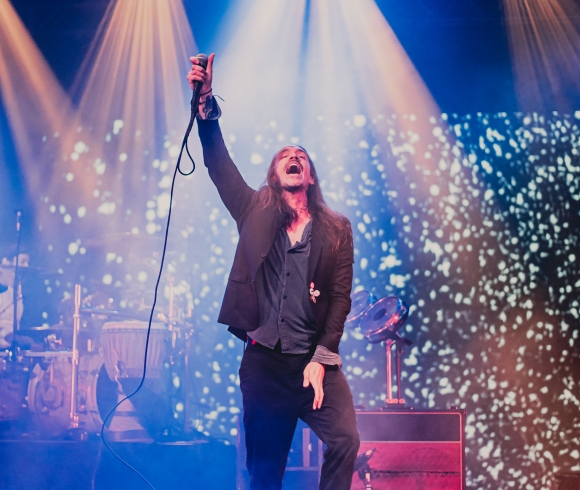 Brandon Boyd, lead singer of Incubus, onstage in Asheville.
Connor Burchett
With over 2,000 folks piling into the Thomas Wolfe Auditorium in downtown Asheville for Incubus on Thursday evening, those in attendance walked away from the gathering with way more than simply "hearing the hits."
Celebrating the 20th anniversary release of the California rock act's breakthrough album, "Make Yourself," the performance unfolded with a retrospective film being projected on the large backdrop behind the drum kit, the entire audience on its feet cheering along.
The short documentary was a collage of old footage taken by the band members backstage and on tour in the late 1990s for "Make Yourself." This was mirrored with a recent interview of the entire ensemble reminiscing just what that life-changing recording meant — to them and, ultimately, to the fans, too.
The film ended with a huge "Thank You" across the screen, the band immediately waltzing onstage and launching into "Privilege," the first track on "Make Yourself." Throughout the next hour or so, Incubus rolled through the entire 13-song LP, and in the exact order of the tracks.
Although one might have just approached this anniversary showcase as a way to see and experience a piece of your lost and forgotten youth, Incubus never once came across as a nostalgia act. They were clearly not going through the motions — this was a living, breathing and thirsty rock band.
Even when these songs were brand new a generation ago, there was a mature vibration to each tune, this thought-provoking lyrical aptitude and innovative sonic approach, which is something that has only translated to deeper meanings and intrinsic truths as time has gone along.
Diving into the album itself, "Make Yourself" would still be a hit record today. The same could easily be said about the other radio hits the group radiated over the crowd further into the gig ("Warning," "Anna Molly," "Wish You Were Here"). Incubus has always proudly worn its influences on its sleeve, never once shying away from its seamless blend of rock, hip-hop and folk stylings.
And don't forget to take into account the stats on Incubus following the release of "Make Yourself." Since 2001, the band has six Top 5 Billboard albums (and one #6), including three #2 and one #1. Single-wise? Since 2000, they have racked up 14 Top 10 rock singles, with 11 Top 5 tracks and four #1. In terms of record sales and radio play in the modern era, there aren't many mainstream rock acts with those kinds of numbers.
But, what was more awe-inspiring was the mere fact that Incubus came along at a time when mainstream rock bands were few and far between. With the 1999 release of "Make Yourself," most of what was popular on TV and the radio were boy bands and sugary pop singers (or cheesy, cookie cutter emo/punk groups).
This was 1999, five years after Kurt Cobain killed himself and two years before 9/11. Not to mention a time period before mass Internet availability/consumption and the advent of social media — this sweet spot of somewhat peace and quiet (and the usual adolescent boredom), as far as being a teenager in the United States was concerned.
Twenty years ago, it was a pretty special thing to have a real rock band play real instruments in music videos on MTV's Total Request Live (TRL) and on pop radio. And yet, 20 years later, it's still a special thing to have a rock band playing real instruments, especially in a modern era of electronica DJs, hip-hop, pop and country music.
What was so cool about Incubus in the late 1990s was that the people in the band looked like people that were at your local skate park or people that were in the back row of your middle or high school classroom. Real people. You could relate to these musicians that felt real things about real subjects that affected real life, and in real time.
Each of those songs on "Make Yourself" remain emblazoned on the walls of your heart and soul. These were melodies you had echoing from your bedroom stereo while making out with your girlfriend or boyfriend, the door opened a few feet to appease your parents. And now, the songs are safe havens to soak into amid physical places and mental spaces when the world maybe is a little to real and heavy to cope with.
It was pretty surreal to think and feel all these things during the Asheville tour stop. Lead singer Brandon Boyd's golden tone and carefree attitude remains completely intact, with his mesmerizing presence fully in command of the stage and the listener's attention. The same goes for the sheer power of guitarist Michael Einziger and Chris Kilmore on (the sincere lost art that is) the turntables.
But, it was also just as much about being genuinely present at the concert and "in the now" of the musical moment — as once the "new youth," onward into the realm of aging millennials. We've all grown up, and on both sides of the microphone.
Looking around the auditorium, it was a sea of well-earned wrinkles and emerging gray hair (or no hair), bills and responsibilities, growing families and lifelong friends, wives (and ex-wives), and yet we're all still here celebrating this music that brought us together — and in solidarity — some two decades ago.
Incubus was never about cherishing youth or being forever young, which can happen with bands one might adore as a teenager or adolescent. Incubus was, and remains, about being aware of fleeting time with friends and family (and within your own cosmic being) — of attaining and pursuing lifelong spiritual growth, and never losing that childlike wonder you came into this world with.