Archived Opinion
A sweet reminder of fate
Wednesday, November 06, 2019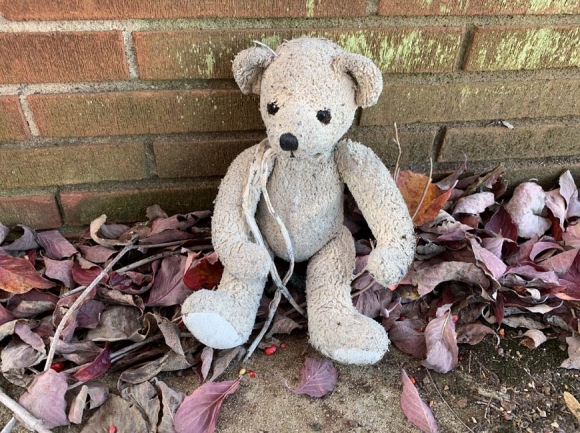 My two boys are children of divorce. That's a phrase I never thought I'd say. But then again, life never really unfolds in the way we intend. And when things go awry, we can only shift and adapt.
When the divorce happened, my primary goal was to soften the blow on my children. Their dad and I try our best to create structured routines and transitions so as not to upend their everyday norms and schedules. The boys have wardrobes at both houses, so the only items that go back and forth are sports gear, backpacks, lunch boxes and all their precious lovies.
I'm sure you had a lovey when you were a child, or perhaps you have a son or daughter who has one. Maybe it's a blanket or a doll or a monkey or a teddy bear. Whatever it is, the child relies on the comfort item when sad, sick or lonely.
Both of my boys have a small collection of lovies. For my older child, one of them is a well-loved worn little teddy bear named Savannah Bear. My sister, who is named Savannah, gave it to him when he was just a toddler and this bear soon became a favored stuffed animal. As my son grew, his other lovies became too bulky or baby-ish to take on a flight or long road trip. If he had to pick one, he'd pick Savannah Bear. She was small and easily fit in his travel bag.
When he came back from his dad's last week, I unpacked their stuff and the following conversation ensued.
Me: "Where's Savannah Bear?"
My son: "I don't think she got packed this time."
Me: "I definitely packed her. I always pack all the lovies if you stay with daddy more than one night."
My son: "I never saw her over there. Where is she then?"
Uh-oh.
I texted their dad to see if Savannah Bear was at his house.
Nope.
We both looked in our cars, in beds and under couches. Nothing.
I thought back to when we transferred their things. Their dad met me at my office. I was on a call while getting stuff out of my trunk. It was all a little chaotic. After thinking about the exchange, I convinced myself that Savannah Bear fell out in the street and was run over by a car or thrown in a dumpster. The following morning, after we'd realized she was missing, another conversation happened.
My son: "Maybe Savannah Bear slid under the drivers' seat in daddy's car."
Me: "Maybe. I'm just not sure. For some reason, I feel like she's going to be OK."
My son: "I hope so."
I prayed and pleaded we'd find her safe and sound. I know what it feels like to manage grief. After my parents' house fire, which destroyed every childhood relic I owned, and the death of my mom followed by a divorce, loss is a common feeling to me. But, it's one thing when I'm dealing with it and another thing entirely when I'm watching my son grieve. Granted, it's only a stuffed animal, but to a child, it's much more.
Their dad had been parked in the back lot of Massie Furniture when we moved items from one car to another so I started thinking maybe someone found the bear and turned it in to a nearby business. My plan was to walk around and ask business owners if they'd seen a small brown bear.
Early on a Monday morning, six days after she went missing, I walked around the empty parking lot at Massie's. My mind reflected upon the extreme rain and cold we'd had over the last week. I looked along the side of buildings and in shop windows hoping maybe a storeowner set her up on a ledge. No luck.
As I walked back through the parking lot toward The Smoky Mountain News office, something caught my eye, under leaves and jammed against a wooden beam separating two parking spots.
"No way," I thought.
I ran over and bent down and there she was. Wet, dirty, cold and covered in leaves but nonetheless, she was intact, even still had her ribbon around the neck. There were only two wooden beams in the entire parking lot and luckily, she'd fallen near one of them, as opposed to the open cement that covered 95 percent of the lot.
The feeling I had seeing her there is indescribable, and the look on my child's face when I handed him his bear was invaluable.
My boyfriend said it reminded him of those stories like Corduroy or Edward Tulane where stuffed animals have grand adventures before returning home to their rightful owner. Who knows? Perhaps Savannah Bear did come alive and experience downtown Waynesville for almost a week before she was found. I don't know. I'm just grateful she is OK.
Time really does fly. No one feels that as strongly as a parent of young children. My big boy will be 11 in January. It's been many years since he took Savannah Bear in his tiny chubby hands, but that stuffed animal has been by his side through good and bad, happiness and heartache. He'll undoubtedly grow less and less dependent on her, but she will always be important to him.
I know there are unbelievers out there but for me, when things like this happen, it solidifies my faith in a higher power and trust that goodness and light still exist.
Here's to many more years with sweet Savannah Bear.
(Susanna Shetley works with Smoky Mountain News, Smoky Mountain Living and Mountain South Media. This email address is being protected from spambots. You need JavaScript enabled to view it.)