Archived News
Annual Council focuses on language preservation
Wednesday, November 06, 2019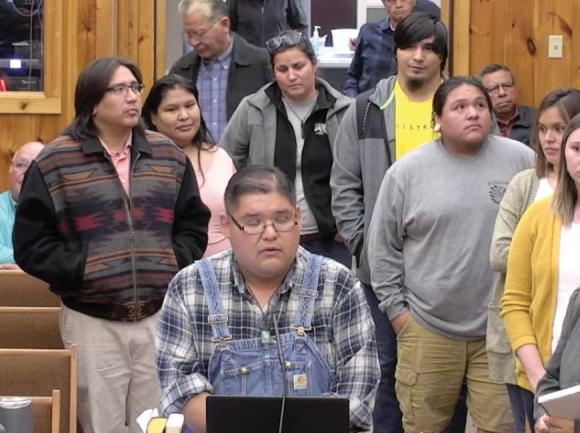 Surrounded by his fellow Cherokee language learners, Matt Tooni addresses Tribal Council regarding the group's request for $15 million in funding to support language preservation programs. ECBI image
In the wake of a June 27 joint resolution from the three Cherokee tribes that declared the native language to be in a state of emergency, this year's Annual Council sessions in Cherokee revealed language preservation to be a priority for tribal members of all backgrounds and political persuasions.
Occurring over multiple sessions held in October of each year, Annual Council differs from typical Tribal Council sessions in the higher frequency of meetings and the ability of any tribal member to walk in with proposed legislation for Tribal Council's consideration. This year, Annual Council sessions were held Oct. 14, 17, 28 and 31, with an organizational meeting on Oct. 7. During that time, Tribal Council passed four separate resolutions that, once ratified, will result in millions of dollars in appropriations to support Cherokee language programs.
"As it stands today, we are producing zero new fluent speakers," Amber Ledford, an adult language learner who co-sponsored a resolution seeking $15 million in language funding, told Tribal Council Oct. 28. "The average age of our living fluent speakers is 67 years old. Yes, we may have programs in place right now. But we need more. As it was announced through Tri-Council, we are officially in a state of emergency. So what do we do now? I hope every one of you guys up there have thought about that."
A ticking clock
Ledford submitted the resolution in conjunction with three other Cherokee language learners — Sharri Pheasant, Matt Tooni and Cree Rockwood — as well as Tribal Council Chairman Adam Wachacha.
As part of their appeal, the group brought with them a board bearing the names of all 205 fluent Cherokee speakers still alive today. They're aging, with an average of 19 passing away each year. Despite all of the money and energy the tribe has been pouring into language preservation, not a single fluent speaker has been created, the group said. That means something needs to change, and change fast — otherwise, the Cherokee language is set to be extinct among the Eastern Band of Cherokee Indians in less than 11 years.
In 2004, the Eastern Band opened the Cherokee immersion school New Kituwah Academy, which works to foster fluency in young children. Now, a new program called Cherokee Adult Language Learners is attacking the problem from the opposite angle, recruiting young adults and paying them to learn the language as their full-time job. The CALL Program is now in its second year and accepts four to five students annually.
"We could focus on creating strong, fluent adults who can not only teach others, but we would be creating a larger village of speakers who are able to stay in the language out in public, who are able to stay in the language at home, and then also raise our children as first language speakers, sort of creating this snowball effect of our language being spoken in more places," said Ledford, a CALL participant.
As originally presented, the resolution called for creation of a new division within the tribal government dealing with language, culture and history, setting aside $15 million with a 10-year commitment for continued funding.
"My heart is in this for the long run," said Tooni, CALL participant and co-submitter of the resolution. "I don't want to be the one to say, 'That was the language my grandparents spoke.' I don't want to be that. But I want to be the one to say, 'Yes, I speak the language my grandparents spoke.'"
In addition to expanding the language teaching programs, said Pheasant, the tribe must invest in recording equipment and media personnel to record all the Cherokee language speakers alive today, so that their vocabularies, pronunciation and usage can be preserved for future generations of learners.
"We're trying to learn all the ways that they're saying it, not just one, because not just one of them's right," said Pheasant. "If they were raised by their parents and grandparents speaking that way, then it's right, and we all need to recognize that too. There's no one way to speak it. That's why we need to be recording all of it."
No time to waste
Principal Chief Richard Sneed spoke in support of the concept but suggested that Tribal Council table the resolution for now so that a plan could first be developed as to how the $15 million should be spent. Additionally, he questioned whether language preservation work would be better carried out through a grassroots effort funded by the tribal government rather than by a formal governmental division, as stated in the original resolution.
"My request to the CALL group would be that the resolution be tabled until we can get the comprehensive plan developed," said Sneed. "If it's passed today, we don't have a plan in place. The ask is to set aside $15 million, but we don't have a plan for what that's going to be used for."
Sneed said he's shooting to hold a two-day language symposium in mid-November, which would serve as the basis for development of a comprehensive language preservation plan, likely to be ready by mid-January. That plan would allow for the development of a list of positions, costs and measurable benchmarks in the quest to save the Cherokee language.
"We have to think past step one," said Sneed. "This is step one. So where is the money going to come from in the future?"
Perhaps the tribe should look at giving language programs a designated allocation from gaming proceeds, Sneed said. But more research will be needed to determine exactly how that allocation should be designated.
However, Tribal Council declined to table the resolution.
"Today's not the day to put something on hold," said Councilmember Richard French, of Big Cove. "Holding something and let's see what the plan is sometimes never evolves, but if you put something like this in place, then that plan has to come together."
"I don't think $15 million is too much to ask," agreed Councilmember Boyd Owle, of Birdtown. "I think this is a perfect example of putting your money where your mouth is."
Vice Chief Alan "B" Ensley also expressed his support for passing the resolution now.
"Once this resolution passes, like the chief said, it does need a plan and I understand what he's saying and somewhat agree with him, but on the other hand when something is passed it's going to create a reaction," he said. "Knowing that money's there, that's going to energize this committee and all the groups to generate that plan. That will cause a reaction and hopefully get more speakers involved."
While Tribal Council passed the resolution unanimously, it did so after making one significant amendment. At Sneed's request, the body voted to strike the section stating that the funding would be used to create a new tribal division. As passed, the resolution sets the funding aside but leaves the structure fluid until a plan can be developed.
"It may take several generations to regenerate, if we ever do, to the point where we have 100 percent Cherokee speakers (on Tribal Council)," said Councilmember Perry Shell, of Big Cove. "It won't be in my lifetime. So this is a drop in the bucket."
A bulletin board displays the names of the 205 fluent Cherokee speakers remaining among the Eastern Band of Cherokee Indians. Language learner Sharri Pheasant points to photos of the same board taken in previous years, when it was much more full. EBCI image
Appointing an authority
While undoubtedly the biggest-ticket item of the bunch, the resolution was far from being the only piece of legislation Council considered last month related to language preservation.
Later the same day, the body considered a resolution submitted by Bo Lossiah on behalf of the Cherokee Speakers Council requesting that Tribal Council sanction the council as the official organization charged with representing the Eastern Band on "all matters regarding language, translations, traditions and culture." All dialects and speakers are represented in the group, said Lossiah.
Formalizing the group's status will be an important part of moving forward with the language preservation efforts launched through the $15 million resolution Council had passed earlier that day, said Sneed.
"This group would be a key component and really a foundation in those discussions," he said. "I just rise in support today and ask members of Tribal Council to support this resolution."
Tribal Council did just that, voting unanimously in favor of the measure.
Reaching the children
But Oct. 28 was not the end of Annual Council efforts to preserve the Cherokee language. During the next session, held Oct. 31, Snowbird resident and Cherokee speaker Gil Jackson submitted a resolution requesting $140,000 in annual funding for an afterschool program that teaches language, culture and arts to enrolled children attending Graham County Public Schools. The money would run through the nonprofit Snowbird Cherokee Traditions, which officially formed about six years ago. For the past 20 years, the group has operated a summer language camp, with the afterschool program launching this year.
"The (Cherokee) Preservation Foundation has been really good to us in that they funded us for several years, and they kept saying, 'When are you going to get on your own?'" said Jackson. "I think they were a little tired of funding us year after year after year. That's not really what the purpose of the foundation's about. They are generally supposed to provide seed money and go from there."
Currently, the afterschool program has temporary headquarters in an old house, but the tribe is paying to have another building rehabilitated as its permanent home. The tribe's involvement in that respect spurred the nonprofit to seek tribal funds for operating costs. There are currently 35 kids in the program, said Jackson, with more likely once the new space is ready.
The resolution passed 11-0, with Wachacha abstaining due to the fact that he sits on the nonprofit's board.
"I appreciate Gil what you do down there, as well as what you do for the people down that way and the programs," said Owle. "You're a tremendous asset to anything that takes place down that way."
Programs for employees
While zero no votes were cast for the other language-related resolutions, a fourth resolution submitted by Sneed on Oct. 31 elicited some difference of opinion.
The resolution requested that Council amend the tribe's organizational chart to create the position of language training specialist within the Human Resources Division. The action would not require adding any new employees to the tribal payroll — Sneed proposed to move a position currently titled "Retail Development Specialist" from the Commerce Division to the Human Resources Division and then retitle it for the role. The language training specialist's job would be to teach and promote use of the Cherokee language among tribal officers, employees and the community.
"In keeping with our efforts to not only preserve but to proliferate the Cherokee language, one of the initiatives I have as part of this administration is to provide Cherokee language training for employees," said Sneed.
Sneed anticipates pulling two or three employees at a time from each tribal department, creating cohorts that will progress through a language program together. Councilmembers who objected to the resolution did so not due to the content but due to the timing.
"We thought that symposium was going to happen, and that was a commitment from Tribal Council that anything that would happen with that $15 million was going to come out of that symposium," said Vice Chairman David Wolfe, of Yellowhill. "I'm guessing the chief has had a change of heart in that process."
Sneed replied that he has not had a change of heart. The language specialist position is separate from anything to do with the $15 million, he said. It would be housed within the Human Resources Division and not within any yet-to-be created language position.
"I think if we could move forward with it, we could already have it ready to rock and roll whenever we have that plan," said Councilmember Chelsea Saunooke, of Wolfetown.
The resolution passed, but with opposition. Five members voted to table it, while six elected to pass it. Due to the weighted vote system, however, the actual vote counts were not that close — the move to table failed by a vote of 32-61. The resolution then passed in a mirror-image vote, prevailing 61-32.
In favor of passage were Councilmembers Albert Rose and Owle, of Birdtown; Bo Crowe and Chelsea Saunooke, of Wolfetown; Richard French, of Big Cove; and Bucky Brown, of Snowbird. In favor of tabling were Councilmembers Tommye Saunooke and Dike Sneed, of Painttown; Tom Wahnetah, of Yellowhill; Wachacha and Wolfe. Council-member Perry Shell, of Big Cove, was absent.
Sneed has not yet ratified the resolutions but said he supports council's actions.
"I am pleased Tribal Council passed the resolutions forwarding the work of promoting, teaching and advocating for the Cherokee language," he said in an emailed statement. "The programs, individuals and partners working towards this issue are extremely dedicated, passionate and steadfast in their work to preserve the Cherokee language. I am proud of their effort and am honored to work with them to try new things, implement best practices and work collaboratively so we can ensure that our children, grandchildren and Cherokee tribal citizens will once again speak our God-given indigenous language."
Editor's note: This story was reported using online meeting videos, as Tribal Council's April decision to ban non-Cherokee media from its chambers prevents The Smoky Mountain News from attending in person.