Archived News
Waynesville vote totals suggest sluggish morning
Tuesday, November 05, 2019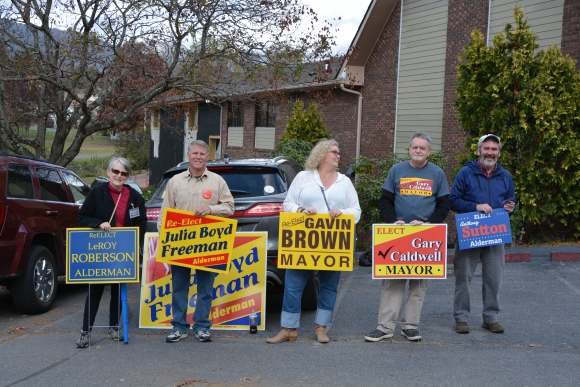 Alderman Gary Caldwell (second from right) and Kimberly Brown Czaja (center) campaign at the Pigeon Street poll.
Cory Vaillancourt photo
It's still early, but judging by Election Day vote totals at Waynesville's four largest precincts, it's going to be a long day.
At 10:20 a.m., elections officials at Waynesville's largest precinct, WS-1, reported 92 voters. Mayor Gavin Brown, along with aldermen LeRoy Roberson, Jon Feichter and candidate Anthony Sutton were gathered at the library, holding signs and shaking hands. In the 2015 election, WS-1 counted 1,864 votes by the end of the day.
Waynesville's second largest precinct, WS-2, reported 82 voters as of 10:30 a.m., a far cry from the precinct's 2015 total of 1,513 votes. Alderman Gary Caldwell, running for mayor against Brown, was there, along with Brown's daughter Kim.
Hazelwood, Waynesville's third largest precinct, showed just 35 voters as of 10:36, compared to 832 votes in 2015.
Allens Creek, the fourth largest precinct in Waynesville, reported 51 voters as of 10:42. In 2015, AC saw 681 votes.
Check back for more on the General Election throughout the day, and look for final results tonight on www.smokyountainnews.com.