Archived News
Community searches for homelessness solutions
Wednesday, October 30, 2019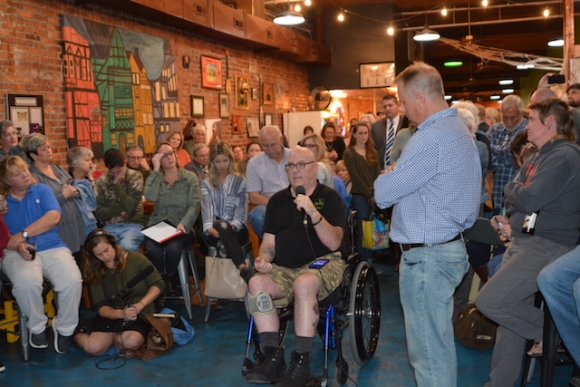 Frog Level Brewing Co. was packed to capacity Tuesday night as community members came together for some good old tavern politics.
More than 125 people showed up to hear what the candidates running for Waynesville mayor and aldermen had to say about the ongoing issues arising in the community due to homelessness and addiction. By the end of the night, the main takeaway was that none of the candidates could point to one guaranteed solution. Everyone agreed that the complicated layered issue would take a multiple pronged approach and everyone working together toward the same goals.
Before a solution can be identified, Mayor Gavin Brown said it's important for residents to understand that homelessness is only a symptom to a much larger societal problem — homelessness stems from addiction or mental illness, people not having jobs or housing and other resources they need to get back on their feet.
The problems in Waynesville have been mounting for the last couple of years — more people loitering around Open Door before and after meals are served, people urinating and defecating businesses, more syringes being found on the ground and more drug-related crimes — but a recent stabbing in Frog Level on Oct. 19 brought the complaints to a head, giving Frog Level Brewing owner Clark Williams the idea for a community forum.
Residents asked about moving The Open Door kitchen in Frog Level out of town limits — not something most candidates and other stakeholders want to do. As Pastor Chris Westmoreland with Longs Chapel pointed out, Frog Level is where people are in need and that's where Open Door needs to minister to them. Moving the soup kitchen out of town would only make it harder for people in need to find their next meal.
"You have to have resources where they're needed," said Alderman candidate Anthony Sutton. "My father taught me that you respect everyone regardless of their circumstances. You can't push marginalized people out of the community and make them more marginalized."
On the other hand, Alderman candidate Joey Reece said it was never a good idea to place these types of services within one of the town's three business districts.
"It's not good judgment. This is not just a public health crisis — it's a public safety crisis and that's what we're not addressing," he said.
Alderman Jon Feichter, who is running for re-election, pointed out the importance of having more affordable housing options in order to get people off the streets and into a more stable position. It's something the town has been working toward with several successes — the old hospital will soon be renovated into affordable units for elderly and veterans, Mountain Projects is building affordable units on Allens Creek and Habitat for Humanity is building a new subdivision in Chestnut Park.
Then there are the private developments occurring in town with new apartment complexes being built at the former BI-LO property on Russ Avenue and a new apartment complex on Plott Creek. While these are not considered affordable housing, the additional units will still ease the lack of housing options while also producing more tax income for the town coffers.
Sheriff Greg Christopher and representatives from Pathways, Open Door and the N.C. Harm Reduction Coalition were also on hand to answer questions from the community and talk about initiatives already underway to help solve these issues.
For more on this story, pick up a copy of the Nov. 6 issue of The Smoky Mountain News.