Archived Arts & Entertainment
The poetry of freedom
Wednesday, October 30, 2019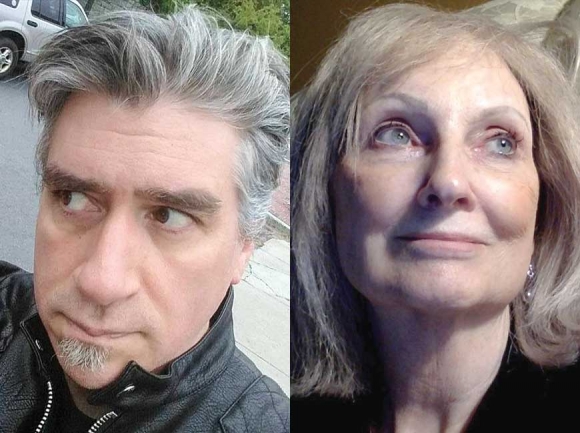 John Burroughs and Beth Copeland.
One of the most alluring and enduring qualities of the art of poetry is the vast spectrum of forms it may take — neat or free-wheeling, broad or tidy, emotional or intellectual, progressive or traditional.
This weekend, Jackson County aficionados can experience most all of that, in the same place, at the same time.
Beth Copeland was born in Japan to Southern Baptist missionaries, but has always called North Carolina home.
"I really am not a believer at this point in my life," said Copeland. "I would consider myself an agnostic, but I do think that growing up, sitting in church pews at least three times a week had an impact on me in terms of understanding how powerful language can be. There are portions of the Bible that are pure poetry, the Psalms, the Song of Solomon, and so forth. If you grow up listening to that as a child, I think you internalize those rhythms."
Copeland doesn't write religious poems, per se, but there's a spiritual component to what she does, especially in her latest book, Blue Honey, which won the 2017 Dogfish Head Poetry Award.
"It documents the dementia and death of both of my parents," she said. "My dad had Alzheimer's disease and died at the age of 95, and my mother had a different form of dementia and she died at the age of 89. So during the time I was writing that book, I was struggling with both of those things going on simultaneously with my parents. The poems are a way of trying to hold on to my own memories, as I was watching my parents losing theirs, so it documents what it's like as a family member to deal with something like that, which unfortunately many people can relate to."
Recently, Copeland picked up and headed west, into the solitude of the Blue Ridge Mountains, and has opened up a small writer's retreat for visiting scribes called Tiny Cabin Big Ideas.
"It's located in Creston, North Carolina, which is about 15 miles from West Jefferson. It's pretty rural and remote," she said. "I just moved here in June, so I'm just learning my way around the area myself. And the tiny cabin is just this little cabin that's right next to my house. I actually have a guest here right now, working on his poetry. So it's a way for me to stay in touch with other poets even though I'm living in kind of a remote place."
One of her upcoming guests at the cabin will be Ohio poet John Burroughs, whose work has a decided cant toward the other end of the spectrum from hers, despite having similar therapeutic value.
"My early poetry began kind of as a form of therapy. I wasn't really trained or anything, I just started writing from my heart," said Burroughs. "Later on as I became an adult, my work was heavily influenced by music — hip hop, jazz and my love for the beat poets."
Beat poetry traces its origins to the postwar period and is best characterized as everything previous generations of poetry wasn't — contemptuous of traditional narrative forms and unflinching in its examination of tough topics like sex, drugs and what it means to be a human being in a modern industrial society.
"The main ones that I grew up with and first started reading as a teenager or early adult were Jack Kerouac, William S. Burroughs and Alan Ginsburg, who are the quintessential beats, and are all three very different writers from one another," said Burroughs, who currently serves as Ohio's Beat Poet Laureate. "If you read their work, they kind of prove that there's no real strict definition of literature. It's more of a mindset, an ethos, a liberty. Those major players who deserve all the acclaim that they've gotten are really just the tip of the iceberg, as far as beat poetry."
While by definition beat evades definition, there are common themes amongst the beats that make the form clearly identifiable.
"I think it's really the poetry of freedom, of freedom of expression, of taking on difficult subjects," he said.
Poetry reading in Sylva
Award-winning North Carolina poet Beth Copeland, and Ohio's Beat Poet Laureate John Burroughs will each read from their collected works at City Lights Bookstore this coming Saturday.
• Time: 3 p.m.
• Date: Saturday, Nov. 2
• Location: 3 East Jackson St., Sylva