Archived News
Dillsboro opposes recycling relocation
Wednesday, October 30, 2019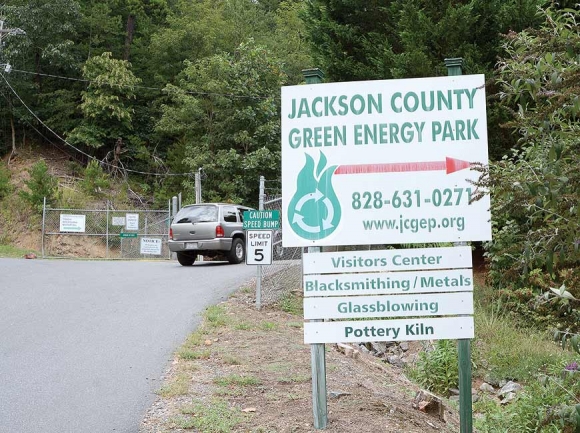 The recycling center at the Green Energy Park draws steady use, but it has to move if the property is to become the pedestrian-friendly campus the county envisions. File photo
In August, Jackson County commissioners voted unanimously to buy 3.67 acres along Haywood Road in Dillsboro to use as the new site for the area's recycling drop-off center. But Dillsboro's town board is now voicing staunch opposition to the move, claiming that the plan would adversely affect the town's economy and cause problems with traffic and litter.
"Thank you for consideration of these issues before making your final decision to relocate the SRC (staffed recycling center) facility so close to homes and hotels within our town," concludes an Oct. 14 letter Dillsboro Mayor Mike Fitzgerald sent commissioners on behalf of his fellow board members. "The negative impacts to tourism will not only affect the town of Dillsboro, but also Jackson County, should the SRC be relocated to the Cooper property."
Currently, Dillsboro's recycling center is located at the top of the Green Energy Park property, but it has to move in advance of plans to redevelop the area into a campus that will include an animal shelter, maker's space, walking trails, event lawn and artisan studios. Originally, the county had planned to move the center to the bottom of the property, but that would have required construction of a $500,000 retaining wall. Commissioners decided to look at other properties instead and on Aug. 20 voted to go under contract for the Haywood Road parcels owned by Manuel Cooper.
Under that contract, the due diligence period will end Nov. 20, with closing to occur on or before Jan. 6, 2020, and the county paying $3,250 in earnest money. However, when County Manager Don Adams attended a Dillsboro Town Board meeting Oct. 3 to update members on the project, he received a decidedly negative response from aldermen who felt blindsided by the county's lack of consultation with the town prior to making that decision, according to draft minutes.
"Alderman David Jones expressed his displeasure that the Board of Aldermen were not notified of the change in relocation of the SRC from the original presentation," the draft minutes read. "Alderman Tim Parris agreed with Mr. Jones, stating that if this board had been aware that the SRC was going to be moved within sight of houses and a hotel in Dillsboro, they would not have voted in favor of the text amendment on June 11, 2018. This amendment will allow the county to proceed with the Green Energy Park Collaboration."
Additionally, Megan Orr of Best Western Plus River Escape — which, according to Dillsboro's opposition letter, is less than 300 feet from the proposed recycling center — said that the relocation would impact business, as third-floor rooms overlook the Cooper lot. Jay Grissom of NightStar lodging said that his company planned to build another hotel located within sight of the Cooper property, and the recycling center's construction might cause NightStar to reconsider its plans.
In the opposition letter, Fitzgerald also wrote that the narrow Cooper lot might not be adequate for the volume of users at peak hours, resulting in "dangerous" backups on Haywood Road. Additionally, the location's convenience could lead to increased trash dumps after hours, he wrote, causing litter making its way into the nearby Tuckasegee River.
During the Oct. 3 meeting, Michael Poston and John Jeleniewski of the county planning office said that berms, fences and shrubs would be used to mitigate sight impacts, and that no permanent structures would be built due to railroad and N.C. Department of Transportation right-of-way restrictions, according to draft minutes. Adams told the town board that the planning office had determined that the recycling center would be an approved use for the property and that there had been no intention to exclude Dillsboro from the decision-making process.
However, aldermen were not convinced, voting to go into closed session and then coming out with a consensus to draft the letter of opposition. Alderman Tim Hall then read the letter into the record during the Oct. 15 county commission meeting.
In follow-up interviews, commissioners seemed willing to consider other locations.
"We're almost in the middle of our due diligence period," said Chairman Brian McMahan. "We're continuing to evaluate it, and at some point in the next month or so we'll make a final decision on whether that property can be utilized for that purpose. We do have other potential properties."
The town's concerns are "legitimate," he said.
"I believe we've had very strong and valid reasons why we need to change the location," added Commissioner Gayle Woody.
If building the recycling center will cost the county a new hotel, said Commissioner Boyce Dietz, commissioners pretty much can't move ahead with putting it there. But the next question is, if not there, then where?
"We're not foolish and stubborn enough to just go on with something if it's going to hurt someone, and at the same time we will look and see if we've got other options," he said. "It's not as easy as it seems, because it's hard to find a place for something like that."
Dietz added that he didn't expect the recycling center would prove to be as much of an eyesore as people fear — currently used to store heavy equipment, the lot is not a paragon of aesthetic appeal. Fences and shrubbery would provide visual screening should the recycling center be placed there.
For Commissioner Ron Mau, Dillsboro's concerns don't amount to a categorical "no" on the Haywood Road location, but he does support searching for other, mutually agreeable options.
"If we can find a location that's relatively close to that where people wouldn't have to drive much further and could do what we need to do from a recycling standpoint, then I think that's something we need to consider," he said.
Time is of the essence if the county is to keep to its intended project schedule. The recycling center has to be moved before any other work can begin. Adams had hoped to go to bid on the animal shelter in spring 2020 with construction on the one-year project beginning that summer.