Archived News
McRae challenges Scott for Franklin mayor
Wednesday, October 30, 2019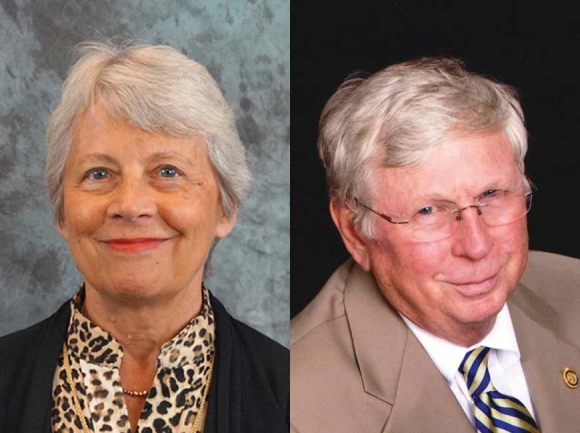 Barbara McRae and Bob Scott.
After running unopposed for his last two terms in office, Franklin Mayor Bob Scott is being challenged for his seat by fellow Town Councilmember Barbara McRae.
Scott is seeking his fourth two-year term as the town's mayor and served as a councilmember for 10 years before that.
McRae is currently serving her second four-year term on the town council. Her term doesn't officially end until 2020, which means if she loses the race for mayor, she will retain her seat on the board. However, if she wins the mayor's race, the board will have to appoint someone to fill her seat for another year.
The two candidates have a lot in common — both moved to Franklin in the '70s; both are in their late 70s and are very active in the community; both come from a journalism background and both have progressive platforms for moving Franklin forward.
Though the mayor doesn't get a vote on the board unless there is a tie, Scott and McRae tend to agree on a majority of the issues presented to the town. It wasn't until this spring the two ended up on opposite sides of a controversial issue — the transferring of the Nikwasi Mound deed from the town to nonprofit entity Nikwasi Initiative.
McRae said her decision to run for mayor wasn't made based on the Nikwasi Mound vote.
"Bob told me he wasn't going to run again so I thought I would run. I started talking to people and everyone was very encouraging. Then he decided to run after all, but I was already in it by then," she said.
Scott admitted to probably saying he wasn't going to run for re-election this year — just as he claimed he planned to be a one-term mayor when he ran in 2013 — but he changed his mind.
"Since I've been in this I haven't found anything I enjoy more than being mayor," he said. "We have a reputation statewide as a progressive small town. Franklin's a small town others look to and I'm very proud of it. I certainly have support for another term — we have a lot of momentum building in Franklin."
Battle for Nikwasi
As a board member of Nikwasi Initiative, McRae wholeheartedly supported transferring the mound to the nonprofit to give more stakeholders a say in its future, while Scott was adamantly opposed to the transfer. He tried to offer up a compromise, but the town council voted unanimously in May. The issue caused a rift in the community and also between Scott and McRae, who shortly after decided to sign up to run for mayor.
Scott said he wouldn't be surprised if the issue became the deciding factor in this year's municipal election, even though the town has many other projects to tackle.
"Big issues are going to play out in this election — I think Nikwasi will play a major role as well," he said. "Short of getting down on my knees and begging, I tried to get Nikwasi Initiative to accept a compromise but they refused even though the community was being torn apart."
McRae took a lot of heat during the Nikwasi Mound deed discussions. A small group of Macon County residents who vocally opposed the deed transfer took shots at her, claiming she must be financially benefiting from the transfer or had some other ulterior motive for wanting the town to hand it over to what they called a "private entity." They even attempted to prove she had a conflict of interest to keep her from voting on the deed, but Town Attorney John Henning, Jr. said she had nothing to gain financially and therefore had no conflict of interest.
"I was really upset about the way the Nikwasi Mound issue played out. It made me feel real sad. I blame him (Scott) for it turning so bitter, but I don't know if that's what he intended to do," McRae said. "Usually we get along well, so I was caught off guard by the whole thing. I do think his heart was in the right place though."
It's not the first time the deed issue has come up. Around 2013 — when Scott was on the board and running for mayor — Michell Hicks, Principal Chief of the Eastern Band of Cherokee Indians formally asked the town to return the mound to Cherokee ownership, but the town board denied the request.
It was after that vote Mainspring Conservation Trust began facilitating a joint effort between the town, county and ECBI to rebuild the damaged relationships between the communities and come up with a plan for a historic cultural corridor through Macon County to the Qualla Boundary. Making the Nikwasi Mound in downtown Franklin more visible for tourists and residents was a major part of that corridor plan, which led to Nikwasi Initiative being formed and incorporated as a nonprofit.
With Mainspring's environmental clean-up work along the Little Tennessee River and adjoining properties, it seemed like a perfect time to really revitalize that side of town. Then EBCI purchased the land adjacent to the mound and is coming up with a plan to construct an annex of the Museum of the Cherokee Indian.
"I think people are excited about the opportunities Nikwasi Initiative presents," McRae said. "Everyone knows that side of town needs some love and here's a chance to get some things done and it's not entirely up to the town financially to do it. I know a lot of people share my views on the issue, but I don't know if will be the tipping point of the election."
Just as McRae was passionate about having a new joint ownership of the mound, Scott was just as passionate in his pleas to keep the mound under town ownership as it had been since 1947. He suggested offering Nikwasi Initiative a short-term maintenance agreement for the mound to see how the partnership would play out over the next year. The town board decided to sign over the deed, which included a reverter clause if the nonprofit ever dissolves or the town finds it isn't upholding the terms of the deed.
Scott had to sign the deed transfer but he noted that he was doing so under protest. When all was said and done, the Nikwasi Initiative held a celebration in August to talk about their plans. Town, county, Cherokee and Mainspring officials were all present, but the mayor of Franklin did not attend.
Scott said he did receive an invitation to the event in the mail, but not a personal invitation. The town was having a public safety day at the square at the same time and he thought it was more important for him to be there since it was put on by the police and fire departments.
"I was told they didn't want me to take part in the program — they didn't want me to speak," he said. "I would have given a boilerplate mayor address — I wouldn't have said anything controversial. I have more sense than that — it was their moment of glory and I told them during the height of the controversy that if it went against my favor I'd work together moving forward."
Scott said he still thinks town residents should have had the opportunity to vote on what was happening given the fact that the mound is the most historic site in town and was saved from destruction by residents of Franklin in 1946.
"I have called for an accounting of $17,500 given to the Nikwasi Initiative by the town for 'economic development' and we still have not had an accounting of that money," Scott said.
Role of mayor
Even though the mayor doesn't often get a vote, Scott and McRae agree the role of mayor is still an important one.
"An important part of the mayor's role is the bully pulpit. The mayor is the spokesperson for the town — he or she is the person the public looks to for vision and assurance. They can put into words what the town is trying to do and why decisions are made," McRae said. "If you're doing the job correctly then the board will rally around that vision. I don't expect everyone to agree, but I hope I can do that and I feel like I can. I'm willing to listen to people and I don't have to be right all the time."
"The mayor is still the spokesperson for the town. I've worked through the School of Government to learn all I can about municipal government so I can be out there leading by example," Scott said.
Leadership style might be where the two candidates differ the most. Scott sees his role as mayor as more of a hands-on gig. He occupies an office at town hall most days even though the daily functions of the municipal government are handled by the town manager and other staff members.
Scott completed the UNC School of Government's Municipal Government courses to attain mentor status and was one of 10 chosen from municipal government to attend and graduate from the UNC School of Government's 2015 Advanced Leadership Corps. He was elected chair of the N.C. Mayors Association, a group of 130 mayors from around the state.
When Mission Health made the decision to shut down the labor and delivery unit at Angel Medical Center in Franklin, Scott said he wanted to send a letter or formal resolution from the board opposing it because of the devastating impact it would have on community access to health care, but the board didn't want to overstep.
When Mission Health was in the process of being sold to HCA Healthcare, Scott said the board didn't want to get involved, but he and Highlands Mayor Pat Taylor traveled to Raleigh to talk to Attorney General's staff about the town's concerns. Scott doesn't think his opponent would be as proactive on these kinds of controversial issues.
"I feel like I have a duty and an obligation to speak up when something is in the best interest of the town, but just because you speak out against something doesn't mean you're contrite. You don't want a lukewarm mayor — you want someone not afraid to speak out for the betterment of the community."
McRae said she tends to focus on the opportunities of the future instead of trying to change the past.
"I hope I've been able to present a positive image. I try to look forward and get people excited about the possibilities of where Franklin can go. People are tired of the negativism," she said. "I feel like the board spends a lot of time talking about stuff that should be left to our town staff to work out. If not, our town manager can ask the board for direction. We have a town manager form of government and we have qualified people we've hired and we trust them."
Vision for Franklin
Scott said the board has been able to accomplish many things during his last three terms in office, but he considers the high performance and professionalism of the town government to be the most important accomplishment.
"My opponent is running on needing change, but the basic viability of Franklin is good and has been good," Scott said. "We've changed a lot of things — we've professionalized the town government — gotten rid of the good ol' boy system and have a professional manager and hardworking employees."
The board has also moved forward with a massive upgrade project for their wastewater treatment plant and a sidewalk replacement plan so the town can stay on top of infrastructure needs.
The town has also passed a leash law, a noise ordinance and established minimum housing codes. The police department received a grant to purchase body cameras for each officer and was one of the first departments to start carrying Narcan to administer to people overdosing.
"Police, fire protection, water and sewer, streets and sidewalks — those are all necessities for a municipal government. No town can survive without those things," Scott said.
McRae agrees infrastructure is vital for the town, but she also wants to see the town focus on bigger issues that have an impact on residents and businesses. Many small towns in Western North Carolina are struggling with an affordable housing shortage. Long-term rentals are being turned into short-term vacation rentals, which means more residents working in the hospitality industry have a harder time finding a place to live.
"Businesses can't hire enough people — there's 'help wanted' signs everywhere," she said. "I attended a housing conference at SCC and there were three big employers that said they could hire hundreds if they had somewhere to live. It's a drain on our ability to develop."
McRae recently made a presentation to the town board about "Opportunity Zone" designations and the possibility of developers getting financing from the federal government for economic development projects.
She's also been instrumental in developing the Macon County Women's History Trail to educate the public about the many women who've helped shape the county throughout the years. The group is currently raising funds to be able to install a 7-foot bronze statue somewhere in East Main Street close to the Nikwasi Mound.
The statue, which has already been designed, will depict Cherokee woman Timoxena Siler Sloan, an African American woman Sally (last name unknown) and a white settler Rebecca Morris to represent the three different cultures of women that make up the history of the region. McRae hopes the piece is just the beginning of more public art and other beautification projects in Franklin.
"I'd like for us to become a leader in the arts — the town wouldn't be the one that actually does it but the town can lead the discussion and help find funding. I want us to have an atmosphere where artists are being valued. We have a lot of good musicians here, I'm amazed at their abilities," she said. "Art brings energy and strength to a community and excites them about where they are. It creates a better quality of life."
The town is also holding on to the Whitmire property for now, but eventually the town will have to decide whether to sell the property for private development or figure out a public use. For McRae, she'd like to see a mixed-use development with affordable housing, shops, green space and public plaza for events, concerts and a farmers market.
Scott said he's not opposed to working on issues like affordable housing and beginning a public art initiative but still planned to emphasize the importance of infrastructure first and foremost.
"Franklin needs a balance between what is necessary and what is a nice addition. I would address these issues as I always have — prioritization and how it makes life better for our residents," he said.