Archived News
Waynesville mayoral candidates speak on the issues
Wednesday, October 30, 2019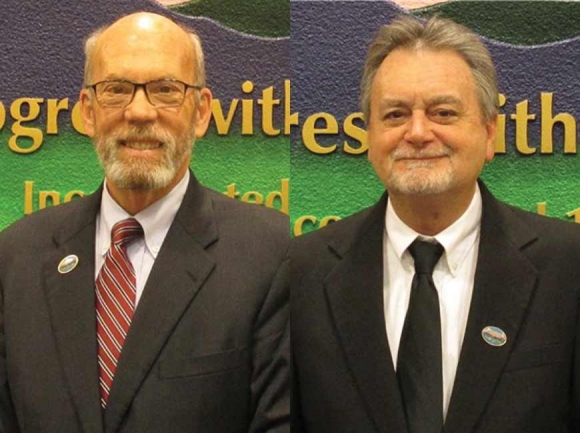 Gavin Brown (left) and Gary Caldwell.
They're both longtime board members — one's a longtime mayor and the other a longtime mayor pro tem.
One of them, Gavin Brown or Gary Caldwell, will be Waynesville's next mayor come Nov. 5, and one of them will cycle out of city government, taking decades of institutional knowledge with them.
Either way, Waynesville's government is about to experience some change, just like the town of Waynesville itself. Managing that change over the next four years will be their greatest challenge, along with issues of affordable housing, homelessness and economic development.
The Smoky Mountain News talked to Mayor Gavin Brown and Alderman Gary Caldwell about how they plan to lead Waynesville into the future, if voters so choose.
The Smoky Mountain News: There are a lot of misconceptions about what a North Carolina mayor actually does. What, exactly, is the mayor's job?
Gavin Brown: The lawful authority is very limited. The only thing that I do now as mayor is that I open the meetings and I adjourn the meetings and I run the meetings. In other words, I ensure that Robert's Rules of Order are kept in place. Other than that, I have no other authority whatsoever. I couldn't give you a job. I can't fire the town manager. We have what is called a council-manager form of government in Waynesville. And that's pretty common in small communities, especially in North Carolina. In larger urban areas such as Chicago in New York, they have a strong mayor form of government and they in fact have a lot of authority and power. Yes, I sit and meet with the staff on a regular basis to discuss what issues we should bring to the board, but I'm always and always have been and always would be open to having any member of the board discuss a particular topic. Typically, the issues frame themselves.
Gary Caldwell: The mayor's pretty much just, we conduct the meetings and, keep up with the items that are on the agenda. With our aldermen in place, we like to refer to them also for their thoughts about the agenda, but, my plan is to try to give my aldermen a better chance of being able to answer questions, rather than the mayor being a one-man show. I want to be able to scout my aldermen out and give them chances to also to speak up.
SMN: Another part of the mayor's job is almost being a cheerleader for the town, where you have to go out and interact with other boards, or the state legislature, or even sometimes Congress. Tell me how you feel about carrying out that aspect of the job.
Caldwell: I feel good about that. In the past I used to make a lot of trips to Raleigh. I've been, an alderman for 24 years and 20 of that has been as the mayor pro tem. I've been there to talk to some of our legislators about needs, and things happening here in our own area to try to get some help. I think I worked pretty well with Joe Sam [Queen, one of Haywood's state representatives], and he's been a great supporter, you know, of here. Not only just Waynesville, but this county. I go as far back as Liston Ramsey, speaker of the House. That's how far back I go, and I enjoy going down to Raleigh every so often.
Brown: That's probably the biggest job, so to speak, that I have. I am, as you pointed out, the head cheerleader for the town of Waynesville and I want to make sure that our story is always told in appropriate fashion to legislative bodies and to businesses or to any other entities that come to the town or we go before, and that includes sitting on the street and talking to citizens as they come up and down the street on a daily basis. So yes, I am the spokesman, but at the same time, I don't try to direct the discussion. I try to lead the discussion.
SMN: Waynesville is in the enviable position of having to manage growth instead of managing decline. Tell me a little bit about how you see Waynesville managing growth if you're mayor for the next four years.
Brown: There's a certain element of growth that we can't control. I'm not allowed, nor is the town board allowed, to put a fence or a wall around the city limits as some people are attempting to do. What we do is try to use smart growth principles to make sure that we are not inundated with problems. In other words, we try to infill when we're doing growth projects such as the BI-LO. That's using an existing piece of property that has infrastructure to it to repurpose it. Those are the kinds of things you do to control growth as it comes, but we have to recognize that people are going to come to the community and I can't simply shut the gates.
Caldwell: I see a need, and it's going to come up with these apartment complexes. We've got two in the works and then especially on the west end of Waynesville, we've got a Comfort Inn also being built up there. In the Allens Creek area, there's a 26-duplex housing development going in there. I see the need of expanding our fire department because I have done some research on it and and we're having more calls on that side of Waynesville than we are on the East side now. So I think we're going to have to really look to expand our fire department, and that means probably having to build a new fire department. I've also researched the police department and the police department is also having more calls. I know that's got to do with Walmart out there and everything, but also we have the Pathways Center out there. I would like to see this fire department be considered, and also have a substation for the police department to work out of.
SMN: Allens Creek, BI-LO, Plott Creek — none of that is what we call "affordable housing." It's "market rate" housing. We need that as well, but it doesn't solve the affordable housing problem unless you believe they will allows some people to move up into them and create vacancies in affordable housing. Do you believe that?
Caldwell: I do. I can speak of an incident that occurred. I was speaking with someone who moved from Murphy to our area here and he was having such trouble trying to find a place to rent that he actually had to rent a house that was larger than what he really needed. He's paying rent for a much bigger house and by having these new apartment complexes come in, that gives him a better chance of moving into one of those apartments and opening up that house for someone that could actually really use a three-bedroom house, where he only needs like one bedroom house.
Brown: As I noted the other night at the meeting, the town has adopted an incentive policy to try to attract entities to create those types of projects in Waynesville. Unfortunately at this point in time we have not had any entity come forward. Mountain Projects has attempted it, but it didn't work out in their case, with their costs and margins and things like that. I expect in the near future that we will have a nonprofit or even a for-profit company come and try to build some of these things with the incentives we've provided. We may want to look at other ideas though. One of the things that we might do is to actually purchase property and put that in the form of a grant to an entity. These are the methods that you would employ if you were really not getting any success with where you are now. So yes, I'm open to trying any other avenue that might work and might bring that affordable housing to this community.
SMN: Then there are the people without any housing at all. Pathways and the Open Door provide great services for people who need them, but do you think that they draw people to this community?
Brown: Oh, there's no question. I see the daily police report and it indicates that we have citizens who have come here from Nevada and Wyoming and California and Florida seeking to get into Pathways. That "underground railroad" is there. I'm not ashamed of it though. Some people don't like it. I'm saying to myself, it tells me that the town and the community is doing the right thing. We're trying to discuss and solve the homeless as a problem as opposed to just shutting our eyes and ignoring it and finding these people living on the streets.
Caldwell: I think the Pathways Center has become a draw. There's always been homeless people from as long as I can remember, but it seems that when Pathways came on board and built their facility that the homeless people have increased tremendously here. I think it's brought more here, and that's become a problem to try to find enough housing for them to live in. I think it is a big issue.
SMN: People have said that they have heard about websites that tell people Waynesville is the place to be homeless. Others say they've seen buses drop people off at Pathways or in Frog Level, or law enforcement from other counties dropping people off in Frog Level. Do you believe that? And have you seen any evidence? Have you seen a website?
Brown: I have only heard about this. I have anecdotally. I understand that that occurs. I've been told that by some of our police officers and people in the town and the employees of the town. I happen to have engaged in that myself. One time I took a couple of prisoners from the jail, gave them $10 and bought them a bus ticket because the judge said he wanted them out of town. So it does happen, I'm sure. And I participated in it. He simply didn't want these individuals in the town of Waynesville.
Caldwell: I have not seen the website and I have not seen anyone dropping off anybody. But I have heard it from the police force. I respect the police force highly and I feel like it's true. I really do.
SMN: How do we, as a town, solve this? What can a town do? What can a mayor do?
Caldwell: That's a big question right there. I don't know if anybody can answer that question. Like I say with Pathways being what it is and it's already at pretty much maxed out, it has become a problem. It has become a problem here, but I have no answer and I don't know anybody that would have an answer. Maybe these churches come up with other places for them to stay. At one period in time, we had the old boys camp over on the test farm. That might be an idea that we have to go back to, and let the churches operate that. We housed them there before we ever got Pathways. So that might be an opportunity that we have to fall back on if the need arises and we don't have places for them to go, especially in this cold weather. I hate to see anybody out, so it might be that the, the mayor and the board step up and say maybe we take it personally and talk with some of these churches.
Brown: Homelessness is just a symptom. There is a cause behind it. It's just like if you have a fever, that's not the problem. You've got some kind of illness that is creating the fever. Same thing with homelessness. I think that we need to make sure that we understand why these people are homeless, how they got into the situation. I think a partnership is probably what's going to occur. I think we need to work with the nonprofits and religious groups who are trying to address this situation. It will take a community to solve this problem. It can't be done individually or by any one group. That's why you need a strong leader in the municipal setting. It's important that the situation be addressed holistically, and not just in parts, and that's what we may be doing now is just sort of putting our finger into the dyke as opposed to seeing why the dyke has a problem.
SMN: We'd be remiss not to mention Mayor Brown's brushes with the legal system in the last two years, a forgery indictment resulting in deferred prosecution and a moving violation that left many wondering why it wasn't a DWI. What can you say about those incidents?
Brown: I'm a human just like everybody else is. I make mistakes and I acknowledge those mistakes when I'm confronted with them. I'm not wanting to shy away from that. It's my nature to be open and truthful. I've told the community what happened in both situations. One of them was simply a lack of judgment. The other one was just simply as mistake on my part. I just shouldn't have been doing what I was doing. I'd been charged with reckless driving and to be quite honest with you, I don't think I was driving reckless. I do admit that I ran my tires onto rumble strip, but I didn't run off the road, didn't have a wreck, wasn't speeding, so I think the elements of reckless driving are simply not there and I'm going to contest that charge in all ways possible. In addition, I was unfairly treated by the judicial system. Personal information of mine was put out into the public sphere without my approval or without my knowledge, and somebody's going to have to pay for that. You don't display somebody's Social Security number on the internet, on Facebook. If you do, you're going to pay the price as far as I'm concerned and I will seek area every means of retribution and punishment that I can. The AOC [the Administrative Office of the Courts], as I understand it, is looking into the situation now.
Caldwell: That's a hard one to answer right there. I don't think it affects his ability as a mayor. I think it affects the citizens' respect for him. To me, that is not good, to have something like that happen to you and to be in the high position that he is in. I hate that it happened to him, but there's nothing I can do to cover that up. It did happen and in the public's eye, they don't see it as a good thing, especially for a mayor in a very respected position.
SMN: If you get elected mayor, there's a good chance that we are sitting in this room again in four years, talking about your reelection. What do you want to be able to tell me is the best thing you did between 2019 and 2023?
Caldwell: I keep bringing up the west side of Waynesville, but that's the area right there that I want to see that cleaned up, because if you have anybody coming in from that end, to visit Waynesville, their first impression is, "Wow, look at these junkyards, these abandoned buildings" and everything like that. So I want to see this road come in I'd like to take that on myself. I've talked with the town manager about this already, and if I was elected, I would like to talk with the DOT and see if there's any way that they could reverse their decision about Russ Avenue and that West Waynesville and South Main Street would be more of a higher priority — coming in and fixing that road so we can get this project going up there and cleaning this area up and getting people in those empty buildings, or tearing them down and bringing in new businesses. I'd like to see that happen on my watch.
Brown: I'd like to say that we continued to be an open and transparent government willing to listen to the citizens and attempting to solve issues. Take, for instance, the cemetery issue. Not only did we have one public hearing, I called for a second one because nobody showed up at the first one. Unfortunately nobody showed up at the second one. So the ordinance was changed and it was implemented and when the ordinance was put into effect, employees started to do the things that we had directed. Then the citizens became aware of the situation and started to scream at us, and I'm not surprised, but who provided the solution? I did. I came to the town meeting and told the board that we were going to have a special meeting to listen to these citizen complaints. After that I came to the board and provided the solution by having a committee formed with one member being chosen by each of the board members and then two at large members chosen by the total board. As I understand, that board has gotten along and worked very well and purportedly is going to present their proposals to us just after the election. So the idea is not to say that you're going to stop problems, but when one does occur that you have solutions ready for it.
Waynesville aldermen candidates weigh in on mayor's race
It's a fact that's sometimes overlooked — political candidates are voters, too. Like any other voter, they have their leanings and preferences and will have to make a choice at the polls for who they want to lead them, should they win election to the Waynesville Board of Aldermen.
Last week, The Smoky Mountain News asked them all who they would vote for in the mayors race between Gavin Brown and Gary Caldwell, and why. Here's what we got.
SMN: Who are you voting for in the mayor's race?
Joey Reece: I don't think I should tell you. I wouldn't want to influence anybody. There are pros and cons to both. You've got this stark difference between the two, although both have been part of this same system for a couple of decades now.
LeRoy Roberson: I'm endorsing no one. They're both good men. I've served with both of them and I like both of them. It wouldn't be appropriate for me sitting on the board to make a call on that, but they both serve the town very well.
Jon Feichter: I am officially neutral. No matter who wins, I have to work with them, and I think that both of those men have devoted a large part of their lives to making this place better, improving Waynesville. I have deep respect for the efforts that both of them have made.
Chuck Dickson: I'm looking forward to working with whoever wins. Both candidates have Waynesville's best interest at heart. If elected, I would be happy to work with either of them.
Anthony Sutton: Whoever wins, I will have to work with them, and I don't ask anyone who they're voting for. I believe that whoever gets elected, I'll be able to work with either one of them and I'd be proud to work with either one of them.
Julia Boyd Freeman: I'm not gonna answer that question, but I will say you've got two individuals that have given a tremendous amount of themselves to this community and it's not easy sitting in a political position and sitting up there, what you hear on daily basis. It's not easy for anyone's family to take that. That's why so few people do decide to step forward. So I think the town of Waynesville, with both Mayor Brown and Alderman Caldwell, with their knowledge and experience the town will be in good hands no matter who wins.