Archived Opinion
Wide-ranging coverage, spirited opinions
Wednesday, October 23, 2019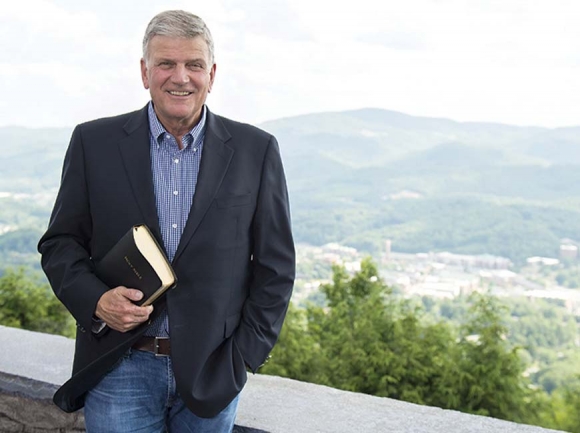 Franklin Graham.
These days, too many Americans refuse to concede that a point-of-view other than their own has any validity. I'm afraid that the root of this problem is that too few are willing to put in the intellectual energy required to walk in someone else's shoes. That requires reading, thinking, taking time for reflection, diving deep into issues rather than relying on Twitter and Facebook posts as the whole of one's political philosophy.
Much easier to demonize those who think differently and move on.
Prior to our Franklin Graham cover story a couple of weeks ago, there was spirited talk at our weekly editorial meeting about how to handle this very controversial figure. Some who read the story on our website and made comments suggested we should not give the guy any publicity.
They argue that Graham is a hypocrite and an unabashed Donald Trump supporter, that the message he delivers at his "Decision America" tour stops is — for the most part — one-sided and overtly partisan. Some of his comments have been labeled bigoted, racist or worse.
Why would a legitimate media outlet that's often tagged with the liberal label give him coverage?
Look, I'm one of those who agrees that Franklin Graham has indeed strayed from the righteous path blazed by his father. His Samaritan's Purse organization does a world of good for a lot of needy people. Agreed. But I just can't stomach those who turn religion into a way to divide, to stir up hate. Graham can say all he wants about the LGBQT community and immigrants and Muslims while writing off Democrats as a party whose only vision is —according to what he told our reporter a couple weeks ago — "… to take your guns away from you and … to raise your taxes." That's his right as an American.
Journalistically, however, the decision to write about him was easy. My opinion about Graham aside, the conservative brand of Christianity which he professes to represent is a force in this country. Of the Republicans who helped elect Donald Trump and still support him, white evangelicals are perhaps the largest bloc. In 2016, 80 percent of this group supported the president. A recent poll posits that he still has the support of 76 percent of this group.
As the owner and editor of The Smoky Mountain News, I think it is vitally important that we cover the issues, personalities and problems confronting this region and this country, especially when they spring from a perspective that may be polar opposite of my own. I reserve the right to express my opinions on this page and in this space. That said, we work hard to make sure our news coverage appeals to a variety of readers. I don't want a newspaper that is read by just the left or just the right, by just those considered progressive or just those considered conservative.
My gatherings with my brothers are interesting. I'm the youngest, and the next oldest — Steve — is an arch conservative. We argue politics for no good reason and could go at it for days, but we never get close to insulting each other. Never. My oldest brother, Larry, is more conservative than me but nowhere near as partisan as Steve. Three Southern boys raised by Southern parents in the same household, yet all over the place as far as politics go. Perhaps that upbringing plays a part in my insistence to be able to disagree with civility (plus the fact that they could both kick my ass when we were younger, so I wanted to talk and not fight).
There is an art to disagreeing. More often than not, yelling gets one red-faced and out of breath but it seldom leads to insight. A frank, level-headed discussion, however, often leads to great insight.
In the end, I guess the point of this piece is just to point out that we will always go the extra mile to be diverse and wide-ranging in our news coverage. We will keep opinions on the opinion page. And we will gladly give a voice to those we disagree with, and in fact look forward to doing so.
(Scott McLeod can be reached at This email address is being protected from spambots. You need JavaScript enabled to view it.)