Archived News
Cherokee passes new budget
Wednesday, October 23, 2019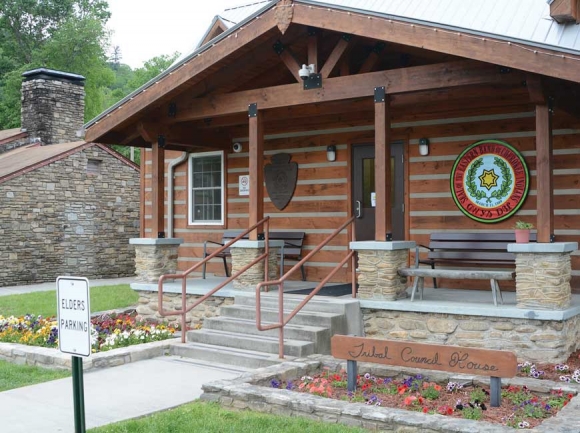 After a narrow vote and a delayed ratification, the Eastern Band of Cherokee Indians has a new budget for the 2020 fiscal year.
Tribal Council approved the document during its Sept. 12 meeting with a weighted vote of 45-36, and 19 votes absent.
Voting in favor were Chairman Adam Wachacha, of Snowbird, Vice Chairman David Wolfe, of Yellowhill and Councilmembers Richard French and Perry Shell, of Big Cove; Boyd Owle, of Birdtown; and Bucky Brown, of Snowbird. Opposed were Councilmembers Tommye Saunooke and Lisa Taylor, of Painttown; Albert Rose, of Birdtown; and Bo Crowe, of Wolfetown. Councilmembers Jeremy Wilson, of Wolfetown, and Tom Wahnetah, of Yellowhill, were absent for the vote.
Principal Chief Richard Sneed didn't ratify the ordinance until Tuesday, Oct. 2, after the previous fiscal year ended Sept. 30. No continuing resolution was passed in the interim, so it is unclear what document was governing the tribe's spending during the gap.
None of the representatives voting against the budget stated their reasons for doing so during the meeting. However, discussion earlier in the day had centered on public relations line items for Tribal Council, the principal chief and the vice chief. According to Secretary of Treasury Cory Blankenship, these funds are to be used for sponsorships, recognition of tribal members or others positively impacting the community, donations to help community members and community-focused entities and emergency assistance to enrolled members.
During the meeting, Wachacha stated that public relations line items total roughly $250,000 for the principal chief, $200,000 for the vice chief and $60,000 for Tribal Council.
The same day, Crowe had presented an ordinance seeking to establish laws governing the use of these line items for the chief and vice chief, as well as for reporting and documenting the expenditures. Crowe explained he'd heard concern from community members about the perceived lack of accountability in how those funds are spent. Vice Chief Alan "B" Ensley, meanwhile, said that the executive office has backup for each of the expenditures but doesn't want them to be public, as many of them are related to medical emergencies experienced by members of the tribe that are private affairs and may be covered by HIPPA.
"The communities, they're not wanting to see the names," Crowe replied. "They'd just like to see what it goes toward. It don't even have to have a name on it. But I would like to see it broke down a little more."
Tribal Council passed Crowe's ordinance with Shell as the sole opposing vote but Sneed, who was not present due to a medical issue, vetoed the measure Oct. 2.
"Tribal Council has effectively overstepped their fiduciary responsibility by passing this legislation, which would in fact dictate day-to-day operations of the EBCI, a role of the executive offices," Sneed wrote in his veto letter, read into the record during a special-called session of Tribal Council Oct. 4. "Furthermore, this legislation puts undue burden on the Office of the Principal Chief and community organizations applying for public relations funds by requiring receipts be submitted detailing the use of the funds."
Sneed pointed out that the law would apply only to the executive offices, not to Tribal Council, with Wachacha replying that Tribal Council only gives matching funds rather than standalone grants and that expenditures must be voted on in open session.
"It's like comparing apples to oranges when you say we're not providing receipts," said Wachacha.
While a majority of Tribal Council voted to override the veto, the body failed to garner the two-thirds vote necessary to do so. Voting in favor of the override were Saunooke, Taylor, Rose, Crowe, Wachacha, Wolfe and Brown. Opposed were Wahnetah, Wilson, French and Shell. Owle was absent. That came out to a weighted vote of 55-33; overriding the veto would have required a weighted vote of 59.
Sneed has touted the recently ratified budget as the most fiscally conservative in over a decade, based on 80 percent of casino projection. However, despite earlier assurances that the budget document would be provided once it had been voted on and ratified, Sneed's office has declined to do so.
"Cherokee Code Chapter 132 outlines the Eastern Band of Cherokee Indians Public Records Act governing the release of information from the EBCI," Sneed wrote in an emailed response to the document request. "This chapter addresses the rights of tribal citizens but has no provisions for media or others that are not tribal citizens. While the Eastern Band is happy to answer specific questions regarding the EBCI budget, the EBCI will not be providing the entire budget due to the fact it contains details that are not considered public information."
In response, The Smoky Mountain News requested some specific figures, including the dollar amounts of the overall budget, the operating budget, capital funding and public relations line items for Council and executive offices. As of press time, no reply to the request had been received.
Sneed's office did not release the budget document last year, either, but did send out a press release giving an overview of the document. The fiscal year 2019 budget totaled $564.3 million, with an operating budget of $179.4 million. The tribe's fiscal year runs from Oct. 1 to Sept. 30.
While Sneed's interpretation of tribal law is that people who are not tribal members — including those representing media outlets — do not have the right to access public documents, the law does not specifically prevent the government from releasing such documents to non-enrolled people should it want to. Earlier this year, Sneed's office indicated a willingness to release the budget document to SMN.
"The budget has not been approved, and is therefore not a final document. It will go before Tribal Council the second week of September," Sneed's public relations officer Ashleigh Stephens wrote in an Aug. 16 email. "We will be happy to provide a copy of the budget after approval."