Archived News
Eight candidates run for Franklin board
Wednesday, October 23, 2019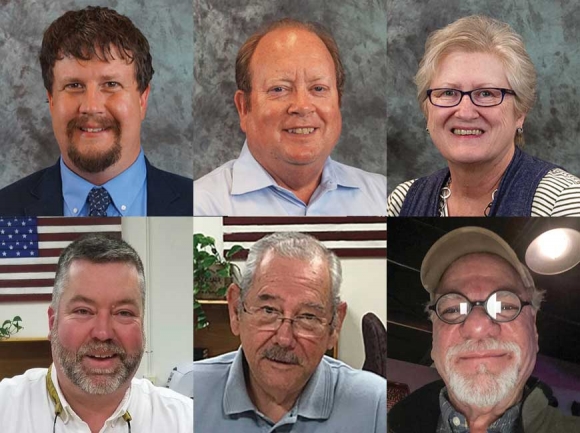 Clockwise from top left: Brandon McMahan, Joe Collins, Dinah Mashburn, Peter Mosco, Jack Horton, Mike Lewis.
Voters will be faced with a long list of candidates when they go to vote in the Franklin Town Council election, but they should be aware that two candidates on the ballot have dropped out of the race last minute.
The six-member board has three seats up for grabs this November — incumbent Councilmembers Joe Collins and Brandon McMahan are running for another term while Councilmember Adam Kimsey is not seeking re-election. Challengers on the ballot for those three seats include Daniel Coates, Jack Horton, Mike Lewis, Peter Mosco, T.J. Wright and Kevin Klatt. However, Klatt said he recently dropped out of the race for health reasons but it was too late to remove his name because the ballots were already printed. The Smoky Mountain News wasn't able to reach Daniel Coates for comment, but according to the Macon County Board of Elections, Coates also called to drop out of the race. When the elections staff told him it was too late to remove his name from the ballot, Coates said he'd take the seat if he won — so technically he's not withdrawn. If Klatt happens to win, he won't claim the seat and the board would appoint someone to the post.
The Franklin Town Council also has a two-year unexpired term to fill during the election. Councilmember Billy Mashburn won the seat in 2017 despite the fact that he died just days before Election Day. The town council chose to appoint Billy's widow Dinah Mashburn to the post until the next election and now Dinah is running unopposed to keep the seat through 2021.
Franklin faces many of the same challenges as other small Western North Carolina towns. The local economy hinges on tourism and supporting small businesses. Franklin has a vibrant downtown but has some outlying areas in desperate need of revitalization. Keeping up with aging infrastructure — streets, sidewalks, water and sewer — and planning for smart growth continues to be an ongoing priority for town officials and candidates in this election.
Until this spring, the town held the deed to the Nikwasi Mound, a sacred Cherokee site located along East Main Street in downtown Franklin. The town has been maintaining the site since 1947, but in a controversial decision, the town council voted unanimously to transfer the deed to a new nonprofit entity, Nikwasi Initiative. Mayor Bob Scott and a few other Macon County residents adamantly opposed giving over the deed, but after hearing hours of public feedback, the council felt it was the right thing to do to not only see the site further preserved and promoted but also to help heal old wounds with Cherokee people.
The new nonprofit looks at it as a joint ownership between the town, the county, Eastern Band of Cherokee Indians and Mainspring Conservation Trust and the group has plans to redevelop the parcels surrounding the mound along the Little Tennessee River.
Franklin also has been hanging on to a 12.7-acre piece of property — known as the Whitmire property — since 2005 when the town purchased the tract for $1.5 million. The plan was to construct a new town hall facility on the property but that never happened and the town still hasn't decided whether to develop it, lease it or sell it for private development. Everyone agrees it's an asset but no one can agree on its best use moving forward.
The Smoky Mountain News reached out to all the candidates to ask them about their goals and the future of their town.
Meet the candidates
Mike Lewis
• Age: 49
• Hometown: Franklin
• Education: Political science degree with a concentration in American government from Western Carolina University.
• Professional background: Currently a civilian employee with Macon County Sheriff's Office; worked as a reporter for The Franklin Press for 12 years.
Jack Horton
• Age: 68
• Professional background: Now retired, Horton spent 36 years in local government and served as Macon County's manager from 1985-1991 and from 2008-2013 and Haywood County's manager in between.
Peter Mosco
• Age: 64
• Hometown: From Long Island, New York; has lived in Franklin full-time for 14 years.
• Experience: Served as a village trustee in Long Island and has experience running a small municipality with a budget larger than Franklin's.
• Professional background: Previously a building contractor; currently a Realtor in Franklin and a luthier repairman on the side.
Why are you running for town council?
Lewis: "It's not something I've entered into lightly. I've had several people reach out to me saying I should run and at this point in my life my kids are old enough and I feel like I can be a dad and also in public service. It's always been something I've wanted to do, and I'm finally in a place in life that I can do it."
Horton: "I've had a lot of experience in local government and several people have said they think I could be a big help in Franklin. It didn't look like many people would run so I decided to give it a try and I'm glad to help if people want me in office."
Mosco: "I'm running because I'm civic and community minded with experience as a local business owner and a civil servant. I'm semi-retired now and have the time to dedicate to the people of Franklin. My time is now — I'm well established in the community now and I think I've earned the trust and confidence of residents."
What are the most pressing issues facing Franklin?
Lewis: "Everyone says infrastructure because it's the lifeblood of the town. People talk about bringing in businesses and jobs through incentives, but towns are limited in what they can offer. But by having updated water, sewer, sidewalks and streets in place, we can continue to make Franklin an inviting place for businesses. Working in law enforcement for four years, I also understand the importance of making sure our emergency service workers have what they need to keep people safe and give people a better quality of life."
Horton: "Infrastructure — and not just water and sewer — we really need to plan for the future so we have the infrastructure ready to meet the needs now and in the future. We can't wait for the demand before we try to fix it. You don't create jobs, you create an atmosphere so jobs can be created. I want Franklin to grow and develop but I also want us to maintain the character and atmosphere of the town."
Mosco: "I'm big on infrastructure — it's the foundation of the community. How do you expect business and people to come without it? I want us to grow smart and take advantage of every opportunity. We focus on downtown, but there are other areas of town that we should be really looking at — we need some kind of control over helping to develop them, but it doesn't seem the town is doing it. The thing I want to propose if elected is the riverfront overlay district development. As a member of the town planning board, we started a riverfront overlay plan a year ago and worked on it six months. Every step of the way we invited all the businesses it would impact to be involved and they didn't. And then as soon as it was going to a vote a ton of businesses showed up to contest it. I was very shocked how the board quivered to the idea. You cannot just have a few businesses dictate to you what the greater good is for the community."
How do you think the current board is doing with addressing those issues?
Lewis: "I feel like the board has done a good job — I have nothing to criticize. Everyone realizes infrastructure is the most important function of government, and I think town employees are good stewards of the resources. We need to make sure we continue that and look ahead to tackle some things down the pike. For example, the town is in the process of expanding its water treatment plant and is preparing for more capacity. There are some areas of town in need of revitalization and we're waiting on a comprehensive study to be completed and hold some public hearings on that issue."
Horton: "I think the board needs to be more open and listen to constituents and take their suggestions to heart. The town and county have worked together on several projects and I hope we can continue that."
Mosco: "As far as the current board goes, I don't want to be negative. From what I've seen there's no doubt Franklin is moving forward. There's been significant changes the town has taken on as a whole. We have two breweries and I feel that has helped with bringing in the younger generations. We should be catering to the money makers and the future generations running businesses in this town."
What do you think of council's decision to transfer the Nikwasi Mound deed to the nonprofit entity Nikwasi Initiative?
Lewis: "The issue has been settled. It's time to move forward and see what opportunities lie ahead for the mound. That area around the Little Tennessee River is something locals and tourists can all enjoy. The pieces are there and I look forward to seeing what they come up with."
Horton: "I wasn't privy to all the discussions — all I know is what I see in the paper — but I see both perspectives and both sides have good points. I'd like to see some specific steps and actions the foundation is going to do to preserve and promote the historic nature of the mound. I think there's an opportunity there but I'm not going to second guess a decision that was already made. If I'm elected I'll evaluate the situation as it moves along."
Mosco: "I don't think there was enough input on it. I think officials weren't thinking it through. The mound will be preserved no matter who has charge of it, but it was a little too quick considering it is a crucial part of the river overlay district. I think it was too early to let something like that go. It remains to be seen what happens with it. Any efforts to redevelop the area is fine with me, but looking at it for the greater good, maybe it's not the right time to do it."
What should the town do with the Whitmire property?
Lewis: "I remember that purchase when I was still at The Press. Even then I thought it would be a fabulous opportunity for a public-private partnership but it never came to fruition. Then the economic crisis hit and the economy was bad so that probably had something to do with the lack of progress on the property. I'm of the opinion we need to do something with it or sell it. Personally, I think it would be another piece of the puzzle for redevelopment. I hope we could find someone willing to put something there to benefit the entire town."
Horton: "I haven't seen what the town has done with the studies to see what the best use of the property would be. We need to determine if there's a viable alternative and what it would take to make it a reality. We also need to get public input on it — lay out the facts and ask for input."
Mosco: "I don't have any thoughts on it right now. It's something we should be using or let it be sold and redeveloped. We already own it and there's so much we could do with it."
What's your vision for Franklin in 10 years?
Lewis: "In 10 years, I'd like to see a place where my daughter can come back here if she wants to and get a job and raise kids if she wants to. I think Franklin is already like that but at the same time there's a lot of kids not coming back because there's not a lot to come back to. People think we need more businesses but the town is limited in bringing people in. The best way to do that is to have the infrastructure that people need in place for when they do come. We're so blessed with our culture, history and natural resources and we should take more advantage of that."
Horton: "I love the small-town atmosphere. When I was the county manager and someone would come up here from Florida, they'd say Franklin reminded them of The Andy Griffith Show and Mayberrry. It's an ideal town. The town government's job is to make sure we meet the needs currently and in the future so it can continue to be the kind of place everyone would like to live if they had the opportunity to do so."
Mosco: "We have to be constantly improving on our infrastructure — job development, affordable housing, promoting small business and industry and of course practicing fiscal responsibility. I'd love to see downtown have affordable units for younger people — condos or co-op artist communities. We should be working with county government on community projects — I don't see that. I would like to seek an economic development agency or think tank committee of the board or something."
Editor's note: T.J. Wright and Daniel Coates did not respond to an interview request by presstime. Kevin Klatt dropped out of the race.
Meet the incumbents
Joe Collins
• Age: 64
• Hometown: Macon County
• Experience: Served on the town council from 1997-2003; served mayor for Franklin from 2003-2013; currently serving a term as councilmember
• Professional background: Attorney
Brandon McMahan
• Age: 36
• Hometown: Franklin
• Experience: One term as councilmember
• Professional background: Elementary school teacher in Macon County; former business owner
Dinah Mashburn
• Age: 61
• Hometown: Macon County
• Experience: Two years as a councilmember; and served on various community boards.
• Professional background: Retired in 2011 from the Macon County Clerk of Court as an Assistant Clerk of Court with 30 years of service.
Why are you running?
Mashburn: "I was appointed to fill the vacancy left by the passing of my husband, Billy Mashburn. The current town council appointed me in January 2018 to fill his seat until the next election. I would like to continue to serve out the remaining two years of the term that Billy was elected to in November of 2017."
McMahan: "I'm running for a second term, because I really feel like my time with the board over the last four years has been a very positive and productive time for our town. I've learned a great deal, and I feel that I've been a part of some really great things, and I'd like to continue both furthering my experience, and trying to make Franklin a better place."
Collins: "It's been interesting," he said about his last term as a councilmember. "I'm probably better suited as a council member than as a mayor at this juncture in my life. I feel like I add a dimension to the group with my 10 years experience as being mayor. I feel like I have institutional knowledge of how things should be done."
What board accomplishments are you most proud of?
McMahan: "I'm really proud of the progress that has been made towards the town's walk and bike plan. I'm proud of the support we've given to Franklin's fire and police departments and I hope we can do more for them. As controversial as it was, I'm proud to have been a part of Nikwasi being shared with the EBCI. I'm proud of the plans that are laid out for the changes that are forthcoming to Main Street. I'm proud of our free outdoor movie program. I'm proud of the massive event that was the solar eclipse celebration. There's so much that I'm proud of, that it's hard to pluck out individual things. After almost every meeting, I come home, excitedly talking to my wife about everything that we did. I feel like there's at least one thing that I leave feeling proud about after every first Monday. This board has really done a lot to be proud of, in my opinion."
Collins: "I'm not hanging my hat on anything in particular, but I think we've been good stewards. We've worked on the water situation — right now we have a plan to expand the Cartoogechaye Creek water supply but the most recent cost estimates greatly exceeded the original estimates. We have ample water for our needs currently and in the foreseeable future so we've got plenty of time. I think we might be better off having a plan B. The atmosphere is better between the county and the town lately than at times before and I know we're working with the county on several projects."
Mashburn: "There will always be infrastructure issues in our town and county as we experience growth. More specifically, water and sewer and a continued water supply for growth in our area present challenges to the town. Attracting industry and new businesses, capitalizing on our outdoor economy, affordable and available housing, the growing homelessness and substance use issues and ways to partner with other agencies to help combat some of these issues.
We will soon begin work on Phase II of the water treatment plant, and are moving forward with a capital improvement plan & financial analysis for our water and wastewater system. The town is always willing to work with the Economic Development Commission for any ways to attract new business development in our area. Also, the results of our Franklin Comprehensive Plan should be released in the next few months, and that will address issues that we need to place priority on in the very near future. Some of the issues that I mentioned facing our area can't be directly solved by the town, but we can certainly look for ways to partner for solutions in those areas."
What do you think of council's decision to transfer the Nikwasi Mound deed to the nonprofit entity Nikwasi Initiative?
Collins: "I'm excited about the opportunities that are there with this Nikwasi project. I'm not at all troubled by the legal change of ownership. I think it's in better hands now than ever before and it opens up opportunities for development and revitalization of that area. It's greatly needed and I'm very happy so many folks showed interested in the effort. I'm a first generation descendent — my mom was one of nine children raised on the reservation so that's my second home — lot of connection there for me."
McMahan: "I still think that we made the right decision in that situation, and I very much look forward to seeing the fruits of that partnership in the future. There were well-meaning and well-informed people on both sides of that issue, but there were also those that were willingly littering social media with incredible lies and bizarre accusations. I'm sure that it will be a deciding factor for some voters on both sides of the argument. There were many people who were very much in favor of the Nikwasi initiative, just as there were those opposed to it. In the end though, no matter where people fall on either side of any issue, I just hope that voters will rely on real news outlets and facts, rather than on social media for their local political news."
The town council still hasn't made a decision on what to do with the Whitmire property — what's going on with that project?
McMahan: "I honestly think Whitmire was back-burnered again, because it was an issue that we never got a real consensus on. There was never a solution presented that had everyone in enthusiastic agreement, and it's such a big decision, that everyone wanted to be absolutely comfortable with a decision before it was made."
Collins: We continue to have in our inventory. It's interesting age and elections have cleared out most of the built in friction which was there through my term as mayor regarding this issue. Since there's no reason the board can't make a responsible decision on its future. I really don't know what its best use would be and nobody in the private sector has made us an offer we couldn't refuse but it doesn't need to stay undeveloped forever. It could be an economic engine if in the right use."
What should be the deciding factors in this election?
Collins: "You just want to know if their heart is right. Do they really want to look out for the town or are there agendas people have decided to run on. I generally look for those people in an election. Not those that come in with agendas or certain issues, but those who are willing to be public servants if elected to serve."
McMahan: "That's hard to say. We are all human, and like anyone else, we have many facets. I'd just recommend that people stay as informed as possible, follow local news media, and vote for the folks that they think can do the most good for our town. I'm sure all of the candidates have the best interest of the town in mind, so I suppose you just want to decide based on each candidate's specific plans for the future, and how they will approach difficult decisions."
Mashburn: "I will always strive to be conservative with the taxpayers money and be accessible to citizens that have questions or problems. During my current tenure on the town council I have tried to work with citizens and business owners that had concerns regarding certain issues. I have also tried to communicate and reach out to the Macon County Board of Commissioners on issues that affect both the town and county. The biggest thing I would like to say is for everyone to exercise their right to vote. I have seen in past municipal elections a very low voter turnout. The election dates are posted in the paper, and there is ample opportunity to cast your vote. Please vote and don't think your vote doesn't count. Voting is one of the greatest freedoms we have in our country."