Archived News
Three seek two aldermanic seats in Maggie Valley
Tuesday, October 15, 2019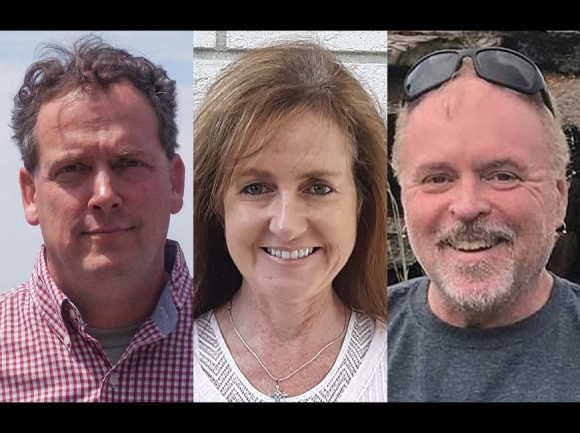 From left: Phillip Wight, Tammy Wight, and Allen Alsbrooks.
They're all hotel owners, they're all devoted volunteers in their community and they're all running for a seat on the Maggie Valley Board of Aldermen.
That's about where the similarities end.
Allen Alsbrooks, born in Washington, D.C., was raised in South Carolina but has been in North Carolina since leaving the Air Force in 1992 and in Western North Carolina since 2007. He has substantial experience in accounting and is currently in his second term on the town zoning board.
Phillip Wight is a two-term Maggie Valley alderman and HVAC company owner who was born just across the Haywood County line, in Buncombe County. He's run unsuccessfully twice for the Haywood County Board of Commissioners, but has also played a big role in Maggie Valley government's enviable financial position.
Tammy Wight is his high school sweetheart and wife.
The two of them are running for the two available seats on this board, but Tammy is more than just Phillip's wife — using her accounting and business background, she's been part of a number of civic and citizens groups and is nearing the end of her second term on the Haywood County Tourism Development Authority board, all while running the hotel for the past 24 years.
Whomever ends up on the board will see a new mayor for the first time in recent memory; Saralyn Price is returning to life as a private citizen after a career in public service — she used to be the police chief — and she'll be followed by one of two aldermen, Janet Banks or Mike Eveland.
If Eveland loses, he returns to the board to serve out the remaining two years on his term. If Banks loses, the board will entertain applications for her replacement and appoint someone.
Regardless of the outcome, change is coming to Haywood County's westernmost municipality, and Maggie Valley will either manage that change, or that change will manage Maggie Valley.
The Smoky Mountain News: The major issue in most elections boils down to progress versus stagnation, or change versus tradition. Where do you fit on that spectrum?
Tammy Wight: I think you can have an even balance and have a little bit of both. I understand that some people don't want the growth like you see in Gatlinburg or Pigeon Forge and I understand that, but I think there are things here that we can add to — our nature, and our charm — that coordinated with what we have to offer with outdoor activities. That's what we're known for.
Allen Alsbrooks: Things are going to change. It's only natural. Some people want change rapidly, and some don't want change at all. We're going to change methodically and thoughtfully and with purpose, not haphazard change.
Phillip Wight: I've got a patented line and it goes back years because I've run for office more than once — growth is coming, how quick do you want it to get here? I'm about the slow growth method. Something's gonna come, it's about the environment you provide for them.
SMN: Perhaps the biggest change that could come to Maggie Valley is the NCDOT's proposed "road diet" that would shrink Soco Road from four traffic lanes and a median to just three lanes — one in each direction, plus a median. How do you feel about that?
AA: We're not going to have a one-lane road through Maggie Valley on my watch. Everyone who knows me knows that I want things slowed down a bit. I've had four wrecks right in front of my place in the last three years. Luckily no one's died, but we can't say the same for the rest of the road. In the last 10 years we've had 367 crashes and that's just in the municipality of Maggie Valley.
PW: The people I speak to say we have a perfectly good road, so leave it alone. The road diet came along in the name of pedestrian safety, but we still haven't done anything. We've not lighted anything. We don't have a six-foot speed bump in the middle of the road. We've not done anything for pedestrian safety. All we do is keep talking about the road. A two-lane road is your best way to control growth, because you will have nothing.
TW: I'm not for the road diet. I was here when we had two lanes before, and the original Ghost Town was open, and it was bumper-to-bumper traffic. I'm not for narrowing the lanes to add bicycle lanes. I think we need to work on our pedestrian crossings and work on safety issues.
SMN: What if Ghost Town never comes back? Would you still feel the same about the road?
TW: The one thing that's not going to go away for us is our outdoor activities. We're just off the Blue Ridge Parkway, so we're always going to have a certain amount of traffic come through here for outdoor activities, with or without Ghost Town, and right now if there is a wreck somewhere, you have additional lanes to get around the wreck. If you narrow that down to three lanes, you're, I think that you're going to add to unsafe roads.
SMN: More and more, activists and citizens are calling out to their elected leaders, asking them to look at every single issue through the lens of climate change. Do you believe that climate change is a real thing?
AA: Well, everything we dump into the atmosphere is a real thing. Everything we dump into the water is a real thing. It's just how we manage it. I'm not giving up my car but you know, I'm more careful about how I drive and make sure if I have fluid leaking, I take care of those things. If it becomes an issue, I'll have to study it and look at the cost benefit analysis of it.
PW: I think it's an idiotic approach when it comes to the United States of America. You have the United Nations, and they've not done one thing to other countries. We can go back to R-12 refrigerant, which we abolished in the United States 30 years ago, but they still have not gotten rid of it abroad — something that simple, if it's that great of a threat. It's ridiculous that we put all this upon ourselves as we're developing other parts of the world and they don't comply. That's why you have industry that has left the United States — so they can trade back with us for free. You should never be able to put something in another country and build it and put it on a boat and put it in a trailer, then put it in a parking lot and stock it on the shelf $10 cheaper than we can make it in United States.
TW: I believe in a certain amount of climate change. First things first, you have to stop and look at the impact. You have to do your homework. I don't think you need to go around and just make quick decisions because then if something catastrophic happens, then you're going to be held accountable for that. We have professionals in those [town] departments now and we do have excellent water in Maggie Valley.
SMN: The Town of Maggie Valley's financial position is very strong — a fund balance above 100 percent, no debt, and the lowest taxes of any municipality in Haywood County. If you're on that board, will you make a tax cut a goal?
TW: Yes. I think that Maggie Valley has done an excellent job with their budget, and I do think that they're a role model for the rest of the county. When you have a budget like we have here in Maggie Valley, if you have an opportunity to give back to the taxpayers, I think you should.
AA: Well, I don't know. I don't have day-to-day experience with the budget. I come from an accounting background, so budgets are important to me, and cost benefit analysis is important to me. I would have to actually get involved in the budget process and see what that looks like. If a penny can be given back, I'm all for it, but if we need to take a penny to maintain solvency, we have to look at that too.
PW: Look at the new pay classification study that's coming out, which really could move the bar. It's not a problem when it comes to taking care of people because we are supposed to take care of our employees, but it also goes back to the early debt payoff eight years ago when I got elected. We paid off a lot of debt early in order to have this surplus. What did we do with it? We actually gave it back. We reduced it three cents on a hundred four years ago. The one thing about a healthy fund balance is it's a positive, a feeling of confidence — but you have to watch how the town decides to spend it.
SMN: The Haywood County Chamber of Commerce has a staff of several people and is heavily engaged in economic development, in conjunction with the Asheville Area Chamber of Commerce. Why does Maggie Valley still need its own separate chamber of commerce?
PW: I think management is everything. I do find it odd that after so many years that for some reason there's a disconnect between the TDA and our chamber and even abroad. I do think we need identification for who we are and somebody to fight for that. The chamber right now has a good group of volunteers that like to promote Maggie Valley. The management of the chamber right now seems to have some disgruntled issues with the county at large, and I think that does hurt us as a whole.
AA: I didn't move to Haywood County. I moved to Maggie Valley. It's unfortunate that people still want to marginalize Maggie Valley. There are opportunities for us out there and when our chamber board tells the executive director to look at those opportunities, I'm sure she will. We just have to get the board to do it. We can probably debate this all day long, but I am not going to ever say we want to get rid of the Maggie Valley Chamber of Commerce, period. I don't care who likes it or not.
TW: I think that this is a question for the board of the directors of the Maggie Valley chamber. I am not a member of the Maggie Valley Chamber.
SMN: This is still a tourism-based economy, but as the Haywood and Asheville chambers help market Maggie's economic development opportunities, are you open to investment that isn't based on tourists?
AA: Absolutely. I voted for the robotics company that wanted to go in Carolina Nights [now Elevated Mountain Distilling Company] when it was presented to the board. At that time, they were probably the only people interested in moving to Maggie Valley, and the number of employees they would've brought, the number of new residents, it would've been foolish to say no. It was an unoccupied building.
TW: Well, I think you have to have a balance, but the number one industry in Maggie Valley is tourism. It brings a great value to our residents also and helps save tax money on the residents by the revenue that we bring in. I don't think that we should put ourselves in a position that we let that start sliding, but if there's an opportunity out there that we can add some manufacturing, then I think that would be great. But we need to continue to work on our tourism and there's more that we can be doing.
PW: We'd never turn a job away, especially since a lot of your tourism jobs don't have a higher pay grade. So it would be nice to bring jobs in here with a little higher pay grade, even though our tourism industry needs workers as well as anybody else.
SMN: Phillip and Tammy, you're both registered Republicans. What kind of Republican are you? Are there people in the party that inspire you or influence you?
PW: I'm more conservative. I hate a title, because there's no third party that can win in today's world. I think our Democratic Party has been hijacked. You can be a Democrat in Haywood County all your life and maybe get away with it, but to believe some of the liberal agenda that's coming out and still call yourself a Democrat, it's not what my grandfather was. At the same time, to be a Republican to me is the word "conservative." I don't agree with everything that they do either, so I'm not a 100 percent "rah rah rah" Republican, but I do think my agenda fits theirs more.
TW: I'm more towards the middle. There are so many people out there that you put a lot of faith into that later you find out were not quite so. I don't really base my conservatism on any individual. I've been let down by some people that are out there. I try to think independently. I'm very conservative financially, but a little bit less socially maybe. In my personal life, I base things on my Christian values and morals and things that I grew up with, but I don't think you're seeing a lot of that in politics today.
SMN: Allen, you used to be a registered Republican, but for several years you've been registered as unaffiliated. Can you describe where you're coming from, politically?
AA: I am not afflicted by either political party. When people ask me about political party and affiliation, you know, I'm an American citizen. I don't need a party to make my own decisions for myself and what I think is important to me.
SMN: You'll have a new mayor, Janet Banks or Mike Eveland, both aldermen. Would you care to share for whom you'll vote?
AA: No.
PW: The biggest thing that's actually helped the town was, we were actually able to get into the state healthcare plan. That is 100 percent [Burnsville Republican Rep.] Michele Presnell and me and Mike Eveland, because it took two aldermen to get that pushed through. Our health care was going way up and down and every municipality wasn't able to get into that plan. What that did was provide stability to the town as far as not having that spike in insurance. That would be one great reason I would endorse Mike, because I can have a conversation with him.
TW: I would have to say that I'm going to personally vote for Mike Eveland for mayor because I feel that we share the same views on the road situation. I know that right now he's not for a road diet and I know that Janet Banks has openly stated that she's for the road diet. I think that's a pretty big issue. We've come a long way and I hate to see us go backwards.
SMN: Although it's rare, married couples can serve on the same municipal governing board. How can you assure voters of your independence, should you both win?
TW: We oppose each other on a lot of issues, but one thing I can tell you to that is we have been operating this motel through thick and thin. We have gone from the original Ghost Town being open and being full every weekend to losing 70 percent of our business. We've been through the rockslide, the road widening project, and we've had to make decisions to survive and improve together. Because of our differences, we bring a really good balance to each other and to our business. I think that we could bring that same balance to the board.
PW: We disagree daily, even on what time for you to come over here [laughing]. She's watched me run for election. I've probably won three out of five or six that I've run in, and it's not that it's not her turn to run, but for me to tell her it's not her opportunity to run — that's not my place. I think it's an awesome opportunity for her to run, and it's common sense. It's all for the right reasons that she's in it.
AA: I think it's a problem. I don't think they should be on the same board. For example, if one wanted to be on the zoning board and one on the board of alderman, I think that would be OK. If one wanted to be on the planning board and one on the zoning board, I think that would be OK. It takes the decision-making process out of the public eye and puts it in private camera. I'm not married to either one of them.