Archived News
Last-minute dropout leaves Canton candidate unopposed
Tuesday, October 15, 2019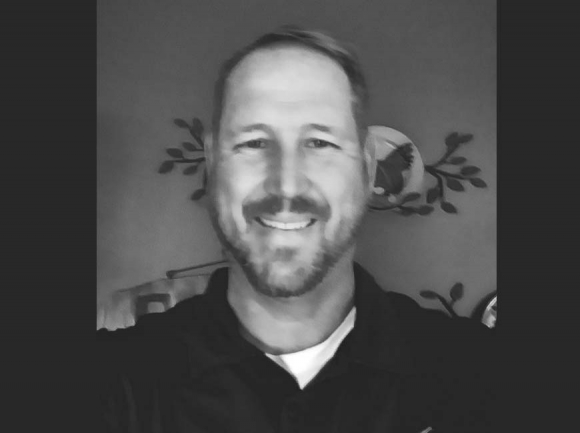 Tim Shepard
Much like this summer, a simple real estate transaction has led to important consequences for the Canton Board of Aldermen/women.
Alderman James Markey, elected in 2017, had to vacate his seat mid-way through his term because he'd moved out of the district. Rather than appoint a successor, the board opted to wait for the November elections, so voters could fill the seat.
Two candidates, Aaron Jones and Tim Shepard, filed to run for the two-year unexpired term, but Jones recently purchased a home just outside Canton's city limits. It's too late to remove his name from ballots, but he won't be able to serve if elected.
That leaves Shepard, a Franklin native and Pisgah High School science teacher, as the only viable candidate. He also has Jones' endorsement.
"He's a great guy from a great family, and will be a great alderman," Jones told The Smoky Mountain News last week. "Anyone who had any support for me should vote for Tim Shepard."
Barring an unexpected Jones "victory" or a surprise write-in campaign, Shepard will join Alderwomen Kristina Smith and Gail Mull as well as Alderman Dr. Ralph Hamlett on the board under Mayor Zeb Smathers.
The married father of two transferred from East Tennessee State to Western Carolina University, where he earned bachelor's degrees in history and in social work. Around that same time, he did an internship in the Haywood County Schools, and began working for SOAR, a private school program that provides programs for children with attention deficit and learning disabilities.
From there, Shepard began teaching at Waynesville Middle School, and then at Canton Middle School for 13 years until recently landing at Pisgah.
Registered as a Democrat — like every other member of the board — Shepard says he's a centrist.
"There's a lot of things that I look at and I identify with — the idea of trying to get people the help that they need, and making sure that we take care of different areas of society that need to be taken care of," he said. "But then also, there's things that I follow on to the more moderate or conservative side of things."
The most important issue in Canton right now, as in every other Haywood County municipality, is growth, or rather, growth management. Shepard's centrist views will help shape that.
"When I look at where Canton is in particular, we're in a state of change right now and I feel like that's not change for the worst," Shepard said. "It's change for the better. I just want to be part of it and steer it to where we're moving in a good direction and making Canton a better place. Not necessarily a bigger place, but a better place. I like the fact that we're growing. I like the fact that we're seeing an influx of people coming in that are adding more to the community, but I would like to make sure that we're steering it in the right direction and making sure that it's positive growth."
From an economic development standpoint, that growth needs to augment the manufacturing legacy of a town that bears the slogan, "Where the wheels of industry turn."
"Just the nature of how our economy in this part of the state is, we have to look to try to bring in more diverse things because there's certain industries that fit well," he said. "Haywood County in particular is set up pretty well for industry to come in, but there's no sense in not looking at what we have as far as all recreational activities."
In that sense, recreation can also include entertainment; Canton's town-owned Colonial Theater has long been the focal point of downtown doings, but it's costly to maintain and has probably never been fully utilized, even after a 2018 board work session held to address the theater's bottom line. Some want it sold. Others want outside markers to promote it. Still others want the town to produce events there.
"We need to find better ways to utilize it," said Shepard. "A good plan is, hang on to it and see if we can't do something similar to what they do with the bandstand in the park, or maybe do something kind of like Flat Rock [The Flat Rock Playhouse] has or what HART has over in Waynesville. Do a concert series or kind of turn it into something like [Asheville music venues] Grey Eagle or the Orange Peel. That would be something that would go along with what I think we're trying to do with the way the Labor Day celebration is moving."
Another asset that some consider underutilized is the town's sprawling watershed, which provides clean drinking water to Canton residents; there are virtually limitless recreational opportunities there, but increasing human activity could jeopardize the pristine condition of the water supply.
"I feel at this particular moment that we don't want to jeopardize that because if you look at the bigger picture in other parts of the world, that's a resource that we don't want to compromise right now," he said. "The future points towards us making sure that we hang on to resources like that so that we can utilize them later."
That ties into government recognition of, and planning in response to, climate change.
"If you look at the evidence that's presented right now and you take the politics out of it, we're having an effect on [climate]," said Shepard. "It's not something that is a future thing. It's a thing that's happening. The way that we need to start looking at things is not just now, or the end of this generation, but the next generation and the generation after, and trying to plan our growth accordingly. Now, that's hard because we can't predict the future, right? But we can at least lay the groundwork."
If elected, Shepard would be replacing the only elected official in Haywood County who works as a teacher (Markey), but the fact that he's technically unopposed doesn't exactly mean he's a shoo-in; Canton has a strange predilection toward write-in candidates, and with the relatively small number of residents eligible to vote in the election, Shepard said he'll still be out campaigning hard to ensure he's elected.
"I've had opportunities to be out in public at events to let people see me," he said. "This is my first time running for office, so I've been kind of feeling it out a little bit. The radio station contacted me to do an advertisement and I thought I'll probably do one of those on a Friday night. We know what Friday night means around here."