Archived News
Clampitt makes it official
Tuesday, October 15, 2019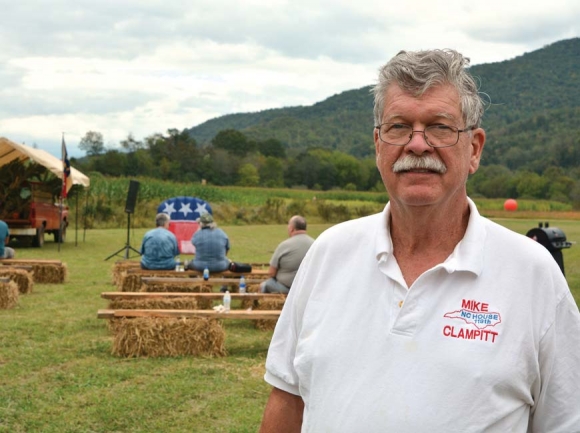 Former Rep. Mike Clampitt, R-Bryson City, will again oppose Waynesville Democratic Rep. Joe Sam Queen for the House district 119 seat. Cory Vaillancourt photo
When North Carolina House District 119 voters get their ballots a little over a year from now, they'll likely see two very familiar names.
Barring a Republican primary challenge, Bryson City Republican Mike Clampitt will oppose Waynesville Democratic Rep. Joe Sam Queen for the fifth time in a row.
"I'm announcing today that I'm officially a candidate for North Carolina House District 119, and Joe Sam Queen's seat is in peril," Clampitt said at an Oct. 12 Swain County GOP fundraiser at Darnell Farms in Bryson City. "Mike's back."
Clampitt lost to Queen in the highly competitive district — Haywood, Jackson and Swain counties — in 2012 and in 2014, but narrowly beat him in 2016 by less than 1 percent.
That victory helped Republicans gain a veto-proof supermajority, but it also came amidst a presidential election that saw the popularity of President Donald Trump boost other Republican candidates across the state and the nation.
"The Trump bump was easily worth two to three points across the state," said NCGOP Chairman Michael Whatley. "He had a good 3.5 percent margin in the 11th district in particular, where he got more votes than anybody else. We saw a tremendous upsurge."
Without that "Trump bump," in 2018, Clampitt lost the seat back to Queen, helping Democrats regain enough House seats to break the Republican supermajority and defend Rocky Mount Democratic Gov. Roy Cooper's budget veto.
"I think what we're seeing right now with the governor's veto and the fact that he's been able to sustain it this long shows you how important it is for you to have the veto override and it shows you how important it is for us to get those supermajorities in both the House and the Senate," said Whatley.
The real question is, will there be a Trump bump in 2020, and if so, how big will it be?
"I think frankly here in 2020, we're going to see an even bigger Trump bump," Whatley said. "The excitement and the enthusiasm that we're seeing for the president in rural areas, it helps to turn up those numbers and be able to drive a lot more enthusiasm and that's going to reflect all the way down the ticket."
For his part, Clampitt wants to bring what he says is a true Western North Carolina voice back to Raleigh.
"I feel that WNC counties — Swain, Jackson and Haywood — need to have a real representative in Raleigh," said Clampitt. "Somebody who will take and actually do what they say they're gonna do, and not just be a yes person to get people's vote."