Archived News
Prominent local Democrat switches parties
Tuesday, October 15, 2019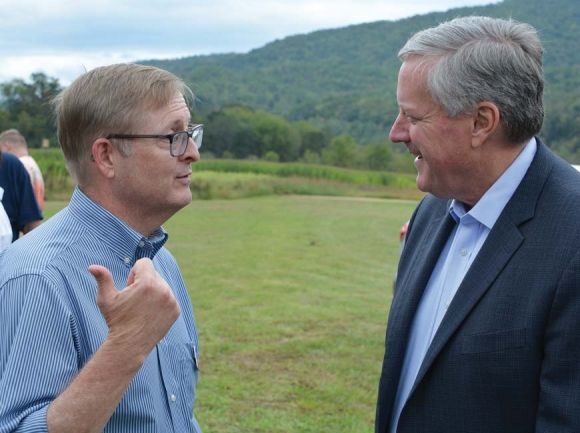 Judicial candidate Jim Moore (left) talks with Rep. Mark Meadows Oct. 12 at a Swain County GOP fundraiser. Cory Vaillancourt photo.
When Jim Moore ran for Clerk of the Superior Court back in 2018 he did so as a Democrat, but now that he's running for a District Court judgeship, he'll do so as a Republican.
"Over the years, I was considering how the Republican Party had assisted my family. For example, right now my son is in Taiwan at the university of Taiwan. He got a national defense industry scholarship called the Boren scholarship and in part Mark Meadows helped him," Moore said of his motivation for the change. "My daughter is a teacher and she's gotten a number of raises over the years here in the state and that's part of the Republican Party. And the more I've thought about it, a lot of my friends have said over the years that I'm far more conservative and more like a Republican than I've ever been as a Democrat, as far as the way in which I look at law and order."
Moore said the Republican Party's national profile doesn't factor in to his decision to change parties, because he's always had a local focus, but the bench seat he now seeks is in a seven county district from Haywood County all the west to Cherokee County.
"Over the years, either as an assistant District Attorney for 17 years and now almost 17 years as a private attorney, I've worked in all seven of those counties in both criminal and in a civil type matters, domestic cases, DSS, juvenile — basically everything that a district court judge would do," he said.
Also a non-factor for Moore is the ability of either party to turn out voters better than the other party.
"Actually, there's not a lot of difference," he said. "They look at prior history and voting. They look at precincts. They do calls. There's a lot of the GOTV that's the same. I think they're pretty equal."
More than party, it's experience that matters, according to Moore.
"A lot of times, the judge is sitting there and learning the facts as they come in," he said. "They don't have time to study it. They have to know the law as it applies to those cases, and you're expected to make a decision, if not right then, then pretty soon after you've heard everything. So if you delay, then it's just a delay in justice."
In addition to Moore, Haywood County attorney Kaleb Wingate and Macon County attorney Rich Cassady will also appear on Republican primary ballots this coming March.