Archived Arts & Entertainment
Fingers like lightning: Remembering Raymond Fairchild (1939-2019)
Tuesday, October 15, 2019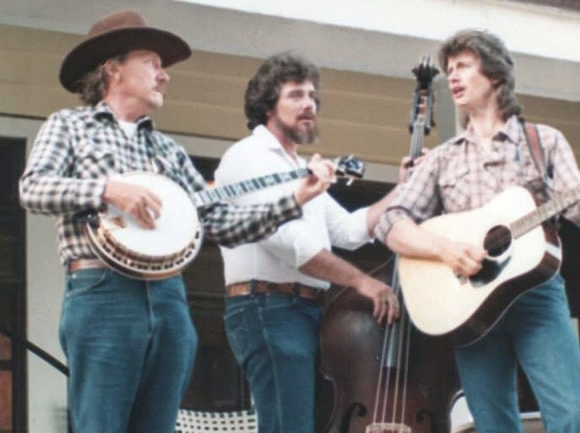 Raymond Fairchild & the Crowe Brothers.
Raymond Fairchild — a bluegrass legend in Western North Carolina — passed away unexpectedly Sunday afternoon at the age of 80, but his music and influence will live on for generations.
SEE ALSO: Ode to Raymond Fairchild, ode to mountain music
"Raymond took the influence of Earl Scruggs and Don Reno and created his own unique style. He had impeccable timing and I heard him once say, 'You could play a waltz, but it still has to have drive.' As a bluegrass musician, I know exactly what he means by that, and he had it. We played quite a few shows in the 1980s and 1990s with him and enjoyed his friendship. He was always kind and shared words of wisdom and laughs with us. On a few rare occasions, Dad and Raymond would sing the Bill Monroe and Frank Buchanan duet 'There Was Nothing We Could Do' onstage, which was always a highlight for me. Our thoughts are with the Fairchild family. Rest in peace to the 'King of the Smoky Mountain Five-String Banjo' and our friend, Raymond."
— Ronnie McCoury, singer/mandolinist for The Del McCoury Band
"The Crowe Brothers started our professional career with Raymond Fairchild in 1975 and traveled many years together. To say a lot in a little, he was one of the greatest banjo players of all-time and whenever five-string banjo playing is mentioned, Raymond Fairchild's name should definitely be included. His unique style was what made him so great. His playing was so different in every way from all the others. Rest in peace, friend."
— Wallace Josh Crowe, guitarist for The Crowe Brothers
"When Raymond traveled to perform, he would hire his friends to play in his place at the Maggie Valley Opry. I loved the place, his sweet wife, Shirley, the people who came to listen and the knowledge that I was included as part of the magical experience of regional mountain music. Sitting on the car seats that served as couches in the Fairchild's 'green room' was 'making it.' If Raymond thought you were good enough to play with or for him, well, that was an honor. Raymond Fairchild was a brilliant musician with stellar timing. He was comfortable in his world and community, and we are less for his passing."
— Carol Rifkin, award-winning musician and radio host on WNCW
"Early in my life, Raymond was an inspiration to me. With admiration and respect, I watched him play his banjo many times. He achieved something few instrumentalists do — he created his own style of playing. He had the fastest thumb I ever saw. He could play dizzying sections of single notes using only his thumb and index finger. Raymond adapted complex melodies and made them fun to hear on the banjo. Respected worldwide, Raymond Fairchild will be missed for his sharp wit, his promotion of our mountain region, and his stylistic playing. Bluegrass Heaven gained a good man."
— Marc Pruett, banjoist for Balsam Range
"Raymond Fairchild was a wonderful man and an eclectic banjoist within the Earl Scruggs tradition. I used to hear him on local radio when I was a kid, and his 'Whoa Mule' was a favorite, always inventive. Later, I met him while I was playing with Alison Krauss and he proved to be a genuinely nice guy. He was a true original and he will be truly missed."
— Tim Stafford, guitarist for Blue Highway
"We are so sad to learn of Raymond Fairchild's passing. I admired his hard-driving and inventive style, but I have to admit that I was a little intimidated to meet him. We had heard that he was no-nonsense and some southern musicians even told us about the time he shot a hole through a standup bass when its owner wouldn't quit playing while Raymond and his band were trying to rehearse backstage. With that in the back of my mind, I remember Raymond's firm handshake and how kind he was when I met him at the Cherokee Bluegrass Festival. He couldn't have been nicer."
— Eric Gibson, singer/banjoist for The Gibson Brothers
"I love that Raymond was so innovative in his banjo style. He didn't copy anyone — he just did his own thing. He was very kind to me as a young banjo player and loved the clawhammer style. The Maggie Valley Opry was a 'must see' for visitors to Haywood County."
— Laura Boosinger, acclaimed banjoist/old-time musician.
"Raymond Fairchild was one of North Carolina's finest gifts to the music world. He had a tremendous right hand on the banjo, and his playing was instantly recognizable. Rest in Peace to a North Carolina original, and a fine man."
— Joe Newberry, banjoist/storyteller
"I would describe Raymond Fairchild's style of five-string banjo in one word — drive. From his early recordings with The Maggie Valley Boys and The Crowe Brothers up to his passing, Raymond Fairchild's banjo is like a freight train tearing down the tracks, stunning and amazing all listeners. Fairchild was a rare type of banjo player. He inherited every form of mountain banjo and synthesized into a unique blend of old-time, bluegrass, two-finger and even blues picking. One listen to one of his showpieces like 'Whoa Mule' or 'Black Mountain Rag' will tell the story. It is also worth noting his open acknowledgment of the multi-cultural roots of mountain music have created the precedent for modern interpretation of the Native American roots of old-time music. Rest well, Raymond Fairchild. Thank you for the music and for sharing the rich culture of Cherokee, North Carolina, with the world."
— Dom Flemons, acclaimed musician/storyteller, formerly of the Carolina Chocolate Drops
"I know Raymond was an icon to the bluegrass world, but, to me, he was the guy who came to Pennsylvania Avenue Elementary School when I was a little kid. He mesmerized us with that banjo and his funny stories, and help foster a love of mountain music that still endures. He always wanted to talk the Bible with me — I'll always appreciate that. He is a bluegrass treasure, for sure, and a true Haywood County man. God bless Shirley and the kids."
— Tim Surrett, singer/bassist for Balsam Range
"We're very blessed to have had one of the best banjo players ever, Raymond Fairchild, call Haywood County home. It was always such a treat to see Raymond perform in person. He was a tremendous influence in the world of bluegrass and inspired many musicians throughout the years. He was a great ambassador for Haywood and will truly be missed."
— Lynn Collins, executive director of the Haywood County Tourism Development Authority
"Raymond was a genuine master of the banjo. He could play as well as anyone, but always sounded like himself. I always respected that he did things his own way."
— Graham Sharp, singer/banjoist for The Steep Canyon Rangers
"Bluegrass music has always embraced uniqueness. The first generation was chalked full of them, and right at their coat tails was 'The Chief.' The banjo wizardry of Raymond Fairchild took the world by storm and we've never seen the calm after. His hands took banjo playing to another level from the minute he picked up the instrument. As I learn that those hands are now still, I'm not sad, I'm thankful. I'm thankful for Raymond's personality, music and life dedicated to said music. Bluegrass music has lost a true character but it inspires me today to stand for my own music and dare to be different with guns-a-blazing."
— C.J. Lewandowski, singer/mandolinist for The Po' Ramblin' Boys
"Raymond Fairchild was quiet man of few words. He let his fingers speak for him. He was forever faithful to his music and this valley. Bluegrass has lost a legend. Maggie Valley has lost a family member."
— Teresa Smith, executive director of the Maggie Valley Chamber of Commerce
"Raymond Fairchild was a true original. He was a musician that totally had his own style. His influence on bluegrass music and the banjo is monumental. More personally, his influence on my life and my music is the same. I met Raymond when I was a kid, only 12 or 13 years old. I had the opportunity to play with him and his band several times at his Maggie Valley Opry. I learned so much from Raymond, especially about finding my own sound. He and Shirley were always so kind to me and I feel like they were a part of my family since the first time I met them. The world has lost a musical giant and an incredibly good man. We were all very lucky to share the planet with Raymond Fairchild."
— Trey Hensley, singer/guitarist for Rob Ickes & Trey Hensley
"In 1963, when he signed with Rural Rhythm Records, Raymond's first album of banjo music sold hundreds of thousands of copies. It was the first time many people, especially on the West Coast, heard three-finger banjo style. Raymond Fairchild was the real thing, a true mountain man. His music was mountain to the core."
— David Holt, acclaimed storyteller/musician and host of PBS' "David Holt's State of Music"
"I met Raymond Fairchild when I was eight years old and he was so kind to me as a young musician. My family and I became regulars at his Opry House in Maggie Valley, and he would always get me up to play a few tunes. So many of my first musical memories come from being onstage with Raymond and his great band. His music and personality will be so missed in Western North Carolina and beyond."
— Seth Taylor, guitarist for acclaimed act Mountain Heart