Archived Reading Room
That Month In Tuscany serves up romance and adventure
Wednesday, October 09, 2019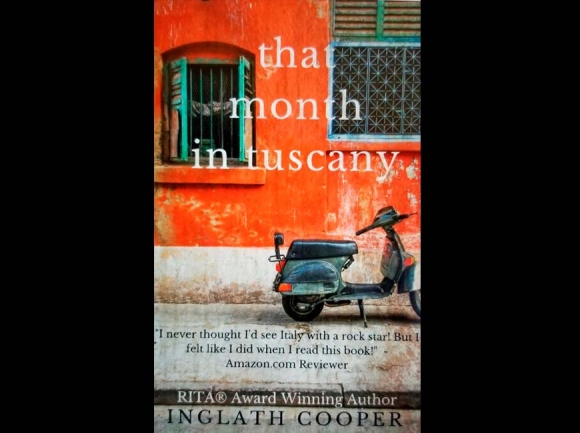 At the public library that is my third home — my first home is a basement apartment, and my second is a local coffee shop — the staff often slip older books onto the "New Book" shelves. These are the shelves I explore looking for books for review, the latest titles from publishers large and small. So when I pick up a book I am usually careful to check its date of publication.
When I opened That Month In Tuscany (Fence Free Entertainment, 2014, 319 pages), the first page of the novel featured a character departing from Charlotte, North Carolina, to Florence, Italy. I'm always up for a story set in Carolina, and after reading a few pages, the story had me hooked.
Fortunately in this case, I neglected to check the pub date until I was well into Inglath Cooper's tale of a marriage at rock bottom, romance, and second chances. Had I checked the date, the book might still be sitting on the shelf, and I would have missed a good read.
Our story begins with Lizzy Harper, who has made plans for a month-long sojourn in Tuscany to celebrate her twentieth wedding anniversary with her husband, Tyler, an attorney. They had taken their wedding vows when Lizzy was 19 and pregnant with their daughter, Kyle, but their marriage has gone stale, and Lizzy hopes a change in scenery and routine will breathe some life back into their relationship.
On the night before their departure, Ty claims he has too much work hanging over him at the firm to make the trip, an old pattern of broken promises in their marriage. As Lizzy says, "If I'm honest with myself, truly honest, I will admit I knew that in the end, he wouldn't go. But to leave it until the night before: that surprises even me."
And then Lizzy surprises Ty and her daughter Kylie, a student at the University of Virginia, by making the trip alone. After Ty leaves for work, she takes her bags, heads for the airport, boards the plan, and during the flight literally falls into the lap of Ren Sawyer, a rock star deeply depressed and in need of solitude.
Ren, who is a few years younger than Lizzy, is tall, handsome, and world-renowned for his music, yet he feels lost, at the dead-end of a long path, and even contemplates suicide as a way out of his misery and the guilt he feels over the death of his brother. As he and Lizzy become friends, and then more deeply attracted to each other, Ren finds in her a balm for his wounds.
Meanwhile, back in the States, Lizzy's best friend Winn drives by the Harper's house on an early morning errand and recognizes a car in the driveway belonging to Serena Billings, a new hire at Ty's law firm. Winn parks her car, goes to the house, rings the doorbell, and confronts Ty with his adultery. She then calls Lizzy to tell her of Ty's betrayal, and Ty sets out for Italy in an attempt to square things with his wife.
Enough. To reveal more of this story would be inappropriate. There are several surprises, and I will leave it to the reader to unwrap these gifts.
Other than its readability and its fast pace — I read the novel in several sittings in a single day — That Month In Tuscany offers other pleasures. Because of Cooper's use of multiple voices to tell the story, we hear from Lizzy, Ren, Ty, and Kylie, viewpoints that give us a kaleidoscope of emotions and of choices made or refused. When Lizzy, for example, takes up her camera and begins shooting photographs of the Tuscan countryside, an avocation she abandoned long ago because Ty considered it a waste of her time, we see her through the eyes of Ren:
"I wait while she aims her lens in every direction at various angles. I see her nearly instant absorption and the way she connects with what she sees. The longer I watch her, the more I realize how much I am enjoying observing her without her self-conscious awareness."
Cooper also brings a frequent smile to the reader through her use of humor. After Lizzy falls into Ren's lap — she's had an unaccustomed amount of wine and is returning to her seat after a trip to the plane's restroom — she sleeps for the rest of the flight, wakens with a headache, and then realizes how she looks to Ren when seeing her reflection in a window.
"My suspicions of horror are confirmed. My hair looks as if I slept with a blanket over my head. My face is completely devoid of any makeup. My clothes look like I've been wearing them for a week."
Finally, these characters, particularly Lizzy, display thoughts and emotions common to many people: the second-guessing about what someone says to us, the hesitation to change direction in our lives, the fear of making a mistake, the sadness over a loss and the hope of possibility for the future. Lizzy and crew act as mirrors for the rest of us.
If you're looking for entertainment and a good story, then give That Month In Tuscany a try.
For me, it was just what the doctor ordered.
(Jeff Minick is a writer and teacher. This email address is being protected from spambots. You need JavaScript enabled to view it.)