Archived Arts & Entertainment
This must be the place: Seen so many places, still don't know where I'm bound
Wednesday, October 09, 2019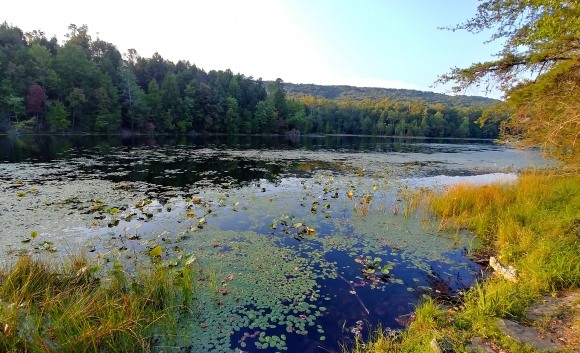 My 2019 festival season is over as of this past Sunday night at the "Blue Ridge Jam" at Pisgah Brewing in Black Mountain. With my first festival of the year in late March, I've attended and/or covered 24 music festivals in the last 29 weeks. Crazy, eh?
I didn't realize that until I reflected and counted it all up. Sure, I have a few left locally on my radar as the year winds down: Fall for Greenville, Art of Music, and Christmas Jam. But, in essence, the whirlwind of people, places and things is now at ease, at least for the moment.
And I came into 2019 in such a weird state of mind.
Professionally, things were off and roaring: my lifelong dream of writing for Rolling Stone became a reality (I still pinch myself every time I see a byline on their website). As of last count, they've published 15 articles of mine since last December.
But, personally, I was very sad deep down inside. Lost. Lonely. Felt like a ghost kind of floating around. I was really down and out, a loner simply avoiding dear friends and family, licking my wounds in search of honest truths about myself.
So, I took off to music festivals, and did so pretty much every single weekend. I dove deep into work and into the open road: to clear my head and maybe find myself along the way. With the written word as my guide, I let the music pull me in whatever direction it moved.
My travels took me coast to coast, to California and Maine, to Maryland and Florida, and seemingly everywhere in between. Thousands of miles in my trusty old pickup truck. Countless nights spent sleeping in it, too. Cold mornings in Kentucky. Hot afternoons in Virginia.
And within those wanderings, I truly and genuinely connected with my most favorite thing in the cosmic universe: music, especially when performed live.
The music industry, even with all its flaws and chaos, has always been my safe haven, my Zen zone by which I conduct myself and my work. I crossed paths with so many road dogs, acclaimed musicians and folks from all corners of this business.
So many I've considered dear friends and soulmates for years. And so many I met for the first time this year, faces and personalities I couldn't imagine ever not knowing or having as part of my existence. A few times, I even said sincerely, "I'm supposed to know you."
I had heart-to-heart conversations in faraway towns, distant fields and on the tailgate of my truck. All surrounded by music. All together in search of the sound that heals our souls.
FloydFest is still my most favorite festival on the planet. With Kickin' It On The Creek a new, and close, second. DelFest blew me away with such a beautiful vibe from both sides of the microphone. The KROQ Weenie Roast was a big bucket list item crossed off. Railbird was absolutely mesmerizing. And Suwannee will always hold a piece of my heart.
And I got to emcee a few festivals, too. It's something I'm really coming to enjoy, and it's an honor to be asked to help out these great gatherings. So, thanks Cold Mountain Music Festival, Strings & Suds, ElkFest, and Blue Ghost Brewing.
Interviewing Brandi Carlile alone backstage at MerleFest in Doc Watson's dressing room was one of the greatest moments of my entire life.
And so were interactions behind the scenes with Marty Stuart, Jerry Douglas, Sam Bush, Vince Herman, Wes Borland, Nick Hexum, SA Martinez, and so forth.
Who could forget all of those incredible performances: Billy Strings with String Cheese Incident at DelFest, Brandi Carlile with The Avett Brothers at MerleFest, Kelsey Waldon with John Prine at Bonnaroo, just to name a few.
I also think of two pillars of our scene, two friends of mine (and ours), who left us this summer: Jeff Austin and Neal Casal. Their absence has impacted every aspect of the scenes we all work in, and are part of, whether you're a musician or a music freak. Your music will forever remain. And the road goes on forever, as they say.
So, here I am. It's October. Mid-March seems like some far-off dream, some place fuzzy in my memory, almost like another world. I'm not the same person I was coming into the festival season this spring. And that's a good thing.
I feel lighter than I did in March. Heck, than I did in June, too. I also feel once justified that I'm on the right path, that this is what I'm meant to do with my life: the written word and live music.
I'll always be a work in progress. Who isn't, eh? But, the lessons I've learned and the connections I've made this festival season have forever changed the trajectory of my life. And, for that, my gratitude is overflowing within my true spirit and self.
Life is beautiful, grasp for it, y'all.