Archived Arts & Entertainment
Running jumping standing still: A conversation with Charlie Parr
Wednesday, October 09, 2019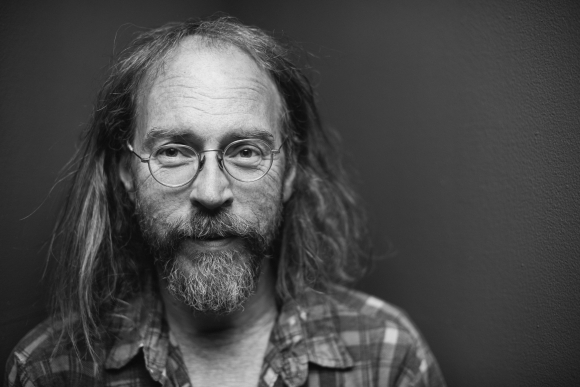 Charlie Parr.
In the matter of a song, Charlie Parr can make you laugh and cry, all while finding simple meanings and understandings about the human condition.
The Duluth, Minnesota, singer-songwriter and his trusty guitar hold court onstage, with Parr hunched over the acoustic instrument in a presence that's not only humble, but magnetic, too, where the listener is immediately pulled into his orbit of sound and scope.
And with his latest album, aptly titled "Charlie Parr," the troubadour's timeless nature is once again showcased, a tone rich in hard-earned wisdom and devil-may-care attitudes.
It's Charlie Parr at his finest, which is a soaring soul out on the road and behind a microphone connecting kindred spirits through the universal language that is music — something that we need now more than ever before.
Smoky Mountain News: Just talking with you right now, you seem in a lot better spirits than when we've chatted before. It's always fun to talk with you, but there's this childlike wonder in your voice.
Charlie Parr: Yeah. I'd say that's right. You know, depression is weird. It has throughout my life kind of been an ebb and flow. I've been a lot more proactive as far as getting on the ball and getting myself to an objective therapist, and kind of taking a good hard look at what's happening.
And I feel, at this point in my life, I've learned some things about stopping that flow of depression when I feel it coming. I've learned how to recognize it as it's building.
And, you know, I got some new tools in my bag and I feel better about that. I feel farther away from the hopelessness, that complete bleak and foggy desperation that I felt in the past.
Right now, I feel awake and I can't tell you how grateful I am for that. I spend a little time everyday just reveling and thinking, "OK, I'm awake again today. Let's work on this stuff again." And I'm really happy for that.
SMN: Does that mean that you also identify with the idea of "the now"?
CP: Yeah. That's been an important part of my life, and for I think most of my life. I mean, I think even in the depths, there's been a lot of me that's been more concerned with how to live in "the now" because it's really true for me that the past is a source of this weird kind of melancholy depression.
And I guess it's more related to sadness, that if I want to visit it, that's fine. But, if I don't have any business being there [in the sadness], then it's probably something I should try to stay out of.
And the future is a great source of anxiety for me. Planning for the unplannable is a hard lesson, but I think it's something that was important for me to learn. And so, I'm concerned about the idea of the "eternal now," but I'm a little more organized about it now than I have been in the past.
SMN: So, I guess would mean that you also see humor in everyday life as a way of approaching the world.
CP: Well, the world is hilarious at times, and I think it's important to take account of that. Because, you know, if you don't, it's also really terrifying and you can't work on [untying] the knot [of your emotions] if you're terrified. So, finding a little bit of humor to rise above that terror of what's happening in the world is important.
SMN: It's one of those things where people are always worrying about levels, in life and their careers, and how that really doesn't matter because there will always be levels, no matter what. So, why worry? There's gas in my tank, food in my fridge and I get to create for a living.
CP: It's all gravy now. At the end of the day, I will play as long as my hands are able to do it, even if I'm in the kitchen. And there's a joy that I get out of writing and my little therapy painting that I do. There's this really intense and very authentic joy that I get there that doesn't have to have to be my "career." It's just joy now.
And the fact that I'm doing this right now, where I'm on my way to Pittsburgh [tonight] to play guitar for money. It's pretty amazing to me that I have another day to do that. That's what I woke up to do today — to drive to Pittsburgh to play the guitar. That's fun, man. I love that.
Want to go?
Singer-songwriter Charlie Parr will perform during an album release celebration at 8 p.m. Sunday, Oct. 13, at The Grey Eagle in Asheville. Aaron "Woody" Wood will open the show, which is all ages.
Tickets are $15 in advance or $22 for premium seating. For more information and/or to purchase tickets, click on www.thegreyeagle.com.