Archived News
New leaders inaugurated in Cherokee
Wednesday, October 09, 2019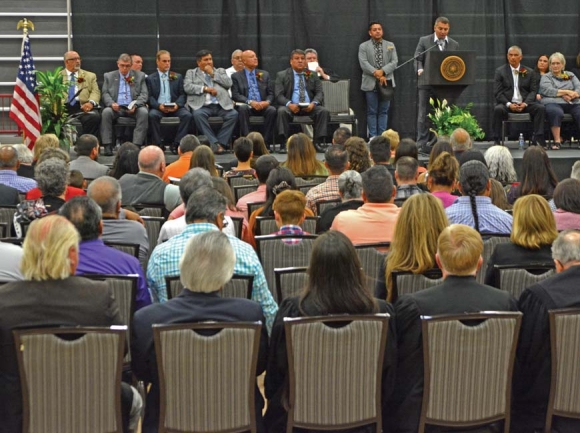 A new chapter in tribal government began this week when the winners of September's General Election were sworn in before a crowd whose members ranged from local community members to state and national legislators.
"Thank you all for being here to share in this very special occasion as we have participated before you with this sacred swearing in ceremony," Principal Chief Richard Sneed told the hundreds of people filling the indoor stadium at Cherokee Central High School for the event on Monday, Oct. 7.
Sneed, who took office following the impeachment of Principal Chief Patrick Lambert in May 2017, will serve another four years in the office after winning this year's election with a comfortable 55.1 percent of the vote against challenger Teresa McCoy.
In his inaugural address, Sneed reminded his fellow elected officials of their duty to uphold the rights of all people and all of the tribe's laws as they begin their new terms in tribal government and expressed his optimism about the years ahead.
"I am pleased to say that I have never been more hopeful about the future of our tribe than I am right now," he said. "We have a Tribal Council and an executive branch that understands the absolute necessity of progress on many fronts, and they're willing to make decisions that are necessary to ensure the prosperity, both culturally and economically, for our tribe."
Culture and economics will be important focuses for the next four years, said Sneed, with sound finances key to ensuring that the generations ahead continue to enjoy the opportunities currently open to tribal members. Sneed said that this year his administration presented the most fiscally responsible budget in over a decade — The Smoky Mountain News has not yet been given a copy of the budget — and that the tribe is currently in sound financial shape.
"We must be mindful that while things are going well financially for us now, that does not mean things will always continue as they are," he said. "In fact, be assured of this. There will be another economic downturn in the economy at some point in the future. We must prepare now so that when such a downturn occurs we will be financially prepared and not caught off guard."
Of utmost importance in the years ahead, said Sneed, will be efforts to preserve the Cherokee language. This will involve heightened educational programs in schools, increased learning opportunities for adults and an overall effort to overcome the fear of failure and to encourage beginning speakers to make a practice of exercising their newfound skills in public.
"Let history be our judge that we will answer the call, and we fulfilled our destiny for such a time as this," said Sneed. "Let us purpose in our hearts that not only will our language survive but that it will flourish and thrive, that once again the true spirit of our people will be expressed in our own language for the world to hear. May God bless each one of you as you do your part to accomplish this monumental task."
Vice Chief Alan "B" Ensley will serve alongside Sneed after winning a new term with 65.2 percent of the vote.
"I made a pledge when I went in my door would always be open, and it has, and it will continue to be open," said Ensley after taking his oath of office.
The ceremony also included the swearing-in of school board members Jennifer Thompson of Yellowhill, Tara Reed-Cooper of Big Y and Regina Ledford-Rosario of Painttown, as well as oaths of office for the new Tribal Council.
The 2019-2021 Tribal Council features two new faces — Chelsea Saunooke, of Wolfetown, and Dike Sneed, of Painttown. Returning are Councilmembers Boyd Owle and Albert Rose, of Birdtown; Adam Wachacha and Bucky Brown, of Snowbird/Cherokee County; David Wolfe and Tom Wahnetah, of Yellowhill; Richard French and Perry Shell, of Big Cove; Bo Crowe, of Wolfetown; and Tommye Saunooke, of Painttown.
In an organizational meeting held after the inauguration, Tribal Council voted to reinstate Wachacha as chairman and Wolfe as vice chair, with no opposing nominations.
Wachacha thanked Council for its vote of confidence and said he was ready to get to work for another two years.
"I know it ain't always going to be easy and the road sometimes is rocky when we get to Raleigh and Washington," he said, "but with hard work and dedication we can achieve almost everything."
Tribal Council also approved Michelle Thompson as English Clerk, Myrtle Driver Johnson as Indian Clerk, Sally Arch as interpreter and Bobby Taylor as door marshal.