Archived News
Billy Graham left legacy of humility, compassion, unity
Wednesday, October 09, 2019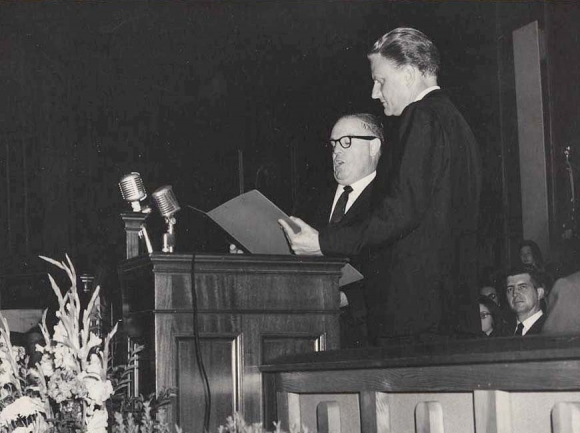 Billy Graham was just a local preacher from Montreat the first time that the Methodist Lake Junaluska Conference and Retreat Center asked him to come speak at Stuart Auditorium.
"There was a man who wrote to Rev. Billy Graham and invited him to come," said Bill Lowry, author of the book The Antechamber of Heaven: A History of Lake Junaluska Assembly. "He said he was very sorry but he had a previous engagement in Los Angeles. Well, that was the Los Angeles crusade that made him a national word."
The 1949 crusade drew more than 350,000 people during its eight-week run, and Graham became a household name through newspaper coverage read by millions. Within the year, President Harry Truman had invited Graham to visit the White House, the first of many such visits during many different presidencies.
But Graham did eventually come preach at Lake Junaluska, speaking at the center at least six different times over the years.
The first was on Aug. 19, 1952, when he spoke at Stuart Auditorium for an evening service. He'd been told during his visit that the auditorium needed a roof replacement, and so he asked for a special offering during the service, raising more than $800.
Graham returned in 1955, standing alongside then-Vice President Richard Nixon, and in August 1956 he shared the pulpit with famed British clergyman William Sangster. Graham's next visit was on July 7, 1963, also a sermon at Stuart, and on Aug. 8, 1965, Graham was invited to appear at a special service in honor of Dr. Harry Denman, longtime head of the General Board of Evangelism of the Methodist Church.
"To his surprise, it was also a service to honor him," Lowry wrote in Antechamber of Heaven.
A citation from the board of trustees praised Graham's "notable service in extending the Kingdom of God through evangelism in many nations and for his Christian character and personality" — all that despite the fact that Graham was a Baptist, while Lake Junaluska is a Methodist organization.
"I can't think of any other person who is not Methodist who came here on six different occasions," said Lowry.
But Graham was able to walk the denominational divide with ease, and not just at Lake Junaluska.
"You looked across multiple denominations and it seems like it was almost universally that they had a love and respect for Mr. Graham, and he wasn't speaking along denominational lines," said Eric Wilkes, a 22-year employee at the Billy Graham Training Center in Asheville who currently serves as director of operations. "He was just speaking through the word of God, and he let that speak for itself."
During his 99 years on earth, Graham spoke to live audiences totaling an estimated 215 million people in more than 185 countries, preaching 417 crusades in a career of 50-plus years. During the early part of his career in the 1950s, Graham brought the gospel message to bear on the need for racial justice, during a 1953 crusade tearing down the ropes separating white and black people. Later, he discussed with Dr. Martin Luther King, Jr., ways that evangelism could bring an end to segregation.
Graham was able to cross political lines, meeting with every president from Truman to Barack Obama, fostering friendship with Democrats and Republicans alike. However, as his career drew to a close, he said that he wished he'd stayed even further away from politics.
"Becoming involved in strictly political issues or partisan politics inevitably dilutes the evangelist's impact and compromises his message," he wrote in his autobiography. "It is a lesson I wish I had learned earlier."
Despite his international profile and growing sphere of powerful friends and acquaintances, those who knew Graham say that humility remained his hallmark.
"The one thing about Mr. Graham that really stands out was his humility and the fact that through his many years of ministry while he was here on earth there wasn't scandals," said Wilkes. "A lot of times you hear about different figures that have fallen from grace. Well, that was something that you didn't hear from Mr. Graham, and that was why people respected him so much."
Lowry, too, had the chance to meet Graham in person — before he moved to Haywood County, when he was working as a Methodist minister in Mississippi. Graham led a crusade down there, and Lowry was involved in organizing the event. Graham was a busy man, and a famous man, but you'd never know it based on his interactions with people, said Lowry.
"He was the kind of person that when you were engaged in a conversation with him you just felt like you were important to him, and he made you feel that way," said Lowry. "He was not like one of these popular figures in other genres where I need his autograph and all that. No, he was just another person, and you were important."
When Graham died in February 2018, an outpouring of grief erupted across the nation and the world. But before his death, Graham had made it clear that emotion was misplaced, said Wilkes.
"One of the things that he said was, 'When you hear rumors that I have died, I will be more alive than I have ever been before,'" said Wilkes.
Graham was referring to heaven, and to his new residence in the eternal presence of God's love and glory. But his legacy extends here below, as well.
The continuing work at the Billy Graham Training Center is just one example — last year, the facility served more than 20,000 guests through its programs, hosted about 120 groups including 2,000 people and welcomed 15,000 guests to its visitor center, according to Wilkes with life-changing consequences.
"We want them to leave here different than when they came in, and that's what God does when he works in their lives," said Wilkes. "But we don't want to stop there. As quick as they leave these gates, we want them to make an impact in their community. And that was Mr. Graham's heart as well — just change the world for Jesus Christ."