Archived News
BearWaters Brewing wins medal, announces expansion
Tuesday, October 08, 2019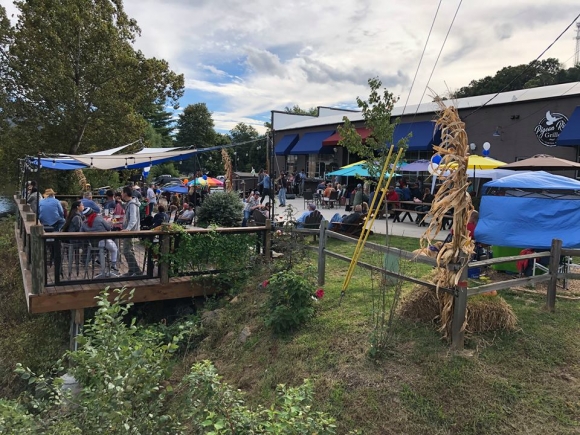 Western North Carolina's brewery scene is a crowded, competitive place, but thanks to Canton-based BearWaters Brewing, Haywood County's own small slice of the burgeoning industry is getting bigger, and getting better.
For the third time in as many years, BearWaters took home a medal at the prestigious Great American Beer Festival, held each year in Denver.
"We've been in that competition, the largest in the country, since we were formed in 2012. You're going up against every brewery, even the macro breweries," said Kevin Sandefur, who with Art O'Neil owns BearWaters. "We've fallen short a few times with our entries, but the last three years we've been incredibly fortunate to win back-to-back-to-back. It's something every brewer aspires to — it's like getting a Grammy in the music industry."
In 2017, BearWaters took home a bronze medal for their Smells Like Money Belgian strong ale, and followed that up a year later with a gold medal for their Pink Passionfruit, an American fruited sour.
The beer that won the silver medal in this year's English mild competition, Sliding Rock Ale, almost never came to be.
"That's our flagship beer, so its cool that one of our core beers won," said Sandefur. "But it was an accidental beer."
When BearWaters started in 2012, Sandefur was attempting to brew an Irish red, but had forgotten to add a few key ingredients to the mash tun. When it was done, he immediately knew something had gone awry, because it wasn't, well, red.
"I said, what the heck, I'll put it on tap," he said.
Sliding Rock has been BearWaters' top seller in statewide retail distribution and its Canton taproom. That trend is likely to continue in BearWaters' newest location, opening soon at the west end of Maggie Valley.
"We officially signed the lease last Friday, and stated construction over the weekend," said Sandefur of the building that most recently played host to the short-lived Garrett House. "The whole premise of that location is to offer a second tap room."
The location makes a lot of economic sense, according to Sandefur; it allows BearWaters to bookend Haywood County in the east and west with a strategic placement that will increase both market share and visibility.
Called BearWaters Creekside Maggie Valley, the new facility shares more than just award-winning beer with the current Canton location, which has been renamed BearWaters Riverside.
"Both locations are on water, and we're going to build a deck out back," he said. "Inside, we're going to take it up couple notches, reconfigure it into more of a family friendly, pub-style environment."
Sandefur said he plans to do some barrel aging of specialty products at BearWaters Creekside, and also plans to bring in a "heavy hitter" chef to utilize the building's kitchen, including its wood-fired pizza oven.
That heavy hitter isn't Haywood County's serial entrepreneur Richard Miller, who currently operates the Pigeon River Grill inside the Canton location.
"This expansion will just make Maggie Valley more of a destination for us and for Elevated Mountain," said Sandefur.
Dave Angel's Maggie Valley distillery is in the midst of a transformation brought about by a change in state law that now allows him to function more or less as a bar. Angel's also added scads of outdoor seating, is ramping up the distillery's performance schedule and recently hosted his first music festival, Kickin' in the Sticks.
With the recent announcement of new activity at Maggie Valley's long-shuttered Ghost Town in the Sky amusement park, the sleepy resort town appears to be picking up steam in the economic development arena.
"It has all the right indicators, and a similar feel to Canton three or four years ago," Sandefur said. "We just saw enough economic indicators and changes in the Valley that gave us the confidence to go in there and make this move."
As in Canton, town officials in Maggie Valley are similarly excited about the venture, according to Sandefur, who couldn't say when the Creekside facility would open but said it was "pedal to the metal" to begin serving customers as quickly as possible.
"We're just hoping to recreate some of the magic," he said.