Archived Outdoors
Gift of the Mountains: Rooted in the Mountains connects Cherokee past and global future
Wednesday, October 02, 2019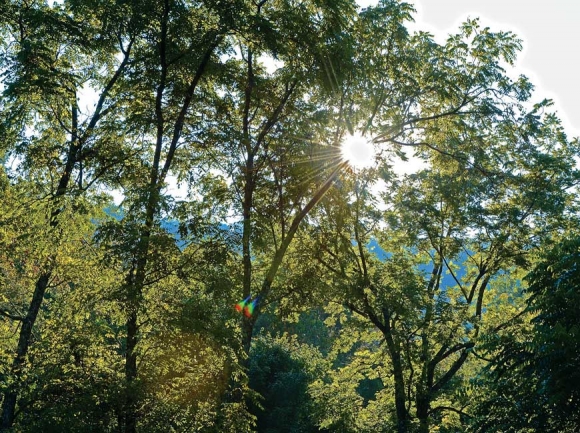 Morning sun shines through the trees upslope from Judaculla Rock. Holly Kays photos
It was an hour and a half after sunrise, and the day's first rays had not yet touched Judaculla Rock, hidden away in a hollow near Caney Fork in Jackson County.
"I would encourage you to come back at different times," T.J. Holland, cultural resources supervisor for the Eastern Band of Cherokee Indians, told the group assembled around him. "It's one of these fascinating things — time of the year, time of day, weather all affects how this looks, and I've not been here twice that I've not seen something different."
The group Holland addressed was there as part of Western Carolina University's 10th annual Rooted in the Mountains Symposium, whose packed program Sept. 26-27 explored the connection of traditional and local knowledge to health and environmental issues through a variety of panel presentations and field trips. Holland, a member of the Eastern Band of Cherokee Indians, guided the Sept. 27 Judaculla Rock trip along with Cherokee Nation member Tom Belt, retired coordinator of WCU's Cherokee language program.
Judaculla Rock is the largest petroglyph east of the Mississippi River and is named for Judaculla — or, as he is called in Cherokee, Tsul cla lu — the slant-eyed giant of Cherokee legend who Holland describes as the Appalachians' "first forest ranger." He lived in these mountains long before the Cherokee arrived, taking care of the plants and animals and water. When the Cherokee got there, he showed them how to do it too.
"After a time, he decided that he had come and taught people all he needed," said Holland. "It was time for him to go."
So he left, traveling down Caney Fork and then along the Tuckasegee River into the Little Tennessee River. He hit the Hiawasee River and then went up Brasstown Creek before eventually ending up in northwest Georgia. Today, petroglyphs can be found all along that path, but Judaculla Rock is by far the largest.
The markings were made, the story goes, when Tsul cla lu jumped down in anger after seeing a couple of poachers in the area. When he landed, he broke his fall with his hand, leaving a print in the rock.
A textbook in stone
The six-fingered print is still visible, but it's just one of many mysterious markings covering the rock. The story goes that Tsul cla lu left the rock as a textbook of sorts for the Cherokee, teaching them what they would need to know to steward the land once he'd gone.
"For thousands of years, our people held to those beliefs as the core markers of how we explained the world, how we explained who we are, and how we explained everything that's in it," said Tom Belt. "This actually is a text. This is a manuscript. This tells us about who we are."
At its height, the Cherokee territory covered portions of eight modern-day U.S. states. According to Belt, the towns scattered over that vast area would send emissaries to this place, so that they could learn what was written on the rock and then return to teach the people back home.
"The fact that Western Carolina University is 7 miles from here isn't just a coincidence," said Belt. "This area has always been the cradle of that kind of learning, that kind of knowing."
Unfortunately, the last 150 years have been earthshakingly traumatic for the Cherokee people, and for their culture. The 1830s witnessed the mass exodus of Native Americans from the Southeastern United States thanks to increasing encroachment on Indian rights from the U.S. government, culminating with the Cherokees' forced removal to reservation lands in Oklahoma. Some did stay, and they became the Eastern Band of Cherokee Indians.
Known as the Trail of Tears, the removal not only resulted in the death of 4,000 people during the march, but it also divorced the majority of the Cherokee population from their Appalachian homeland. For a people whose very identity is rooted in the topography and ecology of the place they'd called home for thousands of years, that was no small thing.
The boarding school era dealt another blow to the continuity of Cherokee culture. Beginning in the late 1800s, the U.S. government launched a concerted effort to assimilate Native Americans into white culture by removing children from their families and forcing them to attend boarding schools, where they were required to dress in western-style clothes, abide by western codes of conduct and speak in English rather than in their native languages. Native American parents didn't gain the legal right to deny their children's placement in off-reservation schools until the passage of the Indian Child Welfare Act — in 1978.
All that disruption has taken its toll on Indian tribes fighting to maintain their cultural identity. With an estimated 213 fluent speakers left, the Cherokee language itself has been declared to be in a state of emergency, and when it comes to the meanings of the symbols etched into Judaculla Rock, much has been lost to history.
"I'm not sure there is anyone alive today who knows as much as they did 150 years ago," said Belt. "There were people around 150 years ago who could probably speak on this for days. But because of our recent history and the changes that have happened a lot of things that we knew among our own people have now kind of vanished."
Tom Belt, a member of the Cherokee Nation of Oklahoma and retired coordinator of Western Carolina University's Cherokee language program, discusses the rock's history and meaning.
A reminder of identity
That doesn't mean that the etchings are wholly indecipherable. One of the rock's most prominent features is a diagonal line that, if followed one way, ends up in Panthertown Valley, home to the headwaters of the Tuckasegee River and the Eastern Continental Divide. Follow it the other way, and it leads to Kituwah, the ancient Cherokee "mother town," located near modern-day Bryson City.
Some of the rock's other markings relate to celestial places, said Belt, while others speak to the terrestrial, and still others to the underworld.
"These things connect us," said Belt. "They connect us not only to our own people in the past, but they connect us to that time, the element of time, and it makes it all then like we're still here. We're still here and we never left."
The messages on the rock gave the Cherokee people of ancient times a sense of identity, a knowledge of where they were in the world and what their role was there. And, despite what has happened over the last 150 years, it still does that today.
"It's a way to ground us," said Belt. "It is a way to tell us who we are. It is a way of telling us where we are at, and maybe even the importance of all of that information and what it means to all of us as people."
That information is not just a bunch of myths and fairy tales, either. As Belt said during his keynote address for the symposium Sept. 26, science is increasingly backing up the wisdom of the ancient Cherokees, showing that there was truth in the beliefs and stories that served as their foundation of culture and stewardship for thousands of years.
"Today we are finding out that those mythological superstitions that we were told that we believed in are now becoming scientific fact," said Belt. "It is ironic that they are now finding out that trees actually do communicate with each other, to the point of where trees may have memory."
Not all European settlers eschewed the Cherokee as primitive or uneducated. The Appalachian settlers in many ways relied on Cherokee knowledge to survive, learning from the native people which plants could be used for healing, which were poison and which were food. The descendants of these settlers were not sent to boarding schools or marched down the Trail of Tears like their Cherokee neighbors. As a result, the traditional knowledge still held by these non-Native communities could be key to preserving and rebirthing threatened Cherokee heritage.
"It is ironic that we may have to look up to the mountain people who have been here, who still know those things, because their knowledge of plant life here exceeds what most people think," said Belt.
Kituwah people
It's a realization that in some ways harkens back to the very name of the mountains' First People. "Cherokee" was never a word these people used for themselves, and in fact the word "Cherokee" has no meaning in the Cherokee language, said Belt. What probably happened is that the Spanish conquistador Hernando de Soto heard another tribe call them that, so when contact was made the Europeans already had a name for the mountain nation.
But the Cherokee referred to themselves as the People of Kituwah, pronounced "giduwah." Broken down, Kituwah means "the dirt that belongs to a third party" — that is, to the creator.
"We did not own this land. We did not create it. We only lived on it, because it belonged to a higher power," said Belt. "It belonged to something we were not capable of truly understanding, but we could see every evidence of it around us."
Mounds of earth served as the centerpieces for Cherokee towns, a sacred gathering place for governmental, spiritual and social purposes. But that dirt had no breaking point, no wall or moat to separate it from the dirt that ran into and under the nearby stream, up the mountain, down the slope and on and on until arriving at the ocean — then slipping under the ocean until, eventually, hitting a new continent a world away.
"In fact we are all people of the ground that belongs to the creator," said Belt. "We are all, maybe, Kituwah people. Maybe that's what we were saying. We are going to have to help each other to save it. We have to understand that again. We have to understand the nature of who we are. And we have to understand the nature of what we are. That is the gift of the mountains."