Archived Arts & Entertainment
In search of that 'high, lonesome sound': IBMA awards showcase celebrates 30 years
Wednesday, October 02, 2019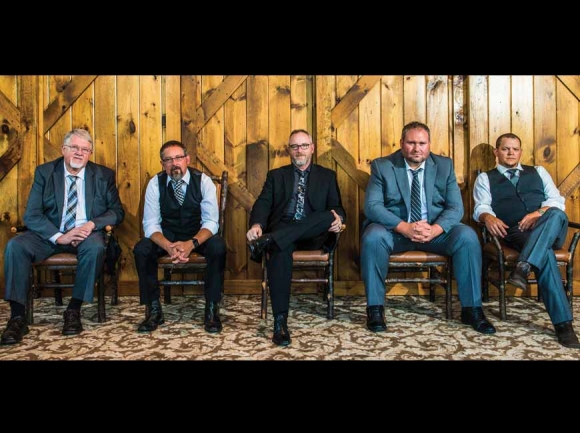 Balsam Range. David Simchock photo
Just before he entered the main auditorium of the Duke Energy Center for the Performing Arts in Raleigh this past Thursday evening, Darren Nicholson stood back for a moment as he watched the entire bluegrass industry mingle before his eyes.
"We're just a bunch of boys from Haywood County. It's a big night for us and we're just glad to be here," said Nicholson, the mandolinist for Balsam Range.
"Here" being the 30th annual International Bluegrass Music Association award show. Celebrating the biggest names in bluegrass and string music, the IBMA showcases fiery legends and bright newcomers in the industry, where the scene itself comes together for an unforgettable night of melodic magic and life-changing recognitions.
"We're nominated amongst all of our heroes. This is the best of the best. We just want to have fun and make music. And we're here because we try to make music that matters — it's a huge honor," Nicholson said.
The reigning IBMA "Entertainer of the Year," Balsam Range was once again up for the top honor. And though the Haywood County group didn't retain their crown, at least for this year, the band's legacy as one of the most awarded and talented acts of modern bluegrass remains secured.
Capturing her third in a row "Female Vocalist of the Year" honor, Brooke Aldridge stood in front of the award podium and humbly stated, "This is all I've ever wanted to do." Aldridge, who fronts a renowned bluegrass ensemble with her husband, Darin, is a marquee act on the Mountain Home Music Company, based in Arden.
Also on the Mountain Home label, Sideline won "Song of the Year" for "Thunder Dan" and Kristin Scott Benson (of The Grascals) received "Banjo Player of the Year" (her fifth award in the category).
Bluegrass legend Roland White, who recently put out an album with Mountain Home, was honored for his iconic mandolin work when his groundbreaking group The Kentucky Colonels was inducted into the International Bluegrass Music Hall of Fame.
Aside from co-hosting the award show with beloved singer-songwriter Jim Lauderdale, bluegrass pillar Del McCoury also picked up "Album of the Year" for "Del McCoury Still Sings Bluegrass" (Del McCoury Band).
"Back when we started [the IBMAs], we couldn't envision it being this big. Through the years, you grow and stay there for a while, and then you grow again. Now, it's worldwide, and we're really proud of it," McCoury said, who recently turned 80 years old. "I first heard Bill Monroe, Lester Flatt and Earl Scruggs when I was 11. And I thought, 'That's what I got to do.' And I still feel that way. Those guys were architects and nobody can come up to that level, even though that was in the 1940s — they were just that good. They could pull all together and make a sound that's lasted."
But, the highlight of the award show came when Balsam Range jumped onstage with the North Carolina State University Symphony for a cover of The Beatles' "If I Needed Someone," a mesmerizing rendition of sound and scope that left the audience in sheer awe.
"That's a song we've wanted to do for years now. The melody of it got to me, so I wanted to hear it sung in three-part [bluegrass] harmonies," said Tim Surrett, bassist for Balsam Range. "You have The Monroe Brothers who influenced The Blue Sky Boys, who influenced The Louvin Brothers, who influenced The Everly Brothers, who then influenced The Beatles — it all comes right down through there."
With the award show coming to a close, industry folks and musicians alike scattered in every direction toward raucous after-show label parties and never-ending late-night hotel lobby jam sessions, only to wake up in the morning and head back out on the road for another year of endless miles and countless performances — all in the name of chasing long-held dreams in real time.
"The fact that [the IBMAs] has been around for 30 years means that bluegrass is for real. It's a real American art form and people take it very seriously," Nicholson said. "You have five-year-old kids who are wizards on their instruments to 90-year-old people who have played their whole lives — this music has changed culture, it's changed people, and it's brought people together."