Archived News
Fontana Regional reflects on 75 years
Wednesday, October 02, 2019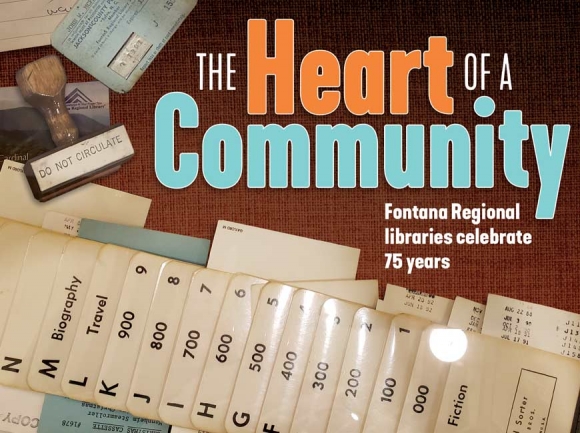 What started as a traveling bookmobile 75 years ago has now evolved into a regional system of six library branches. Together they are striving to provide a broad range of services to their communities while defending their relevance in a changing society.
"I think we need libraries for a lot of reasons," said Karen Wallace, who serves as the librarian at the Franklin library and also as the director of Fontana Regional Library System. "We always try to respond to the needs in the communities. Where is the lifelong learning coming from if not from a public source like the library?"
To celebrate its 75th anniversary, Fontana Regional is asking its patrons to share their library stories and make a donation to help reach a $75,000 fundraising goal.
A bookmobile was the beginning of the Fontana Regional Library System in 1944.
History
In 1944, the Tennessee Valley Authority (TVA) was in the process of building Fontana Dam and wanted to provide library services to its workers and their families in the most remote parts of Jackson, Macon and Swain counties. That led to the first bookmobile in Western North Carolina.
"That was the catalyst for the regional library system. It's been an interesting time for us to explore our own history," said Wallace.
At that time, she said, many of the communities already had some kind of library. The Hudson Library in Highlands is one of the oldest libraries in the state. Formed around 1884, the library was privately owned and operated by volunteers.
Franklin had a library that started in the 1890s though it didn't have a permanent home — it moved from the masonic lodge to the drug store to private homes.
"I've read a lot of Macon County history and it was the teenagers who really were the folks who started the library in Franklin because they felt like it was needed," Wallace said.
Jackson County's first library opened in 1928 to help students pursue an education.
Cashiers also had a community library, but it didn't become part of the regional system until 1994.
Swain County's public library was started in 1929 by its namesake, Marianna Black, a community leader who would basically carry books around town in two old suitcases and take them to different businesses and homes. By asking friends for monetary donations, Black was able to increase the size of the collection to 10,000 books by 1935. The Works Progress Administration built a stone community building on the Bryson City square in 1938 and space was allotted for the library. A fundraising drive in the 1960s led to the construction of the current building on Fryemont Street, which was completed in 1969.
The Nantahala Community Library was the last branch to be created within the Fontana Regional Library System. In conjunction with the Nantahala Community Development Club, the library was housed in the community center starting in 1986.
"The building was problematic. Then we had the opportunity to get into the building we're in now in 1999 and we're still there on the school property, but it's aging," Wallace said. "It's a modular building and really the life expectancy has run out."
Fontana Regional incorporated as a nonprofit entity in the 1950s when there was a statewide effort to form more regional library systems.
"The State Library of North Carolina and the state legislature felt that people in rural communities could be better served with more equitable services by forming regional library systems," Wallace said. "The state felt like if it gave additional money to regional systems for administration, people would have more accessibility."
The regional system today does still receive some funding from the state, but is largely supported by the county governments with contributions from some of the municipalities as well.
Fontana Regional Libraries received a grant to purchase a number of robotics kits (right) for youth.
Staying relevant
Some claim libraries aren't as relevant in a modern society where so much information is at our fingertips, but Fontana Regional continues to find ways to disprove that theory. The Fontana libraries are bustling with new and innovative activities nearly every day while providing vital services for rural residents who still can't access internet.
"Some people today read on their Kindle but many people choose not to — they like the smell of a printed book or they enjoy that tactile experience. And for others it's about affordability — not everyone can buy the books they want so having information freely available to people is still an important thing," Wallace said.
While the libraries still offer the same educational opportunities as they always have, they utilize new technologies to make learning even easier for their patrons. Fontana Regional began offering internet access in 1995 — marking a major shift in public library services. There's no longer the cumbersome card catalog and older reference guides since information is constantly changing. Everything now can be searched in an online database.
The libraries also have access to statewide academic research databases to ensure patrons find reliable and credible information in a day and age when anything can be published on the internet.
"The world was changing even though internet was clunky at first. Now we all carry it around with us, but there are still some people that can't get internet access at home or that don't want it at home," Wallace said.
Today, the libraries provide free internet and Wi-Fi to patrons thanks to the generous donation of services through Balsam West. The libraries have computers as well as laptops the public can use or they can access the internet using their own devices when they visit.
"It's been an evolutionary process — we need to go to the people in 1944 because of a lack of transportation. Now people are much more mobile so we're able to evolve and respond to the current needs," Wallace said.
As libraries have transformed through the years, Wallace says they have become a gathering place for people in the community — one without pretense or prerequisites. There's no expectation to purchase anything and you can choose to socialize or find solitude. Everyone is welcome at libraries. Living in a large retirement community in Macon County, Wallace has seen how the library has become an important lifeline for people who live alone or just recently lost a spouse.
"We need social infrastructure just like we need physical infrastructure. We need places where people can freely gather," she said.
These days the libraries are used for more than finding knowledge inside of a book or online. Every week community libraries host different events for all ages, whether it's a storyteller, a local musician, an artist exhibition, a community jam session, family movie night, a health and wellness presentation, or help finding a job.
"And they're all free because everyone pays through their tax dollars. It levels the playing field," Wallace said. "It's the most economical way to get access to a lot of items and on average the cost is $25 a person per year if you want to think of it that way."
It's true — most people have access to books, the internet, music, and other important resources — but the number of people without access is still underestimated. There are school children who still don't have access to books or internet once they go home. There are parents who can't afford the latest technologies that would allow their children to continue their education at home. There are people who need assistance creating a resume or filling out job applications online.
Children can learn more about STEM with the many maker tools available at the Fontana libraries.
Programming
While the county financial contributions to the libraries help cover many overhead expenses, the Fontana Regional staff is constantly looking for grant opportunities to be able to offer more unique experiences for children and adults.
Fontana recently received a federal library services grant to purchase MakerTools, which incorporate many of the STEM (Science, Technology, Engineering and Math) skills students are being taught in school. The grant allows the Jackson County library to get 3D printers, technology to convert VHS, cassettes and vinyl to DVDs and CDs, robotic kits for youth to learn coding, Arduino (a Raspberry Pi) and other items. Arduino is an open-source electronics platform based on easy-to-use hardware and software in which a user can design and build electronics programs.
This cutting-edge technology is now available to all residents. The library has even hosted 3D printer group presentations to teach the public how it works. It may be a foreign concept for many adults but it's now a part of science and math curriculums to make rural students more competitive in STEM-related professions.
"We have to keep our stuff up-to-date on how to use all of these things as well," Wallace said. "Then there's the logistics — how do we loan it out and for how long."
Residents probably don't even realize all the items that can be checked out at the library — a sewing machine, knitting kits, quilting kits, telescopes and more. That's right — you can check out a telescope from the library — but it's a highly sought-after item so be prepared for a wait.
The first telescope was donated to Fontana Regional from the Astronomy Club of Asheville. Since it was being checked out regularly and with the 2017 solar eclipse approaching, the system purchased a few more with another library services grant.
"We bought one for every library and we also got a planetarium — we did tons of shows to get people ready for the eclipse," she said.
"Throughout our history, we've tried to respect the fact that we drew these libraries together under the Fontana Regional umbrella but that each community is different," Wallace said.
The Fontana Regional Library governing board has representatives from each community, which provides equal voices but also provides a way for each library to learn from the others as well as share resources.
Unique to the Macon County library in Franklin is a backpack program to accommodate the growing thru-hiker visitors on their Appalachian Trail journey. It's packed with a headlamp, compass, field guides and maps to be checked out.
"The outdoor industry is booming here so we're working to enhance that feature because it's growing our economy," she said.
The Macon County library also has a community garden and the harvest is donated to CareNet, a food charity in Macon County. Wallace said it's not unusual for the help desk to have a basket full of tomatoes or greens available for patrons to take home with them.
The library also hosts a "Teen Coffeehouse" that hosts social events for youth, including a fierce game of Dungeons and Dragons.
During the summer, the library partners with the USDA to provide free lunches to kids under the age of 18.
"All they needed was to have a site to prepare the food and we felt like we were in a good place to be able to do that," Wallace said.
Getting a library card is still free for all North Carolina residents, and if you aren't a resident in one of the Fontana library communities, your library card still allows you to access all the libraries have to offer. Even if you don't visit the physical library, cardholders can download audiobooks, music and much more online. Wallace said the regional approach has been a beneficial one for Western North Carolina.
"I think we deliver better services to those counties because we're a regional system because we're able to share resources. Even more than that is our ability to share knowledge. Staff at each library brings new ideas and we can help each other out with staffing needs," Wallace said.
Marianna Black Library in Bryson City has the most facility needs at the moment with plans to construct a new library.
Fundraising
As communities celebrate 75 years of Fontana Regional, Wallace hopes community members will contribute to its anniversary campaign to raise $75,000 for the library system.
"We're very fortunate to have Friends of the Library groups to support us in each county and we get by with the money approved by the county and the state but this fundraising campaign will help make us exceptional," Wallace said. "There's more unusual things we want to try out and this seemed like a good opportunity to raise money for the organization as a whole."
Indeed, the libraries have a number of financial needs — Nantahala library is in an aging modular building and the community has been lobbying the county for new digs, and Marianna Black Library is out of date and out of space.
Macon County commissioners have been in the process of completing a space needs analysis to examine all of its county infrastructure. The plan will allow the commissioners to prioritize their most pressing capital needs in the coming years — the Nantahala Community Library is suspected to be a high priority when that report is completed.
"Our greatest facility needs are in Swain and Nantahala — all the others have fairly recent buildings or have been newly renovated," Wallace said.
The process of getting a new library in Bryson City is moving much slower, as Swain County commissioners have been unwilling to commit funds toward a capital fundraiser. The library was fortunate enough to receive a generous land donation for a new facility back in 2014 from Don and Toni Davidson. The couple donated 9 acres on Fontana Road with the stipulation that the land would revert back to their ownership if the new library project isn't underway within seven years.
Time is of the essence to push forward. The new library planning committee has been hard at work coming up with architect plans and fundraising efforts for the $7.2 million proposal for a 34,000 square foot library, but the commissioners still haven't committed to funding the remainder of the project.
"For the Jackson County library, we raised $1.6 million in grants and fundraising efforts, with Macon's library we raised $1.2 million so we have a good track record of substantial capital fundraising so I think we should be able to raise $1.5 million for Marianna Black. We'll continue to be hopeful," Wallace said.
Fontana Regional Library System
• Jackson County Public Library, 310 Keener St., Sylva
• Albert Carlton-Cashiers Community Library, 249 Frank Allen Rd., Cashiers
• Macon County Public Library, 149 Siler Farm Rd., Franklin
• Hudson Library, 554 Main St., Highlands
• Nantahala Community Library, 128 Nantahala School Rd., Topton
• Marianna Black Library, 33 Fryemont St., Bryson City
For more information or to make a donation to the system's fundraiser, visit www.fontanalib.org.