Archived News
Ghost Town under contract again
Tuesday, October 01, 2019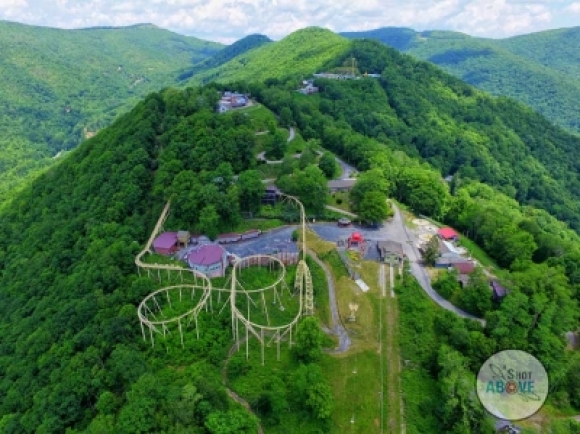 Beloved but long-shuttered Maggie Valley mountaintop amusement park Ghost Town in the Sky is once again under contract, giving new hope to those who long for the park's revitalization.
"There is a new person involved in Ghost Town," said Nathan Clark, Maggie Valley's town manager. "They are in the due diligence period, and they do have a contract to the best of my understanding. They're looking at what can be done at Ghost Town."
Linda Taylor, broker/owner of ViP Realty, has been representing the developer and confirmed that he signed the contract in mid-August, but cautioned that the due diligence period is a long one — 120 days or more.
The developer is using that time to fully investigate the infrastructure problems that have plagued the site for years.
"Right now there are just very general conversations about how sewer was planned to go to the mountain," Clark said. "We've met with them on some water and sewer issues a couple of times. They have looked at former grant applications and former sewer plans that previous ownership groups had looked at but never completed."
In addition to the water and sewer problems, any potential developer would also have to deal with another more recent but no less unfortunate situation at the park, which failed to reopen in 2016 after several years of sporadic operation.
"There has been some vandalism," said Taylor said, adding that the site was now under the control of the developer and that enhanced security measures had already been implemented. "There is zero tolerance for trespassing."
Taylor couldn't reveal the identity of the potential buyer, but did release a few tantalizing details, namely, that he's not in any way affiliated with the property's most recent suitors.
Former Disney execs Valerie and Spencer Oberle, along with business partner Lamar Berry, attempted to buy the park from owner Alaska Presley last year, but left only liens and lawsuits in their wake after the deal fell through.
Unlike Berry and the Oberles, the current prospective buyer has the "wherewithal" to line up funding for the deal, according to Taylor.
Taylor also said that the mystery buyer's recent visit to the top of Buck Mountain wasn't his first.
"He has some really good childhood memories of the park," Taylor said. "Just like generations of people in the Southeast."
Leave a comment
5

comments
I was there in 1961 when ghost town open, i enjoy it very much.
Iwish some way it could open again.
I am 82 year old now, i live about 50 miles from Maggie valley across the mountain in tennessee.

Monday, 08/23/2021

What is the status of this property

Friday, 07/09/2021

What is the status of this property

Friday, 07/09/2021

Is Maggie valley opened yet

Thursday, 06/10/2021

lets get elon musk involved get this thing . on the stock exchange rase some cash

Saturday, 05/15/2021