Archived Reading Room
Ways of escape: Backlash and Game of Snipers
Wednesday, September 25, 2019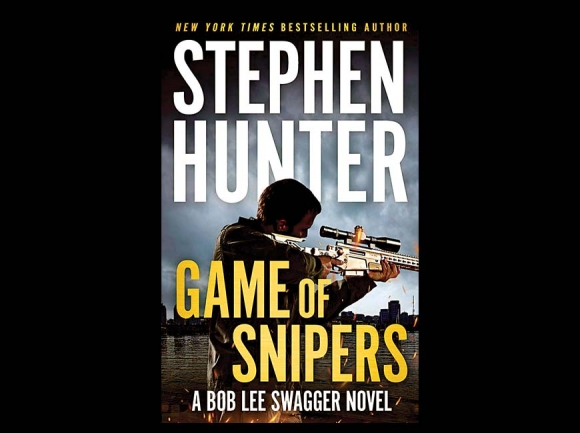 A recent review was of Abbi Waxman's The Bookish Life of Nina Hill, a romantic comedy with sweet and wry advice about life, especially for the twenty-something crew.
This week it's snipers, spies, assassins, murder, and mayhem.
As one of William Faulkner's characters said, "My, my. A body does get around."
And so do readers.
First up is Stephen Hunter's Game of Snipers: A Bob Lee Swagger Novel (G.P. Putnam's Sons, 2019, 387 pages.) Here Swagger is back doing what he does best, taking out the bad guys and rescuing the good ones.
We begin when Janet McDowell shows up at Swagger's ranch claiming a mercenary sniper with a deadly reputation killed her Marine Corps son in Baghdad. In her efforts to track down her son's murderer, she has suffered beatings and rape in various parts of the Middle East, converted to Islam in order to understand her enemy, and spent hundreds of thousands of dollars traveling and buying information.
When Swagger, a famed sniper himself, agrees to help Janet McDowell, we follow him into a shadowy world of Mossad agents, the FBI, religious fanatics, and Mexican drug lords. Soon it becomes clear that Juba the Sniper, who killed MacDowell's son, is on a mission to take out a major player on the world stage. Swagger, the agents, and local law enforcement officials find themselves in a deadly race to prevent that killing, desperate to find out exactly who and where Juba is, who is financing him, and the identity of the target he plans to murder.
Some of the criminals in Game of Snipers do murder for more than money. Juba, for example, is an Islamic fundamentalist out to damage the West, and in particular America, in whatever way possible. His Mexican drug lord associate, Menendez, enjoys great wealth but tells Juba he also hopes to "bring down an entire culture, a civilization, and the assumptions upon which it was built …. That is the point of narcotics: they are weapons, not pharmaceuticals, their mission to eat at the structures and disciplines of these pretenders, so stupid that they do not see the larger picture and understand that we are rotting out their infrastructure from beneath them …."
Swagger and friends, including Janet MacDowell, find themselves the targets of such men.
A thumb's up on this one: Game of Snipers offers the usual fast-paced adventure readers have come to expect from Stephen Hunter.
One caveat: Hunter is an expert on firearms. In his novels, especially this one, he goes into great detail about shooting, the parts of various weapons, gunpowder and bullets. If these descriptions are of no interest, just skip these passages as I did and enjoy the ride.
Unlike Stephen Hunter, novelist Brad Thor was new to me. His books keep popping up in the libraries and bookshops I visit, so I decided a week ago to give him a shot — forgive the pun — as well.
The plot of Backlash: A Thriller (Emily Bestler Books, 2019, 378 pages) is less tangled than Game of Snipers, but just as packed with action. Scot Harvath, an ex-Navy SEAL, helps run a private intelligence agency, the Carlton Group, which does outsource work for the CIA. Russian agents snatch Harvath from a home in New Hampshire, brutally executing two of his friends and his wife. His abductors intend to take him into Russia, and torture him until he spills everything he knows about the CIA and the Carlton Group.
This plan does not go well. Their plane crashes in a winter storm near the Russian border with Finland, and an enraged Harvath goes on the warpath. Determined to take revenge for his murdered loved ones, he must at the same time struggle to survive both the Russian winter and the paramilitary troops hunting him. He faces savage wolves, starvation, infection, sleep deprivation, and always the bone-chilling cold.
Harvath does receive assistance from some of the villagers he meets along the way, including Christina, a doctor who treats his wounds. She, her family, and many of the villagers despise Moscow and the corruption and brutality of the national government.
Here is a fast-paced tale of survival, winter warfare, and comradeship. The men and the woman sent to rescue Harvath have promised to get their leader home by any means necessary, and as they work to do so, we are reminded of the intense loyalty bred within such tight-knit groups.
The plot of Backlash parallels that of a novel written a good many years ago. In Last of the Breed, Louis L'Amour tells the story of a Native American pilot, Major Joseph Makatozi, whom the Soviets take prisoner after shooting down his plane. Makatozi, known as Joe Mack, also escapes his captors, and like Harvath, wages a one-man war against his pursuers, going so far as to scalp one of them as a sign of his vengeance.
Interestingly, Harvath also scalps several of the men he kills for the same reasons. Perhaps this macabre touch is Brad Thor's way of paying homage to L'Amour. Whatever the case, Backlash kept me turning the pages.
For me, novels like Backlash and Game of Snipers are the literary equivalent of an action movie and a bowl of popcorn. I hit the sofa or the chair on the front porch, open the book, and off I go, swept away, all worries, sorrows, and obligations forgotten for a short time.
Escapism.
It was just what I needed.
(Jeff Minick is a writer and teacher. This email address is being protected from spambots. You need JavaScript enabled to view it.)