Archived Arts & Entertainment
Where I'm going I'll be seeing you: A conversation with Marcus King
Tuesday, September 24, 2019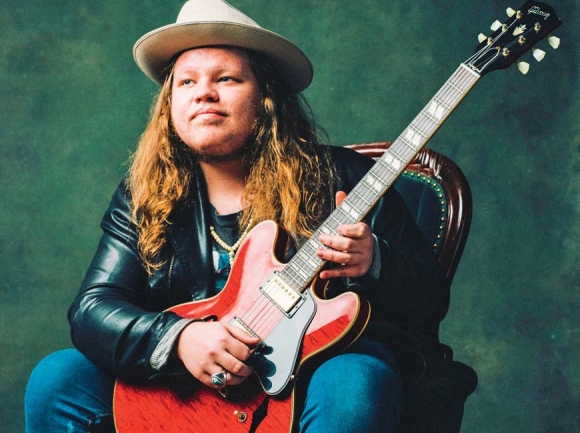 Marcus King. (photo: Sandlin Gaither)
At 23, guitarist Marcus King has quickly transitioned from a prodigy into a bonafide legend on the electric six-string.
Crisscrossing the globe since he was a teenager emerging from Greenville, South Carolina, King and his band have risen to the upper echelon of rock-n-roll and soul music, a modern-day realm inhabited by the likes of the Tedeschi Trucks Band and JJ Grey & Mofro.
In conversation, King is very contemplative, an old soul of sorts, one that — like his playing — seems years beyond his actual age. And that alone is a testament to his musical spirit that has led The Marcus King Band into the soaring hearts of listeners night after night.
Smoky Mountain News: How are you doing with personal expectations and possible expectations of what you want to do moving forward?
Marcus King: Well, it's something that I deal with. I'm constantly trying to outdo myself any way as a musician or as a person — to try to be better every day. And that can be really difficult. There are a lot of ways to deal with pressure, and performing is one way for sure. Pressure can certainly be motivation, and that's what I've always used it for.
SMN: Where does that work ethic come from within you?
MK: It's something I've always had, man. It's partially due to having a lot of drive as a kid. I didn't have very many friends. So, when I got something in my head, I would work really hard for it. I learned the value of hard work at a really early age and growing up around that kind of mentality.
SMN: What are you learning about the guitar these days? Are there things that are surprising you or different avenues that you've been going down?
MK: I've been listening to a lot of country music lately. A lot of older country music, really digging on Roy Nichols from Merle Haggard's band. And [I'm] obviously listening to Willie Nelson's playing, which is the most incredible, beautiful sounding guitar (known as "Trigger") that there's ever been.
Something about this instrument, man, there's an ever-growing soundscape of music to pull from if you're looking for inspiration — you just have to look. It's important what you play, but what's more important is what you don't play.
SMN: At 23, you've already had a career that's over a decade long. What do you see when you look back at the road to the here and now?
MK: I have a hard time looking back, you know? I've always kind of looked forward. That's how I've always really tried to live. And [as] someone [like myself] that's inclined to depressive states, it's easy to fall back into the past. And it can consume you. So, for me, to always look forward is what keeps me moving.
SMN: And with that, a big conversation right now in the music industry is how touring musicians are dealing with intense stress, anxiety and depression…
MK: I think we're in a really tough place as far as mental health goes with musicians. We're in a place where somebody needs to do something and there needs to be somebody to step up. And there needs to be an outlet for musicians to reach out to one another and have each other's backs out here. Nobody's openly talking about this and what a problem it is, and that needs to be a light shined upon it.
I'm working on a nonprofit organization now that I'm hoping I can get going as soon as possible. It's something I've been working on for a while and it's going to be raising awareness for this very issue. I'm trying to do my part.
It's something I've struggled with before and I'm here to speak openly about it. A lot of people don't like to talk about it and that's when we lose people, so we all got to be open about it. I'm here to say it's really important to get it off of your chest because there's so many of us that feel like that. You're not alone. [I've felt] this way, and most of us have.
SMN: What has performing and creating music, traveling the world and meeting all kinds of people, taught you about what it means to be a human being?
MK: It's a very heavy question and it's one that requires a lot of thought. But, with spending this much time out here [on the road], you learn how to have a good sense of humor, and how to laugh at the hilarity of life itself.
I think a lot of musicians can be viewed as cynical, but I think it's a little more a realist behavior, a little more of a comical view of this earth, and the way that things tend to fall apart if you try too hard.
I've learned that taking yourself too seriously will always end in your own demise. But, I've also learned that you've got to respect yourself or nobody else will.
Want to go?
The "Marcus King Family Reunion" music festival will be held Sept. 27-28 at Pisgah Brewing Company in Black Mountain.
The lineup with include two performances by The Marcus King Band, as well as sets by Jason Isbell & The 400 Unit, Yonder Mountain String Band, Josh Ritter & The Royal City Band, Amanda Shires, Futurebirds, Doom Flamingo, and more.
For more information and/or to purchase tickets, click on www.mkbfamilyreunion.com.