Archived Outdoors
The Naturalist's Corner: Climate change brings more challenges
Wednesday, September 18, 2019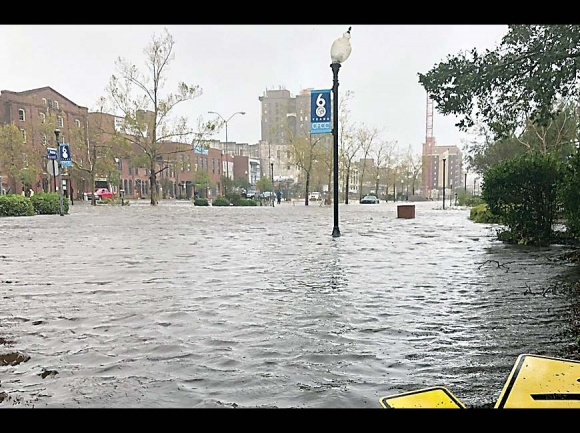 Flooding from Hurricane Florence. wikimedia commons photo
WNC Climate Action Coalition's screening of David Weintraub's new documentary "Guardians of our Troubled Waters" is both a history lesson and a call to action.
The film, made in collaboration with the Wilma Dykeman Legacy Foundation, Eastern Band of Cherokee Indians, Conserving Carolina, Mountain True, Clean Water Expected in East Tennessee, Friends of the Everglades and Haywood Waterways Association, will be aired at 6:30 p.m. on Saturday, Sept. 21, at the Lake Junaluska Assembly Terrace Auditorium at 689 North Lakeshore Drive. There will be a panel discussion following the film. The panel will include filmmaker David Weintraub, Eric Romaniszyn of Haywood Waterways, Callie Moore of Mountain True and more.
The movie focuses on the French Broad and Pigeon Rivers in Western North Carolina and the Everglades in south Florida. It points to guardians like Wilma Dykeman, Marjory Stoneman Douglas and groups like the Dead Pigeon River Council who stepped up to help reclaim those rivers and waterways that had become cesspools. But as Weintraub warns, the fight for clean water is never won.
Today's administration appears hellbent on rolling back decades of progress regarding rules and regulations to protect today's rivers and waterways. Dykeman and Douglas and guardians like them were the genesis for these protections, which were then expanded and fought for by "riverkeepers" and other environmental watchdogs across the country. And the timing of these rollbacks couldn't be worse.
Despite what our climate-denier-in-chief and his corporate and political cronies say, climate change is real and really troubling. There has been a lot of focus on sea-level rise, shrinking sea ice and glacial melting but the truth is global warming affects every drop of water on the planet. Many changes, such as sea-level rise, are gradual and people turn a blind eye because they don't see the imminent danger. But major changes can occur in just a matter of days. During a four-day period in 2016, the meltwater from the Kaskawulsh glacier in the Yukon territory had a slight course change. This meltwater used to channel into the Slims River but the slight course change took the water into an ice canyon that drains into the Kaskawulsh River, sending freshwater into the Gulf of Alaska and reducing the Slims River to a trickle.
Of course, one doesn't need to go to the land of glaciers and sea ice to see the impacts of climate change on our waterways. Sea-level rise coupled with extreme weather events have and will continue to have grave consequences along our Carolina coast. On Wednesday, Sept. 19, 2018, after Hurricane Florence, the Cape Fear River crested in Fayetteville at 61.4 feet. That's more than 40 feet above normal. And the flood waters covering North Carolina were contaminated with coal ash, human sewage, animal waste and numerous other pollutants and/or contaminants.
Don't want to go all the way to the coast? How about a nice trip to the Land-of-the-Noonday-Sun, where only weeks ago a sudden deluge caused multiple mudslides in the Nantahala Gorge. And these deluges are becoming more and more prominent. Climate data notes these "heaviest" rainfall events have increased by 27 percent since 1958 and climate models show these extreme weather events continuing.
I am sincerely grateful to guardians like Dykeman and Douglas and today's riverkeepers. But in today's "climate" we can all be guardians. We need to elect public officials who have the political will and the common sense to listen to science and to put our environment and the future of our planet ahead of profit and/or special interests. The water on our planet belongs to all of us.
I encourage you to attend "Guardians of our Troubled Waters" and see how these guardians were able to enhance our waterways for all of us and attend the panel discussion and ask the panelists, "what can I do to ensure these gains aren't lost?"
(Don Hendershot is a writer and naturalist. His book, A Year From the Naturalist's Corner, Vol. 1, is available at regional bookstores or by contacting Don at This email address is being protected from spambots. You need JavaScript enabled to view it.)