Archived News
"Deliverance" villain Cowboy Coward is not what he seems
Wednesday, September 18, 2019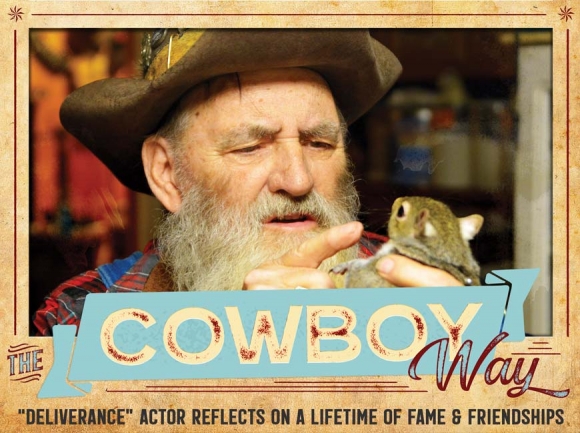 The last of Fred and Moody Parker Coward's nine children, Herbert "Cowboy" Coward, was born in rural Haywood County in August 1938. His mother died early on, so Cowboy's father worked at a number of jobs to support his large family, including a long stint at Barber's Orchard in nearby Waynesville.
"I did get little jobs and helped when I got big enough," said Cowboy. "Now see, I ain't got no education. I can write my name, and that's about all I can do."
That, Coward said, led to a rough early life that revolved around itinerant labor.
"I worked at everything," he said. "I hitchhiked and went all over the United States doing little jobs, big jobs, operating heavy equipment and stuff." While working in Raleigh in the early 1960s, Coward came home, got married and then went back to Raleigh with his bride, who became homesick shortly thereafter. He dragged his trailer back up into the Smokies and contemplated the situation for a time, until a fateful encounter would help define the rest of his life.
"I talked to a guy from Maggie Valley named Hubert Presley," said Cowboy. "He said if I wanted to go to work, I had a job."
Born in 1936 in Lansing, Michigan, actor Burt Reynolds bounced around the Midwest as a military brat until he and his family ended up in Riviera Beach, Florida, where his dad became chief of police.
A knee injury effectively ended Reynolds' days as a Florida State University football star on scholarship, but while taking classes at Palm Beach Junior College (with an eye on law enforcement), Reynolds would have a fateful encounter of his own. It was with his English teacher, Watson B. Duncan, who encouraged Reynolds to read for a play he was producing.
Reynolds got the lead, and from there began working his way up the New York City theatre scene of the 1950s while spending his days as a dishwasher, a dockworker and a truck driver.
By the late 1950s, Reynolds had finally broken into television when he was cast as one of the leads in a show called Riverboat. After he walked out on it, mid-season, one of the country's top-rated television shows came calling, right about the time Cowboy was pulling back into Haywood County.
Hubert Presley was a Virginia businessman who'd come to Haywood County, the highest east of the Mississippi, in the mid-1950s, where he soon became involved with an ambitious venture — a mountaintop amusement park.
"I was the first employee to go to work at Ghost Town," Cowboy said of the Maggie Valley park that used to draw upwards of half a million visitors a year to the county once it opened in 1962. "I took a bulldozer up there and opened up the old road. I helped put it up, and haul the two-by-fours and everything up there."
A colossal chairlift would take visitors from the parking lot up Buck Mountain and drop them right into the Wild West-themed park, complete with carnival rides, concessions and a small main street area lined on either side by old-timey clapboard shacks.
The long-shuttered park still features stunning views of the surrounding mountains, but in its heyday, its main attraction would quickly become the live-action "gunfights" performed every hour, on the hour.
"One day," Cowboy said, "I pulled my hammer out like I was pulling out a gun, and they put me as a gunfighter."
Few movie characters remain more enigmatic than the one Cowboy Coward played in the film "Deliverance." Cory Vaillancourt photo
Cowboy joined the curious cast of costumed performers — comprised of locals, professional actors and theatre school kids looking for money and experience over their summer break — that roamed the park and interacted with guests in between the acting and stuntwork.
"It was rough," he said. "In the old days when you fell off the roof, and you had to know how many times to roll to hit the ground. There wasn't no airbags. Just solid ground down there. So you had a rough time a-doin' it."
Cowboy even got his teeth knocked out during one such performance; a young man who worked at the park's horse barn really, really wanted to be a gunfighter, according to Cowboy, so one day when the actor playing the undertaker had to go home sick, they called down to the barn to give the boy his shot.
"They put the undertaker outfit on him, and explained what we were doing. I got shot and when I did, there I was with my feet in the air already set up with rigor mortis. He pushed my feet down and I come up in his face, and he was really excited, and he pulled out his pistol and knocked my two front teeth out," laughed Cowboy. "That was a good gunfight, I guess."
Those gunfights grew to include some of the most popular television and movie stars of the day, who would be paid to visit the park for a few days, participate in the shows, mingle with visitors and sign autographs.
One of the biggest stars at the time was Dan Blocker, who played the iconic Hoss Cartwright character in the classic TV series Bonanza and also became fast friends with Cowboy.
After Burt Reynolds left Riverboat in 1961, he joined the cast of another classic western series that competed with Blocker's Bonanza, called Gunsmoke.
Reynolds left show in 1965 once he started landing major roles in little-noticed movies, but by 1970, he hadn't yet found his breakthrough role, and his once-promising career was in the doldrums.
"Ol' Burt Reynolds come up to Ghost Town one summer," Cowboy said. "He worked up there about three weeks with us. I become really good friends of him."
During his stay in Haywood County, Reynolds and Cowboy hung out regularly. Cowboy described him as a nice guy who would rather just sit and talk about movies, and about life, as opposed to going out fishin' or honky tonkin'.
When Reynolds left Ghost Town, he almost immediately entered into production as one of the leads in a movie that would ultimately propel him to immortality.
The 1970 James Dickey novel Deliverance, a dark tale about some town fellers on a rafting trip gone very, very wrong, was being filmed on the Chattooga River in nearby Rabun County, Georgia.
Reynolds was cast as the outdoorsy alpha male Lewis Medlock, and was joined by fellow Gunsmoke performer Jon Voight — fresh off an Academy Award-nominated performance in 1969 Best Picture "Midnight Cowboy" — and in his debut, a young Ned Beatty.
As the story goes, Dan Blocker told producers that Cowboy would be perfect for the part, so they wrote Cowboy's name on a chart on the wall in the production office.
"They called the telephone operator in Waynesville and asked if she knowed how to get ahold of Cowboy Coward," Cowboy said. "She said, 'Why no, I don't know no Cowboy Coward.' So they was going to send somebody to Haywood County to hunt me."
Around that same time Burt Reynolds, star of the picture, happened to pass through the office.
"Burt looked up on the bulletin board and seen they had it wrote down for somebody to come here and find me," said Cowboy. "He said, 'What do you want to talk to him about?' They said, 'We want him to audition for this part. We had 75 people audition and we turned them down.' So Burt picked up the phone and called me."
Shortly before his death in late 2018, Reynolds appeared on Conan O'Brien's late-night TV talk show, and recalled pitching Cowboy to "Deliverance" director John Boorman.
"I said I know a guy, he can't read and he can't write or anything, but I'm telling ya, if we can get him, we got something special," Reynolds told O'Brien of his conversation with Boorman. "Let me bring him in. His name's Cowboy, and he'll just talk to you, and you see if you like him."
Still missing teeth from an accident at Ghost Town, Cowboy Coward played a character called, "Toothless man." Warner Brothers photo
During the audition, Reynolds introduced Boorman to Cowboy, who turned to Reynolds and asked, "Did you tell him I can't read?"
"Yes, I told them that," Reynolds said to Cowboy.
"Just read this first line here, Cowboy," Boorman said.
Cowboy glared at Reynolds, who recalled thinking, "Oh, I'm gonna get the shit beat out of me.'"
"The first line," Boorman told Cowboy, "is, 'Get over against that tree and take your pants down.'"
"Get over against that s-s-s-s-s-ssssssapling," said Cowboy, who speaks with an occasional stutter but still has a flair for the spoken word, "and take your p-p-p-p-pppppanties down."
Cowboy's character, listed only as "Toothless man" in the credits, is one of the villains of the story that ends up kidnapping Reynolds' rafting party. His audition line is given in the context of a disturbing scene involving male-on-male rape that while more than uncomfortable on screens today was practically unthinkable when the film was released in 1972.
"And you thought that scene was going to end your career?" O'Brien asked Reynolds.
"I thought it was gonna be close," Reynolds said. "I mean, those kind of pictures are … I hadn't done anything like that. Nobody had."
That scene also elicited squeals from audiences when Cowboy, still missing his front teeth from that accident at Ghost Town, uttered his most famous, oft misquoted line.
"He's got a real pretty mouth, ain't he?"
The confluence of Hubert Presley, Dan Blocker, Burt Reynolds, James Dickey and John Boorman — along with Voight and Beatty — included Haywood County native Herbert "Cowboy" Coward for a time, and resulted in a blockbuster box office success that has since garnered as much critical acclaim as it has controversy over the portrayals of Appalachian Americans like Cowboy, or, more broadly, rural whites in general.
Cowboy thinks that's all overblown, especially since he's nothing like the dim, gruff, would-be rapist he portrays in the film.
"It don't bother me at all," he said. "It's just part of acting, you know. It was just another character to me."
SEE ALSO: The softer side of Cowboy Coward
In fact, after portraying one of the most memorable villains in a movie that garnered international notice, Cowboy faded back into the day-to-day life of a rural Western North Carolinian, working at factory jobs in and around his native Haywood County.
One thing that didn't fade, though, was his fame.
"A lot of people call me on the phone," he said. "They'll be having a big party up there in New York or something, and they want me to just talk on the phone where everybody can hear it. I get a lot of that. I get hollered every day."
Another thing that never faded were the friendships he made on the set; he said he just talked to Billy Redden, who in the movie played the "banjo boy" that engaged in the impromptu performance of "Dueling banjos" with actor Ronny Cox.
Cowboy's greatest friendship, however, still hearkens back to his roots at Ghost Town.
Cowboy's coffin sits in the parlor of his Haywood County home. Cory Vaillancourt photo
"Burt said he didn't have but three friends — real friends — and I was one of them, because I never asked him for nothing," said Cowboy. "He said, 'That's what you call a good friend. There's a difference between a friend and somebody that wants something from you.'"
Reynolds paid a number of visits to Cowboy over the years, including a surprise arrival that ended up with Reynolds staying overnight at Cowboy's place.
"He said he was out flyin' and just decided to fly out this way," Cowboy recalls. "Back years ago there used to be a little ol' airport down Johnson Street, and when I lived in Hazelwood he called one morning and said, 'Come down to the airport and get me.' I said, 'What airport?' and he said, 'I landed my plane down here on Johnson Street.' I said, 'There ain't been no airport down there in several years!'
Over the next decade, even as Reynolds went on to become a huge star with movies like "The Longest Yard," "Gator," "Smokey and the Bandit," "Cannonball Run" and "Boogie Nights," he kept in regular contact with Cowboy — "He'd call me when he was on the plane a-goin places" — and always asked Cowboy about his health, and his family.
Cowboy says that Reynolds called him when his son died a few years back.
"That was about the worst thing I ever went through, losing that boy," Cowboy said. "[Reynolds] was a really good friend to me. It's hard to find somebody like that that's a real good friend to you."
Cowboy last saw Reynolds in Pigeon Forge, about two weeks before he passed away.
"He was pretty active, but his heart, you know, he had had heart trouble for a long time," Cowboy said. "He didn't let nobody know he had heart trouble, but he had a bad heart."
At 81, Cowboy knows it won't be too long until he sees Reynolds again; he's incredibly proud of an old wooden casket sitting in his parlor and insists on showing it to visitors whenever he can.
"When you die you have to have a casket, and you better be ready to meet the Lord," he said. "Everybody's gotta die. I just want to live a good life and go to church, try to be nice to people. That's how people will remember you when you die, is how you treated people. If you're not good to people, after a year or two they don't remember you when you're dead and gone."
Blue Ridge Public Radio's Lilly Knoepp contributed to this report.