Archived Arts & Entertainment
Free from society's handpicked hypocrisy: A conversation with G. Love
Tuesday, September 17, 2019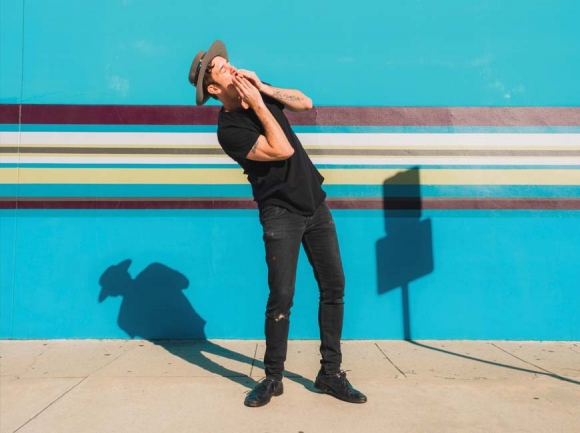 G. Love. (photo: Kaelan Barowsky)
For the better part of the last three decades, G. Love (aka: Garrett Dutton) and his band Special Sauce have been crisscrossing America with its signature blend of hip-hop, blues and jazz.
Coming up through the 1980s hip-hop scene in Philadelphia, G. Love soon found himself a young street busker in Boston, eventually taking his intricate rapping skills, old-time harmonica and folk guitar stylings into the studio for the group's groundbreaking 1994 self-titled debut album.
Some 25 years later, the secret ingredient of G. Love & Special Sauce remains its mesmerizing stage show, one where the trio radiates a sincere sense of togetherness. It's a party, and everyone is invited.
And yet, just below the surface of the rollicking good times resides a lyrical aptitude of socially conscious reflection and calls for action, where G. Love himself is the focal point with his microphone — this freewheelin' troubadour rolling down the tracks to your town with an ongoing message of hope and compassion.
SMN: You're one of the few people I can honestly say was born to be onstage. Was there a moment where you knew that or was that always in you?
G. Love: I was 16. I was a good kid. I didn't cut school a lot. But, one day, I did cut school with my little girlfriend and I remember sitting on a hill in Philadelphia, by this park, and eating my bag lunch that my mom packed me. And I was like, "All I need is this bag lunch and my guitar," and that's all I knew for the rest of my life.
SMN: Is that still what you think you need?
GL: Yeah, pretty much. That was always the dream, especially back in the day. This was the 1980s, so the music business was light years away [for me]. There was no chance [back then that you'd think] you'd ever be a part of it, you know?
But, my two biggest inspirations are John Hammond and Bob Dylan. And both of them were best friends when they both put out their first records in 1962 [and 1963].
So, I knew at an early age I can make a record and I can go play solo acoustic coffee shops, and that's what I want to do. That set me on the path to be a street musician and playing coffee shops. And, of course, that led to meeting my band.
SMN: But, you must have had a conversation early on that, hell or high water, this is what you were going to do, and that everything else was a bonus.
GL: Well, yeah. I went to Skidmore College in Saratoga Springs, [New York], for a year. That was a major turning point because there's a lot of great players at Skidmore when I pulled into town, and I was doing my thing, but I couldn't attract [anyone to come play with me]. Everyone was into this 1970s groove rock thing and I couldn't get my point across at Skidmore.
Then, a friend of a friend needed a roommate in Boston. So, I pulled the plug on college and wanted to be a street musician. And then summer of 1992, I played and busked the street all around Boston, Harvard Square and the "T."
And then the next winter, I met [my band]. Nine months later, we signed with Epic Records. It happened so quickly to go from street musicians being on the fringe of society to working for one of the biggest corporations in the world.
SMN: You've always been very socially conscious with your lyrics, but also able to combine that with a good time vibe of getting together.
GL: In the blues, the heaviest stuff can also be the most lighthearted stuff, too. It's also the influence of Bob Dylan to help me be a writer that can give you those heavy songs and also songs that may you really laugh out loud. You can't just go out and sing "Good Time Charlie" shit. And you can't go out and just sing heavy, politically conscious things. It's has to be a party, a show that connects people. You're reflecting all these things in life, whatever everybody is experiencing, like heavy moments, personally and in the grand scheme of things — everyday people in our lives where we all have ups and downs. So, that's what I've tried to do in a song, on a record, and during the show.
SMN: Well, the irony of the blues is that it's so heavy and dark, but, at the same time, it's meant to uplift…
GL: Yeah. That's the weirdest thing about it. It's so dark, but it's meant to pull you up again. It's a cool thing to be able be given a microphone and you've got this platform to speak on whatever you want to speak on. My mission onstage every night is to make people happy and make people inspired — to connect with people.