Archived Arts & Entertainment
This must be the place: Hear that lonesome whippoorwill, he sounds too blue to fly
Tuesday, September 17, 2019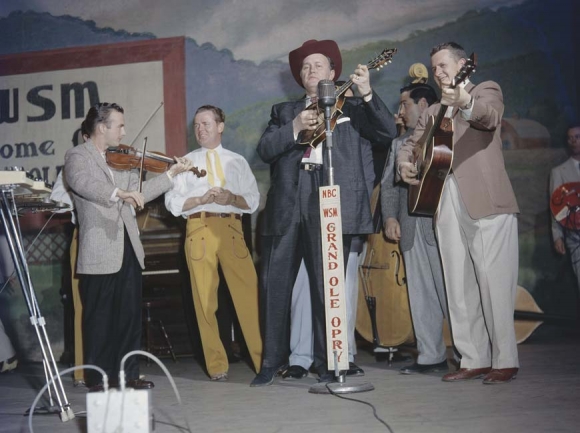 Bill Monroe at the Grand Ole Opry. (photo: Courtesy of PBS)
I've been feeling some overwhelming gratitude this week during the premiere and continued rollout of Ken Burns' 16.5-hour PBS documentary series "Country Music."
I sat there in utter awe during the first episode on Sunday evening, something I've always felt watching Burns' films since I was a kid. My entire existence is wrapped around his influence on me as a writer, journalist, storyteller, history freak, and as a human being trying to make connections with others.
And yet, this first episode hit me so deeply, seeing as I've had the honor of interviewing so many of those featured (including Burns' himself, who was my cover story for The Smoky Mountain News last week), and to write about all these names, topics and sounds for several years now.
Watching it, I just smiled thinking about my encounters, conversations and articles written about Rhiannon Giddens, Rodney Crowell, Marty Stuart, Ketch Secor, Ricky Skaggs, Del Bryant, and more. Lord knows who else will pop up as these episodes unfold, eh?
This whole spring and summer has been a truly "What does it all mean?" quest within my heart and soul. So, it isn't lost on me how serendipitous this Burns' series is, in terms of timing and subject matter.
I think of hanging out with Giddens at some random fundraising party years ago in the mountains of Western North Carolina. Nobody really knew who she was just standing there. I did. And I knew how big her star would, could, and did become.
Giddens was so kind, so generous with her time, too. We've interviewed a few times over the years, talking about music and how it guides our daily lives, whether we realize it or not.
I think of that night in Eastern Idaho with Crowell. My first week as a rookie journalist in 2008 for a small newspaper in the high desert of the Grand Teton mountains. I was 22 years old and didn't really know who he was when he jumped onstage at the local ski bar.
Crowell and I interviewed after the show and I was immediately captivated by his presence, onstage and off. I then discovered his legend, his lore, and how vital he was and remains to singer-songwriters old and young. Exactly 10 years later, we reconnected for another interview about life approaching 70 and what it means to be a singer-songwriter in the digital age.
"What is the place of the songwriter in our modern world?" I asked Crowell.
"Depends on your own sensibilities. If you're [only exposed to] music in the background of a restaurant or music in the background at a party, if you have that kind of loose relationship with language and song — I have no idea," Crowell said. "But, if you're like me, and you listen to music a lot, the role of the songwriter is more pointed and more centered than ever. In our culture and in the world, it has never been more important, never more prevalent — as is the poet, as is screenwriting, as is news reporting."
I think of Stuart and all the times I've seen him set a melodic fire to hearts and minds watching from the other side of the microphone. We interviewed a few years ago in preparation for his appearance at the Balsam Range "Art of Music" festival in Lake Junaluska. To which, I ran into him backstage at the show and he said to me, "I really enjoyed that talk. You ask great questions."
Then, this past spring, I found myself on Stuart's tour bus in Florida, face-to-face for a Smoky Mountain Living magazine interview, simply talking about what country and bluegrass music means to American history, and to humanity. Following the chat, he let me strap on Clarence White's iconic "B-bender" guitar.
I think of Secor and how we recently sat down to talk about his role in "Country Music," a conversation that was published by Rolling Stone this past Monday following the premiere.
"For me, an old person could offer a story of when native people still roamed the hills of Tennessee. For a future generation, I will be able to offer a direct link to Merle Haggard," Secor told me. "And I'll be able to say his voice was so smooth and when he whispered in my ear, all the hairs on my neck stood up — it was like electric hearing his voice come into my ear. And so, I'll be able to say the same thing about Jack Clement and Jesse McReynolds. Someone's got to be around to tell the stories."
And it was just this past Thursday where I ran into Secor on a riverboat in downtown Nashville. Old Crow Medicine Show (which Secor fronts) was headlining the AmericanaFest gig. He remembered me and smiled when we crossed paths.
Now a few episodes into "Country Music," I never in my life have felt so connected to a subject, so deeply moved to tears and goosebumps every few minutes as I have while watching this series unfold.
And I remain, to continue to capture these characters and stories, to share them with you and the world. Music is the universal language. It's also the universal healer. We're all in this together. Onward.
Life is beautiful, grasp for it, y'all.
Hot picks
1 Author David Joy will be featured during the "Southern Storytellers Supper Series" at 6 p.m. Thursday, Sept. 26, at the Folkmoot Friendship Center in Waynesville.
2 The annual Youth Arts Festival will be held from 9 a.m. to 3 p.m. Saturday, Sept. 21, at the Jackson County Green Energy Park in Dillsboro.
3 Country music legends Lonestar will hit the stage at 7:30 p.m. Saturday, Sept. 21, at the Smoky Mountain Center for the Performing Arts in Franklin.
4 Award-winning photojournalist Martin Tucker will present his book Vietnam Photographs from North Carolina Veterans at 6:30 p.m. Tuesday, Sept. 24, at City Lights Bookstore in Sylva.
5 Rapidly rising bluegrass act Mile Twelve will be performing at 7 p.m. Saturday, Sept. 21, at the Cowee School in Franklin.