Archived Opinion
Coming full circle on an adventure
Wednesday, September 11, 2019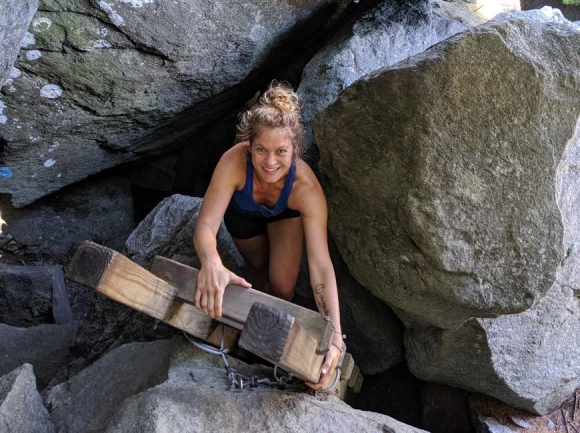 As a kid, I took the Blue Ridge Mountains for granted. They were always there in the background, but I never paid much attention.
My dad rode horses and attended Boy Scout camp when he was young, but he wasn't outdoorsy in a recreational way. My mom was smart and determined, yet uninterested in activities like hiking or backpacking.
My sister and I were given experiences such as traveling to Europe, Mexico and all throughout the U.S., but what we didn't do was explore the beautiful mountains in which we lived.
As a freshman at N.C. State, newfound friends assumed I was well versed in the areas of hiking and kayaking and camping and all that. That wasn't the case and funny enough, I'd never consciously thought about it. My family was so busy living life and adventuring in a different kind of way, I never stopped and thought, "Why am I not doing more in the great outdoors?"
Some of my first hikes were in flatland Raleigh with very little elevation change, much less wildlife or foliage. As I grew into adulthood, I began hiking on my own and with friends. Over the past 20 years, I've hiked many popular peaks in the Southeast, and also some in California, Northern Virginia, Washington, Oregon, Canada, Montana and Switzerland.
When I was a graduate student at Appalachian State, one of my professors took several students on the Profile Trail, which connects to the Grandfather Trail and leads to the swinging bridge at Grandfather Mountain. It was the lengthiest and most challenging hike I'd ever completed. I was sore for days.
When I started dating my boyfriend, Matthew, two years ago, I told him about the Grandfather Mountain hike. He was intrigued. I'd always wanted to do it again but never had the opportunity. Recently, as part of his birthday gift, we made the trip to Banner Elk, North Carolina.
Early on a Saturday morning, we geared up and set out on our way. The Profile Trail is a nice meandering path with a moderate incline, pretty steep in some places. It's no more challenging than other WNC hikes, but when the Profile Trail meets the Grandfather Trail, things get precarious.
Once on the Grandfather Trail, we were required to rock climb, utilize cables and climb ladders to make our way to the swinging bridge. Some obstacles took every muscle in the body. In fact, there's a park sign that reads, "This trail is very difficult. Be prepared for steep inclines with cables and ladders scaling cliffs. This trail is for experienced hikers."
We hiked the six miles to the famous swinging bridge. As an aside, if you hike your way in, you don't have to pay for the attraction. We made our way across the bridge and enjoyed a picnic lunch before starting back down the mountain. Our bodies were feeling the ascent so the thought of hiking six more miles was a bit daunting.
Readying ourselves, we started back down the mountain, which actually wasn't "down." There were more inclines and cliffs to scale before we settled into a leisurely pace during the final three miles of the Profile Trail. While we were exhausted, our legs and minds were determined to finish what we started. I kept thinking about soldiers and others who are forced to walk through treacherous conditions against their own will or wishes. Hiking 12 miles on foot in nine hours gave me a new respect for people such as this.
At the conclusion of the hike, we rewarded ourselves with a cold IPA and spent time going through photos and videos, proud of ourselves for what we'd accomplished.
While I didn't spend my childhood or teenage years exploring the Blue Ridge or Smoky Mountains, they've always been a part of me. When I moved to Raleigh as a college student, the lack of mountains on the horizon made me ache for Western North Carolina and impacted my decisions to attend graduate school in Boone and live as an adult in Haywood County.
An added to bonus to our recent Grandfather Mountain trek was the connection it allowed Matthew and me. Being in the wilderness with another person for a sustained amount of time offers an unparalleled bonding. It's been days since we finished the hike and my thighs are still feeling it. Nevertheless, we've already set our sights on the next one.
(Susanna Shetley is a multi-media specialist for The Smoky Mountain New, Smoky Mountain Living and Mountain South Media. This email address is being protected from spambots. You need JavaScript enabled to view it.)