Archived Outdoors
Race to honor UNC Charlotte hero: Mighty Four Miler will raise money for Riley Howell Foundation Fund
Wednesday, September 11, 2019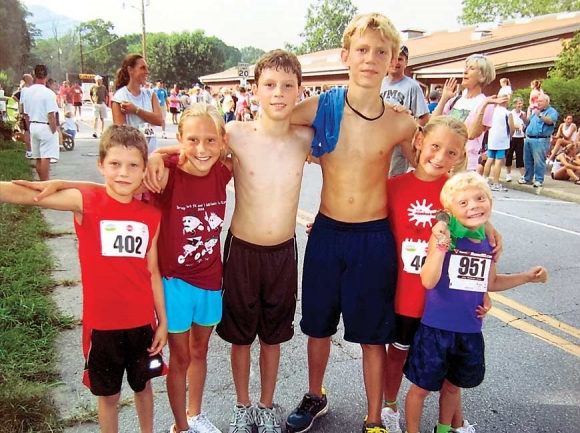 A cluster of young runners hangs out near the finish line, including Riley Howell and three of his siblings. Pictured, from left, are Davis King, Iris Howell, Logan King, Riley Howell, Juliet Howell and Teddy Howell. Donated photo
Hometown hero Riley Howell's legacy will live on in the form a 4-mile race through the streets of the town he once called home, with the event raising money to support victims of violent acts like the one that took 21-year-old Howell's life on April 30.
The Mighty Four Miler will be held in conjunction with the Gateway to the Smokies Half Marathon, which started in 2015 and added a 4-mile race in 2017. Neither race was held this year after event organizer Haywood County Chamber of Commerce decided to discontinue it, but endurance event company Glory Hound Events later took on ownership of the race.
Next year's 4-mile race will benefit the Riley Howell Foundation Fund and replace the Gateway to the Smokies 4-Miler, but it will be held in conjunction with the Gateway to the Smokies Half Marathon and follow the same route as the previously held 4-miler. Both races will step off on Saturday, April 4.
Local athlete Kevin FitzGerald, who had been instrumental in organizing the initial Gateway race, approached Glory Hound some time ago about potentially taking over the event, but it wasn't until this past spring that Glory Hound owner Greg Duff made the decision to absorb the Gateway to the Smokies. Not long afterward, a man walked into a Tuesday anthropology class at UNC-Charlotte, raised a pistol, and began to shoot. Howell reacted instinctively, tackling the gunman and successfully ending his rampage — but losing his own life in the process.
"I think everybody wants to do something in that situation, and this is just something we can do," said Duff.
A few weeks after the shooting, Duff approached Howell's grieving parents, who within a week of his death had established a foundation in their son's honor to help other families affected by gun violence. Would they be interested in turning the 4-mile race into a fundraiser for the foundation, Duff asked?
"At the end of May Kevin (FitzGerald) and Greg (Duff) came to me and said, 'We'd like to do this. What do you guys think?'" said Thomas Howell, Riley's father. "It was his (Greg's) proposal to donate 100 percent of his race funds from that race. And that could potentially be a lot of money for him."
Riley loved the outdoors, and while he wasn't a running addict, per se, he enjoyed the sport, said Thomas — when he ran, he did it like everything else he put his mind to, 100 miles per hour. Riley was on the cross-country team in high school, and around the age of 15 he and Thomas together completed the Lake Logan Sprint Triathlon, which is also a Glory Hound event. Thomas and Teddy, Riley's younger brother, had once run the Gateway to the Smokies 4-Miler together.
"He knew that there was some emotional attachment there," Thomas said of Duff. "Otherwise he was altruistic in just wanting to benefit the foundation."
The 2020 race will be held about a month earlier than previous Gateway to the Smokies events, which had been offered in early May. But both races will retain their established routes, which begin on Main Street and end at Frog Level. The half marathon winds through town, out to Plott Creek and then returns to Frog Level, while the 4-miler stays in town to travel through Waynesville's neighborhoods.
The foundation thought long and hard about what to name the 4-mile race, said Thomas. Friends sometimes said Riley looked like the Norse god Thor, because he was a big kid with blond hair — "The Mighty Four" was something of a play on words.
During high school Riley Howell was a member of the T.C. Roberson High School cross-country team. Donated photo
"He was a mighty kid. He was a big kid," said Thomas. "What he did in Charlotte was pretty mighty as well."
In 2018, 52 people ran the 4-miler and 151 people competed in the half marathon. But Duff expects that this new iteration of the race's existence could cause those proportions to flip.
"I think the 4-miler will end up being a lot bigger than what the half marathon is," he said.
Riley grew up in Waynesville, and his family still lives there. But he went to high school in Asheville, and college in Charlotte — both within an easy day's drive of Waynesville. The shooting and Riley's heroic actions during it were national news. Duff said he wouldn't be surprised if people from all around the region drove to Waynesville to run the 4-miler in Riley's honor.
"I think we can make it more of a regional event than it was before," he said.
While Duff expects the 4-mile event to surpass the half marathon in popularity and participation, he won't make a cent from those registration fees. Glory Hound and the Riley Howell Foundation Fund will split the costs associated with putting on the event, but all the revenue from the 4-mile race will go straight to the foundation.
"It's one thing to say, 'a portion of the proceeds will benefit,' but he wanted to do 100 percent," said Thomas. "I think that's extremely generous."
So far, the foundation has raised $55,000 toward its mission of supporting organizations that benefit victims of gun violence by helping meet their immediate needs. Those needs include grief counseling, funeral expenses, costs related to missed days of work and travel, domestic care and longer-term health and wellness coverage.
It's good to be doing something, said Thomas, though sometimes it can feel something like running in circles.
"You don't really know where to go with a lot of this, and nobody knows the answer except just don't shoot anybody," he said.
So far, the foundation has been spent $6,000 to support traumatic grief counseling for people affected by gun violence, but in the future it hopes to support something that will more directly pay tribute to the person Riley was.
The Riley Howell Foundation Fund is currently in talks with North Carolina Outward Bound School to create a multi-day program specifically for people who have been affected by gun violence. An initial version of the program was supposed to run in Western North Carolina this October but had to be cancelled when the timeline proved too short to gather and review applications.
"We all (at NCOBS and the Riley Howell Foundation Fund) knew it would be hard to fill a course in such a short time period, but we wanted to make the effort because we believe the course would be very impactful for the students," said Rachel Lasky, student services representative at Outward Bound.
Despite the decision to cancel, said Lasky, Outward Bound saw "a lot of interest" in the program. Once it eventually launches in North Carolina, said Thomas, the hope is that the program will grow and replicate in other states as well, giving people across the country the opportunity to heal from trauma through backcountry experiences in nature.
"It's another angle that we do that represents Riley very well," said Thomas.
A young Riley Howell tries out his running legs during the 2002 Maggie Valley Moonlight Run. Donated photo
Run for Riley
Registration is now open for both the Gateway to the Smokies Half Marathon and the Mighty Four Miler at www.gloryhoundevents.com. Through Dec. 31, the cost is $50 for the half marathon and $25 for the 4-miler. The half marathon will step off at 8 a.m. Saturday, April 4, and the 4-miler will begin at 8:15 a.m. the same day.
All proceeds from the 4-miler benefit the Riley Howell Foundation Fund. Donations to the Riley Howell Foundation Fund are tax-deductible. Those who don't wish to run in April can donate online at www.rileyhowellfoundation.org/donate or by mailing checks with "Riley Howell Foundation Fund" in the memo line to CFWNC, 4 Vanderbilt Park Drive, Suite 300, Asheville, NC 28803.