Archived Arts & Entertainment
Will the circle be unbroken: Ken Burns on new country music documentary, a life in filmmaking
Wednesday, September 11, 2019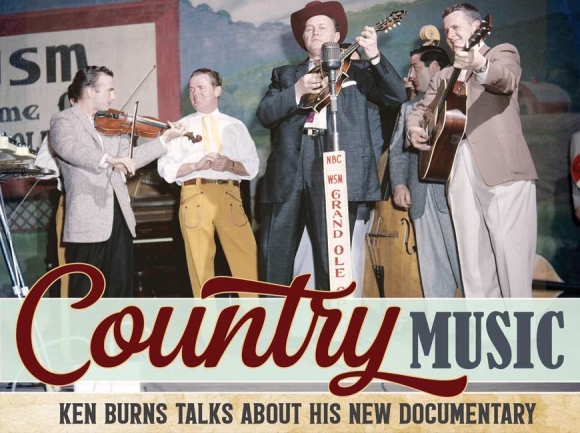 Clocking in at over 16 hours, the new Ken Burns documentary "Country Music" is an extremely detailed and intricate look at the genre through the lens of our nation and the wide variety of its citizens that inhabit it.
The film lays down the foundation and continual evolution of country music. It's a portal and rabbit hole into this never-ending melodic history and its artists, a true sense of discovery of self — of time and place — through songs about heartache and redemption.
Throughout his extensive life as a filmmaker, Burns has documented a gamut of subjects, whether it be our battles ("The Civil War," "The War," "The Vietnam War"), our landscapes ("The National Parks: America's Best Idea," "The West") or our cultures ("Baseball," "Jazz," "Prohibition").
And with "Country Music," Burns, now 66, has come full circle with another vast portrait of America, one showcasing the good, the bad, and the ugly. It's a mirror held up to our faces as we currently navigate dark and uncertain times — the safe harbor just over the horizon so long as we don't give up on each other.
Ken Burns. (photo: Courtesy of PBS)
Smoky Mountain News: What was your relationship with country music before this project?
Ken Burns: Well, my people come from the mountains of Virginia. There's a Burnsville in Bath County. My granddaddy sang me songs. My daddy sang me songs. But, I'm a child of rock and roll and R&B. I did work in a record store in high school and knew all the artists, all the genres and played them, and enjoyed them. But, my tastes were that way.
So, I always understood though that — as I became a filmmaker dealing in American history — [country music] would be a great subject. And when a friend sort of reminded me about it in 2010, I just jumped at it with all my heart. And I'm now a complete convert in every way — I've learned so much. And rather than make a film in which I tell you what I already know — the last time I checked that's homework — we get to share with you our process of discovery. And boy, it has been just wonderful.
SMN: So, then to the flip side of that, are you a country music freak now?
KB: Yeah, I think so. I mean, I think we all know and agree with Harlan Howard that, "It's three chords and the truth." What it is saying is that this is a music that is elemental about the human experience. It's capturing human experiences. It's capturing human emotions and they're emotions that everyone has, not just that white southerners have. It's a music for everybody. Everybody experiences the joy of birth, the sadness at death, falling in love, being jealous, being angry, seeking redemption, being lonely — that's the thing.
SMN: How does the story of country music fit into the larger story of America?
KB: Oh, intimately. And in every possible way. I'm a person who has the privilege of dwelling in a very, very privileged space between "us" and the U.S. Every project I take exists in this sort of bouncing back between ["us" and the U.S.].
And nothing has been more powerfully emotional than the dive into country music. It's another way to understand the 20th Century. It's another way to understand the genius of the country. It's a way to expand it.
We're all so divided now. We forget, for example, that the banjo is an instrument from Africa. We forget that Jimmy Rogers, A.P. Carter, Bill Monroe, Hank Williams and Johnny Cash all had an African American mentor who helped raise their chops to a new level. People forget that when Ray Charles was given — and for the very first time in his professional life as a celebrated R&B soul singer — the chance to have creative control over an album, he records "Modern Sounds in Country and Western Music," which is this huge million seller.
You know, it's only us who create these artificial divisions of country music or jazz or R&B or red state or blue state. Wynton Marsalis — who's a jazz great that's in our country music film — says, "Art tells the tale of us coming together. Sometimes the culture will revert back to the primitive tribal instincts. But, art is the thing that unifies us. Art is the thing that reminds us that we are civilized. Art reminds us that we have much more that we share in common than we have differences."
And that's what country music does. It mitigates these four-letter words of love and pain. And it's so deep that we have to joke about it. We have to say, "Oh, it's about pickup trucks and six packs of beer and my dog." Yeah, it is about that. But, it's mostly about love and pain — these four-letter words that are so difficult to admit, so difficult to talk about.
Backstage at the Grand Ole Opry in Nashville, Tennessee. (photo: Courtesy of PBS)
SMN: Well, the music itself is the soundtrack of the human condition.
KB: That's exactly what it is. And that's a really good way of saying it. And it's not to exclude any other music. It's just to say this one is a particularly vibrant and dimensional American soundtrack. And it does document the human condition. And that's why this music travels. All you need to know is that you've got this guy Hank Williams singing, "Hear that lonesome whippoorwill, he sounds too blue to fly, the midnight train is whining low, I'm so lonesome I could cry." I mean, my God, that's elemental, you know?
SMN: Your documentaries have always told the story of either America or Americans, but is there an overarching theme that connects all of those documentaries?
KB: The United States of America — "us" and the U.S. It's as simple as that. I've said it for the very beginning, that we've made the same film over and over again. Each film asks a deceptively simple question, "Who are we? Who are these strange and complicated people who like to call themselves Americans?" And that's what we do. It's all about who we are.
And you never answer the question. You just deepen it with each successive project. That's all that life is about. I guess I'm rather narrow and parochial because it's all about American history, but these films go deep.
I was just talking to someone today about my very first film called "Brooklyn Bridge." And I remember changing a fundraising letter, I was always trying to raise $1,000 or $500. And I said that I wanted to be an "emotional archeologist." that I thought it wasn't enough to just excavate the dry dates and facts and events of the past — that was boring to people.
I wanted to be an emotional archeologist. And that means I'm not interested in sentimentality or nostalgia — that's the enemy of anything good, particularly good documentary films. But, I'm interested in emotion, higher emotions.
And our founders thought that by being free, that would unleash higher emotions [within] the petty and ordinary stuff of daily life. And so, I'm after that.
Johnny and June Carter Cash. (photo: Courtesy of PBS)
SMN: Well, truth is always stranger than fiction…
KB: It is exactly that. When I made "The Civil War," I was courted by Hollywood as if documentaries were some lower rung on a career ladder. And I don't even believe in the word "career" — I say "my professional life." The poet Robert Penn Warren told me once, "Careerism is death." And [he's right], I'm not interested in that. I want to do my work.
And so, I didn't look upon this courtship by Hollywood as somehow leaving behind this lower job. No, I like this job. I reach tens of millions of people and I get to tell the truth. And the truth is, as you say, stranger than fiction.
SMN: With the film "The Civil War," it essentially is putting a mirror up to America at that time. And when you take that film and put where we are today through the prism of that film, what's your take away from that?
KB: Well, I think that people like to say that history repeats itself. It does not — nothing has ever happened again. "We're not condemned to repeat what we don't remember" — that's very poetic, but it's just not true either.
Mark Twain is supposed to have said that, "History doesn't repeat itself, but it rhymes." That's correct. I like Ecclesiastes, "The thing that hath been, it is that which shall be; and that which is done is that which shall be done: and there is no new thing under the sun." And what that means is that human nature never changes.
So, when you do a film like "The Civil War," you're talking about Charlottesville, you're talking about race relations today. One of the last words in "The Civil War" series back in 1990 — 29 years ago — somebody said, "The Civil War is still going on. It's still being fought. And regrettably it can still be lost."
SMN: When you look through all that history that you're not only researching, but also presenting to the world, are you optimistic about the future?
KB: Always optimistic about it. I think history is our greatest teacher. I'm disappointed that we live in a country that is so distracted by our devices that we think that we can get along not knowing the tides that brought us to this place. And thinking in a consumer society that if "I just wear the right brand of blue jeans or I drive this car or I smell this way, that the inevitable troubles of life won't visit me."
[The troubles of life are] going to visit everybody, and it's going to be at that point that you're going to have to fall back on history. You're going to have to fall back on a song by Hank Williams or Kris Kristofferson or Dolly Parton that's going to help you get you through the hard times and hopefully they'll be smart enough to know it's there — knowing your history arms you in a very, very powerful way to understand and digest the present.
Want to watch?
The Ken Burns documentary "Country Music" will premiere at 8 p.m. Sunday, Sept. 15, on PBS stations nationwide.
The 16.5-hour film will air at 8 p.m. on consecutive nights from Sept. 15-18 and 22-25. Check your local listings for more information or click on www.pbs.org.