Archived News
Election Day in Cherokee: Voters speak at the polls
Wednesday, September 11, 2019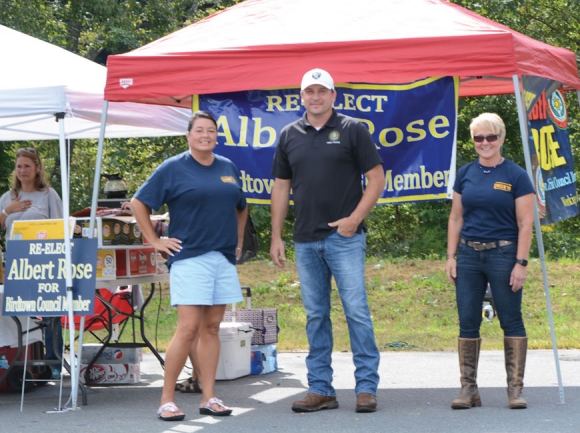 Albert Rose stands with supporters Collette Coggins (left) and Trina Sneed near the Birdtown polling place on Election Day. Holly Kays photo
Election Day dawned clear and sunny in Cherokee Sept. 5, with polls opening at 6 a.m. for voters to choose the tribe's next chief, vice chief and Tribal Council.
"It's good just to be here and see a lot of people I haven't seen in a long time, and see people I get to see on the campaign trail," said Birdtown Representative Albert Rose just before 11 a.m., by the campaign tent he'd set up across from the Birdtown polling place. "It's been a long campaign. I'm ready for it to be over with."
Most any Election Day that he's a candidate, Rose can be found at this same spot. Anyone stopping by last Thursday would have had their choice of barbecue sandwiches, cookies, grapes, cold drinks and coffee, spread out on fold-up tables surrounded by signage urging voters to re-elect Rose. A cluster of supporters helped Rose hand out the goodies, many of them complementing the pro-Rose signage with T-shirts supporting Richard Sneed for principal chief.
Where Rose's tent ended, the signage reminding voters of the other candidates in the race began. Signs promoting Boyd Owl, Ashley Sessions and Nelson Lambert for council bordered the roadside, with plenty of Albert Rose, Teresa McCoy and Richard Sneed signs in there too.
Similar clusters of election signage could be found across the Qualla Boundary, evidence of an election season that's been the talk of the town since before filing even began on March 1. Every two years, all 12 Tribal Council members are up for re-election — no staggered terms. But every four years, voters must also choose a new chief and vice chief. This year was a chief's election year, and it carried a special significance.
During the last chief's election, in 2015, Patrick Lambert won with a landslide 71 percent of the vote but was removed from office in 2017 following a guilty verdict on eight of 12 articles of impeachment. Sneed, who was elected to the vice chief's seat in 2015, was sworn in as the new principal chief of a deeply divided tribe, many of whom thought Lambert's removal was politically motivated and not legally justified. Last week's election was the first time voters had the chance to lengthen or curtail Sneed's administration at the ballot box.
Thoughts from voters
By the end of the day, preliminary results would deliver a decisive win for Sneed, showing him to have received 2,131 of the 3,867 votes cast in the chief's race.
However, a nonscientific poll of shoppers at Food Lion, Cherokee's only grocery store, showed substantial support for his challenger Teresa McCoy and revealed that skepticism of the Sneed administration still exists among some tribal members. Of 12 people randomly interviewed — six in the 11 o'clock hour and six in the 5 o'clock hour — eight said they supported McCoy for chief, two said they supported Sneed and two said they didn't vote.
"Teresa McCoy is the best candidate there is, and I hope she wins because then we can get this tribe back in the right direction," said a 24-year-old Birdtown man. "I think she's a last beacon of hope for this tribe, and if she doesn't win I'm not sure what's going to happen."
Like several others interviewed, the voter said his feelings about the chief's race harkened back to the impeachment of 2017 and to a belief that corruption is currently an issue in tribal government.
"People voted overwhelmingly in favor to strike the impeachment articles and the select few, the nine people, ignored a majority of the people here — a thousand of us — ignored our voice and they continue to do it on an ongoing basis," he said, referring to the Grand Council Lambert held in 2017.
"I really don't want to see the same ones back in there," said a 60-year-old female voter, also from Birdtown. "There just seems to be a lot of corruption and confusion about different issues."
Wolfetown voter David Owle, 45, said that he voted for new leadership in hopes the tribe would "quit jumping through hoops" for the state and federal government, something he feels Sneed's administration has done by issuing alcohol permits for locations other than Harrah's Cherokee Casino. The permits were issued in compliance with a state law — known as the Blue Ridge Law — that lists types of alcohol permits that are not subject to a referendum vote.
"There's a lot of things that the current administration, they've fallen short of the paths that we laid in front of them," said Owle.
The Blue Ridge Law was on the mind of Wolfetown voter Sis Cabe, 53, when she cast her ballot — also for McCoy.
"For me I think we need leaders in place that look at the overall effect that their decisions make on everybody in the tribe, not just the select few, so when we come together and we vote on an issue, we expect our voices to be respected and heard, not overridden because it's something they really want to do," said Cabe. "I voted for the person and the people that I thought would most closely listen to and follow what we as the community would have them to do."
A 40-year-old Yellowhill woman waiting for a ride in front of the Food Lion said a different issue was driving her decision. She's homeless, she said while tearing up, and so housing for homeless people is the top issue in her mind. She planned to vote for McCoy.
"I loved her when she was just in Big Cove Council," said the voter. "She'd help you even if you weren't in her community. She helped everybody on the reservation and she still did even when she wasn't in council or holding a seat."
However, other voters saw Sneed as the best choice.
"The sitting chief more or less would carry more weight with me in my voting than putting someone new in there who is not knowing what to expect," said Birdtown voter David Owl, 77. "You know what you have with the one that you have, but when you put somebody else in there new a lot of things change. It's not always for the better."
Another voter, a 50-year-old Birdtown man, said that Sneed had earned his vote by proving himself to be a man of character.
"He's really helped our family out and everything, and I think that's a real big thing for around here," the voter said of Sneed. "As long as somebody is willing to help you out and not ask for anything in return, that's what I liked about him."
The count
At 6 p.m., polls closed and Cherokee held its breath.
Ballots were counted at individual polling places and results posted on the door. They were then transported to the councilhouse, where election board members verified the numbers. By a few minutes after 6 p.m., about five people were sitting on the porch outside the councilhouse, settling in to wait for results. It was still hot outside, the day having peaked at 88 degrees, a stiff breeze working to bring on the evening cool.
About a mile down the road, McCoy's supporters were converging on her election headquarters, a small building between U.S. 441 and the Oconaluftee River that used to be a Dairy Queen. The atmosphere was tense, but hopeful, some folks keeping a weather eye on the TV tuned to display election results while others milled about outside, smoking or eating as they waited on the numbers.
The screen proved superfluous, however, as results entered not through the livestream but instead through intel from supporters who'd been stationed outside of individual polling places, taking note of the numbers as they appeared there. By 7 p.m., McCoy's crowd had results from four of eight communities — less absentee and early voting — and it didn't look good. By that unofficial count, McCoy hadn't won a single community. Sneed supporters were already making celebratory posts online, prompting McCoy to address the room, attempting to comfort her team — and possibly herself as well — about the bleak prognosis.
"We have a lot of really, really awesome, good, cool people on this boundary, and we're going to continue to help them and speak for them and do with them and eat with them and play with them, and it's going to be OK," she said.
"There's a lot of money, there's a lot of things that happened this election that we can't compete with, we couldn't compete with, but I feel like we still had the best people. We still had the greatest people on this team," she continued. "It is what it is and we're going to be OK. I've won elections, lost elections, and I can assure you sometimes when the numbers come out against you, you win, you still win."
Sneed, meanwhile, was having a better night, the confidence that had been building inside him throughout the day confirmed as he arrived at the friend's house where he'd planned to wait for results. He got there around 6:30 p.m., he said, after a break from the election trail to go work out, his favorite way to discharge stress.
"All the numbers were already in, so I was pretty surprised," he said in an interview the following day. "I was pleasantly surprised at the margin as well because historically other than when Patrick Lambert ran against Tunney Crowe, the margins are usually really close in the chief's race. In this case they were pretty substantial."
At 8:26 p.m., Sneed made a post to his official Facebook page declaring victory and thanking his family for their support, voters for their confidence and McCoy for spurring dialogue on important issues. The post quickly blew up with a slew of positive reactions and congratulatory comments, within 24 hours garnering 990 reactions, 124 shares and 330 comments.
"I look forward to your continued leadership," former Chief Joyce Dugan commented. "If I can help in any way I'm a phone call away. Congratulations!!"
"Congratulations Chief!" wrote Katelynn Ledford-McCoy. "We are blessed to have such an outstanding leader to help progress this tribe forward. You are truly amazing!"
"Congratulations," added Glenn Key. "Thanks for running an honest campaign. We appreciate all you have done for our tribe. We know you will lead us into the future with honesty and integrity."
Meanwhile, tribal members relying on TV or livestreamed updates for their election news were still in the dark as to how their votes had added up. Early results — totals for Tribal Council, or community-specific totals for the chief races — were looping through the screens on display in the council chambers, but that information was not being broadcast outside the building. Initially, The Smoky Mountain News was told it could not be in the building at all but was later informed it would be permitted in the lobby but could not cross the threshold to the chambers themselves.
By 9 p.m., however, all the votes were in. The Election Board finished counting, packaged up the ballots, printed off sheets displaying totals and percentages, and closed up the building — releasing complete results to the livestream just before doing so. Somebody released a joyful "Whoo!" in the dark parking lot, a stark contrast to the dejection reigning over at McCoy's headquarters.
In the hours and days to follow, both McCoy and Sneed would state their thanks for a "calm" election that included little to no "mudslinging" — despite a few hiccups, with Sneed's campaign reporting that somebody had run over one of his signs with a vehicle and McCoy's people pointing out that someone had attached a sign saying, "if you want a thief for chief" under one of her "Elect Teresa McCoy" signs.
But if many people share Cabe's concern, confided at Food Lion hours before the election's outcome was known, political uneasiness is still present among some tribal members.
"My fear is that even though the election's going to be over, the election's not going to be over," said Cabe. "There's going to be so much fallout. A lot of fallout."
"We'd like to cast our vote and say there, we're done, it's over. The votes have been counted," she added. "But given our recent past it's not going to be."