Archived Outdoors
The fungi forager: Franklin man develops a passion for wild mushrooms
Wednesday, September 04, 2019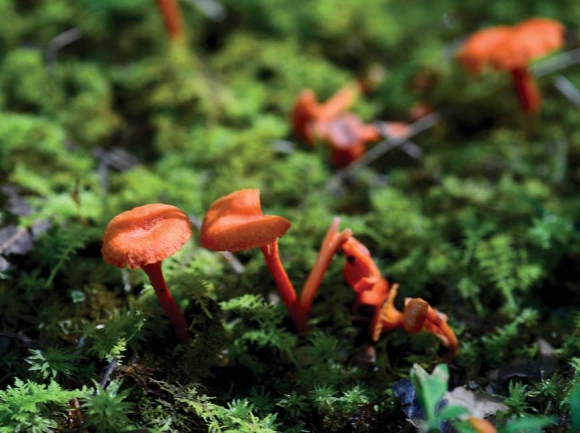 Cantharellus cinnabarinus, also called cinnabar chanterelle, is one of Western North Carolina's many edible mushrooms. Holly Kays photo
Beneath the woodsy world of tree trunks, ferns and leaf litter is another, hidden realm. It's the world of fungi, where these shadow organisms — not plants, but yet not animals — spread their tendrils through the soil, through the moist decay of fallen branches, into the bark of standing trees, both living and dead. Where the two worlds meet is where the mushrooms grow.
"What we see isn't actually the organism," said James Pader, a self-taught mushroom expert who lives in Franklin. "To us it's the organism, because that's all we see of it, but by the time we see that tree covered with mushrooms, the organism is nearing the end of its life cycle."
A mushroom is a fungal fruit, a delivery system for the spores that will seed in the next generation. Picking a mushroom is like playing Johnny Appleseed, said Pader, and if you know what you're doing, it can also be like playing Top Chef.
That's what motivated Pader to start learning his' shrooms in the first place. Sort, of, anyway.
Pader, 39, first got interested in mushrooms when he decided to try growing them in the wood waste generated from his woodworking business, Mountain Laurel Handrail. That didn't work out so well, probably mostly because mountain laurel is a potent antifungal. That makes it the perfect material for crafting decay-resistant handrails, but as a base for mushroom growing operations, it's not so great.
But Pader didn't give up on mushrooms. He began growing them for use in his often-elaborate culinary creations.
"As I was cultivating culinary mushrooms I got interested in wild mushrooms, because there's a lot of them, and started learning how to identify them, and just kind of got into it from there," he said.
It was about six years ago that Pader set about learning his mushrooms. As a business owner, a husband and a father of four, it was a hobby pursued around the corners of his time, a gradual aggregation of knowledge rather than completion of any official series of courses.
"When people ask me this question, it's generally the 'What are your qualifications?' question, and my answer is I learned mushroom identification on Facebook," he said.
Pader is a member of multiple fungi-forward Facebook groups frequented by users with various levels of expertise in mycology. While some may scoff at Facebook as a vehicle for education, Pader's view is that, if it works, it works.
"It's the way that you use anything," he said. "The platform can be really banal and not conducive to anything, but computers are the same way, and we have the internet, which has fostered this enormous spread of knowledge, so that's how I use it. It's like mushroom flash cards — that's all I can say."
Taking a walk with Pader on the Bartram Trail just outside of Franklin, it's evident that those "mushroom flash cards" have done the trick. He has an eye for the fungi, often overlooked by hikers focused on larger, showier forms of life, and in most cases he's able to make an instant identification.
There's the Lactarius volemus, a small-gilled edible mushroom that bleeds a milk-like substance when punctured. Some mushrooms in the Lactarius genus are pretty spicy, said Pader, fingering the milk-beaded 'shroom, but this species has a more fishy taste. It's robust with steak and onions, easy to harvest and easy to prepare.
Then too there's the Russula genus, a tricky group of mushrooms that can be difficult to tell apart. A red-capped mushroom growing amid a patch of poison ivy is part of the genus, said Pader, pointing it out from the trail, but that one wouldn't be good to eat — it would make you throw up.
He finds a few coral mushrooms, one yellow and one pink-red, named for their intricate tangle of tendrils that resembles the type of coral you'd find in an ocean reef. They're beautiful mushrooms, but with so many kinds that prove difficult to tell apart, Pader avoids eating them.
A pair of coral mushrooms display the diversity within the Ramaria genus, to which they both belong.
What he does not find on the walk is his favorite mushroom, the Heimioporus betula, commonly known as the shaggy stock bolete. It has a delicious lemony flavor, long stalks that can be cut into medallions, and makes a wonderful chicken piccata.
Though, Pader cautions, folks interested in the tasty aspects of mushrooms should be sure to do their research before going picking. He urges prospective mushroom harvesters to learn their shrooms, rather than blindly trusting the mushroom "expert" in their lives to point them in the right direction.
That said, he believes the fear of accidentally eating poisonous mushrooms is overblown.
"There aren't very many deadly poisonous mushrooms. The one I just showed you," he said, indicating the red-capped Russula, "you could call it poisonous because it will make you throw up, but there are varying degrees of poisonousness, and the poisonous mushrooms we have around here are pretty readily identified."
It would be difficult to list all the mushrooms Pader spotted along the course of the 2-mile loop hike. But it would be impossible to list all the species he might have possibly found there — Western North Carolina is home to more than 1,000 mushroom species. Even Pader, with all the time and effort and interest he's poured into learning his fungi, doesn't know them all.
In fact, there are some that are known by no one.
"If I tell you what it is and say, 'Oh, this is definitely that,' there are a lot of those that I would be lying," he said. "We don't know that it's definitely that because it has not been identified to species."
Among the mushrooms of WNC are quite a few species that have not yet been named and described. American mycology — the study of fungi — is a developing field. There's room for even amateur scientists like Pader to contribute to its evolution.
A few years ago, Pader and his daughter Autumn, now 12, traveled to Transylvania County to participate in a mushroom foray there. The experienced proved unexpectedly grueling when an road closure left them stranded for hours as traffic ground to a stubborn halt.
"After I got done with that I was like, 'I'm not going to do this again. It's too much for me," said Pader. "So I was like, 'Well, I'm not going to complain about there not being stuff to do, and I'll just do something, because I don't want to be a complainer. I want to be somebody who does things and takes action.'"
The "something" that Pader wound up doing was founding WAM! — West N.C. Area Mushrooms — an organization through which he's led five mushroom forays over the past two years.
This fall, Pader is ratcheting things up with a schedule that includes two library talks and a three-day mushroom-oriented adventure in Macon County. He's looking forward to these opportunities to spread the word about WNC's fungal diversity, and to excite enthusiasm for the abundance of mushrooms that are out there to discover.
"There's this huge diversity of life, and most of the time we just don't even see it," he said.
James Pader, founder of WestNC Area Mushrooms, or WAM! — will be offering several mushroom-oriented events this month.
Catch the mushroom man
James Pader, founder of WAM!, will be sharing his knowledge of mushroom identification and culinary uses through a series of talks this month, concluding with a three-day fungi festival the first weekend in October.
• At 6:30 p.m. Thursday, Sept. 5, in the Community Room of the Jackson County Public Library in Sylva, Pader will discuss mushroom identification as well as the amazing culinary possibilities local species provide. The event is co-sponsored by Friends of the Jackson County Library.
• At 7 p.m. Saturday, Sept. 7, at the Hudson Library in Highlands, Pader will discuss mushroom identification as well as the amazing culinary possibilities local species provide.
• At 7 p.m. Friday, Sept. 13, at the Macon County Public Library in Franklin, Pader will give a presentation as part of the Nantahala Hiking Club's general meeting, covering basic morphology and identification while also touching lightly on advanced topics like phylogeny and taxonomy. Specimens will be available for viewing and inspection.
• The inaugural Smoky Mountain Mushroom Festival will be held Friday, Oct. 4, through Sunday, Oct. 6, at Standing Indian Campground in Franklin. The event will include a farm-to-table mushroom dinner from researcher Alan Rockefeller, multiple presentations on all things fungi, identification, a do-it-yourself Shiitake log workshop and a session sequencing DNA from mushrooms found over the course of the weekend. Tickets start at $10, with additional fees for camping, the farm-to-table dinner, Shiitake workshop and DNA lab. www.wncshrooms.org.
Learn your fungi
For those looking to learn fungi the way Pader did — by checking out photos and interacting with experts in Facebook groups — he's got a few pages to recommend.
Pader's group is WAM! – WestNC Area Mushrooms. A couple other good ones, he said, are The Mushroom Identification Forum and North Carolina Mushroom Group. Start small, he said, and learn to identify a few particular species with ease and confidence. But, while most people will find edibles the most attractive species to know by name, Pader suggests that aspiring mushroom masters don't limit themselves too much.
"If you just look at the ones that are edible," he said, "you're ruling out a whole class."