Archived Outdoors
The Naturalist's Corner: Santee surprise
Wednesday, September 04, 2019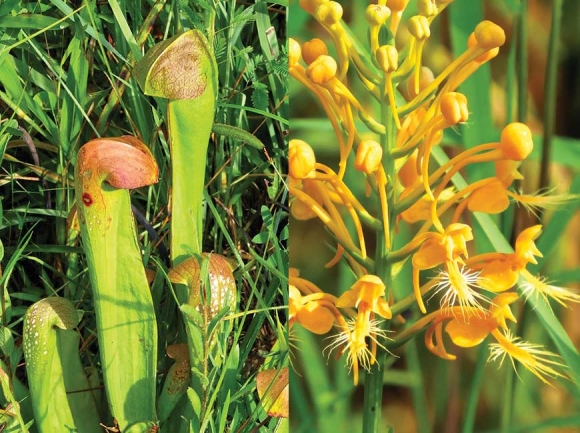 Hooded pitcher plant (left) and yellow-fringed orchid. Don Hendershot photos
During our annual summer beach trip to Isle of Palms, I often manage to sneak away one morning to visit Santee Coastal Reserve for an annual red-cockaded woodpecker fix. State and federal agencies have been successfully enhancing the endangered red-cockaded woodpecker population at Santee Coastal for a number of years. It's a great place to see these noisy little woodpeckers as they nest along the main dirt road through the reserve and all you have to do is drive slowly along until you hear the constant chatter of a colony.
Despite the ease with which you can find and/or see a colony, getting a photo is a different proposition. They have proven to be a photo-nemesis for me. They are small, just larger than a downy, and usually actively foraging, or backlit, or there's a branch in the way, etc. But I continue to try every year for one decent photo.
This year was about par for the course. I heard red-cockadeds almost immediately upon reaching the preserve. I could see them flitting about on the large longleaf pines but by the time I could get to them and try to maneuver to get decent lighting they would head off for a different spot.
I would get back in my car and travel down the road till I encountered another colony and try again. I struck out at one stop, keeping my eyes on a colony foraging and trying to put myself in front of them, thinking that would give me more time to frame a photo. Of course, the birds decided to change direction and left me standing alone in the longleaf savanna.
That's when I looked down for the first time since leaving the car and tracking the birds. And there, all around me, were tiny druids in green cloaks with orangish hoods. OK, not really but it would take only a little imagination to turn the hooded pitcher plants all around me into some kind of strange apparition.
The hooded pitcher plant, Sarracenia minor, reaches 10 to 12 inches in height. The stalk is actually a modified leaf, whorled and forming a hollow tube. They grow in acidic nutrient-starved soil. The carnivorous pitcher plant compensates for this lack of nutrients by trapping insects, spiders and even small frogs in the hollow leaves, where they are consumed through a digestive fluid in the bottom of the pitcher.
Species of Sarracenia hybridize given the opportunity and, depending on who is classifying them, there are eight to 11 species. Seven species are generally confined to the southeastern coastal plain of the U.S. The hooded pitcher plant is the only species extending into Florida. It ranges from central and western Florida into southeast North Carolina and inland to northeastern Georgia.
As I was admiring the pitcher plants a splash of orange caught my eye and I discovered a stunning yellow-fringed orchid, Platanthera ciliaris. This was a little disconcerting at first because I am most familiar with this plant from the shoulder of the Blue Ridge Parkway in Western North Carolina, especially in the vicinity of Waterrock Knob but pine savannas across the eastern United States are also prime habitat.
So, still no decent red-cockaded woodpecker photo, but a first-ever (for me) photo of a 10-inch green-clad druid, or hooded pitcher plant if you want to be technical. Throw in a gorgeous yellow-fringed orchid for langinape and there are no complaints.
(Don Hendershot is a writer and naturalist. His book, A Year From the Naturalist's Corner, Vol. 1, is available at regional bookstores or by contacting Don at This email address is being protected from spambots. You need JavaScript enabled to view it.)