Archived News
Swain room tax revenue exceeds $1 million
Wednesday, September 04, 2019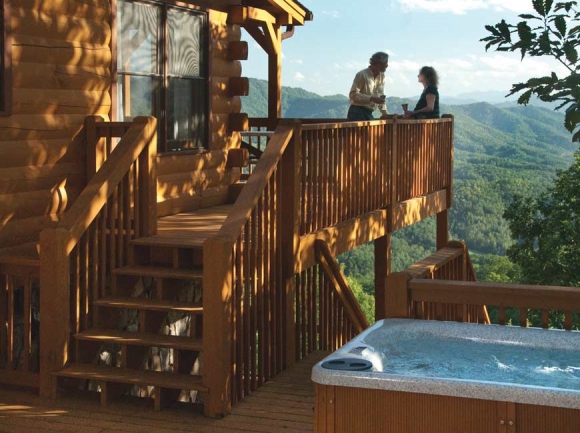 Some of Swain County's increase in room occupancy tax revenue can be attributed to the growing number of short-term rental cabins. Photo courtesy of Bryson City NC / Swain County Chamber of Commerce
Swain County's tourism industry recently marked a major milestone when the occupancy tax revenue from fiscal year 2018-19 exceeded $1 million for the first time.
The rural county, which includes the town of Bryson City, has seen steady growth for the last several years as more people flock to the nearby Great Smoky Mountains National Park and enjoy mainstay attractions like Nantahala Outdoor Center and the Great Smoky Mountains Railroad.
"Most of Swain County's tourism assets are focused on outdoor adventures. Half of Swain County is located within the Great Smoky Mountains National Park with its high-elevation views, hiking trails, mountain streams and waterfalls," said Mary Ann Baker with the Swain County Tourism Development Authority. "From the Nantahala Gorge to the Tuckasegee River and Fontana Lake, there are a plethora of activities for people to choose from. And Bryson City is the hub for the Great Smoky Mountains Railroad, which has added more specialty train excursions — a specialty wine excursion and a BBQ and Brews themed train ride. They have also added train cars to handle the increased demand."
Every person or party staying overnight in Swain County pays a 4 percent room tax that is specifically earmarked to go toward tourism marketing efforts. The Swain TDA board of directors is in charge of distributing those funds to put "heads in beds" and support the local tourism industry.
Hitting the $1 million mark this past year is a big accomplishment in the tourism world, especially for a small county where 85 percent of the land is occupied by national park and forest. When comparing room occupancy revenues in other larger counties, Swain's revenue is competing with Haywood County's TDA numbers. Haywood has been surpassing the $1 million mark for the last several years and in 2018-19 the total collection from the 4 percent room tax was $1,613,276.
While Haywood has more hotel and motel accommodations than Swain County, Baker said the growth in Swain seems to be coming from an increase in the number of short-term rentals versus that of hotels/motels. Some of that increase is coming from Airbnb, VRBO, HomeAway and other local professional cabin rental companies.
"We are hearing of normal gains in average daily rate, so we believe it is the increase of short-term rental inventory that is leading that growth," Baker said.
Baker said the TDA — as well as the Swain County Chamber of Commerce — is passionate about looking for new tourism assets to bring to the community by utilizing some of the room tax revenues. For example, the Fly Fishing Museum of the Southern Appalachians moved from Cherokee to Bryson City a couple of years ago, which spurred the Appalachian Rivers Aquarium project with help from the county. Room tax revenues are also paying the loan for the county's new outdoor event space at Inspiration Park where the county can now host festivals, fairs and concerts.
"Occupancy tax money benefits Swain County with increased local tourism jobs, a healthier economy for local businesses, and added infrastructure for locals and visitors," Baker said. "Occupancy tax money has been used for downtown beautification, the new aquarium, the Swain County Heritage Museum, new restrooms at the soccer field of the Swain County Recreation Park, a portion of the restoration of the dome of the old courthouse, a turntable for the Great Smoky Mountains Railroad, and the new Swain County Event Park."
When it comes to promoting Swain County as a destination, Baker said the TDA's in-house team takes a "boots on the ground" approach to marketing, public relations and social media. Being based in Bryson City makes it easy for the staff to recognize what's working and what visitors and business owners need.
"Because of that, we feel we are in tune with visitors and what they like to do when they get here, how they make travel decisions, and what we might potentially do to address any new ideas or information," she said. "We talk to visitors daily in our visitor centers and listen to our local business owners. We can change our marketing plan immediately if needed."
According to Baker, visitors respond to video more than any other media, which means she can hop on a train excursion, hike the Road to Nowhere, or visit the Nantahala River and take video with her smartphone and post to social media the same day.
"Initiatives like that get overwhelming interaction that increases our destination's visibility year over year. And because we are local, we can respond quickly to any current events via social media and revise our marketing and PR plan swiftly," she said.
The Friday before Labor Day, the TDA team was busy working on two big issues aside from the typical busy Labor Day weekend — a plan to help any Hurricane Dorian evacuees that may come to the area looking for accommodations on a busy and booked holiday weekend and alternative plans for visitors who had planned to spend their trip on the Nantahala River (which is closed for recreation due to landslides in the gorge).
"We are communicating with local businesses so that both our visitor center, call center, and social media inquiries can be up to date with lodging vacancies," Baker said. "And at the same time, we are coordinating alternative adventures for visitors due to the Nantahala River being temporarily closed to recreational rafting and kayaking while cleanup from last week's landslide takes place."
Even though the Nantahala is closed, Baker said there are plenty of other opportunities for adventure with zipline, river and lake kayaking and paddle boarding, river and creek tubing, fishing, train excursions, mountain biking, jeep tours, gem mining, horseback riding, and downtown shopping, dining and brewery options.
As for future growth, the TDA staff is optimistic that Bryson City and Swain County as a whole will continue to grow its tourism reach.
"We are optimistic that tourism growth will continue. A new hotel is under construction in downtown Bryson City. Stonebrook Lodge will bring more hotel rooms to Swain County," Baker said. "And we continue to learn of more short-term rentals that are coming into the market. We have projected a modest increase."