Archived News
Visitor spending in Macon on the rise
Wednesday, September 04, 2019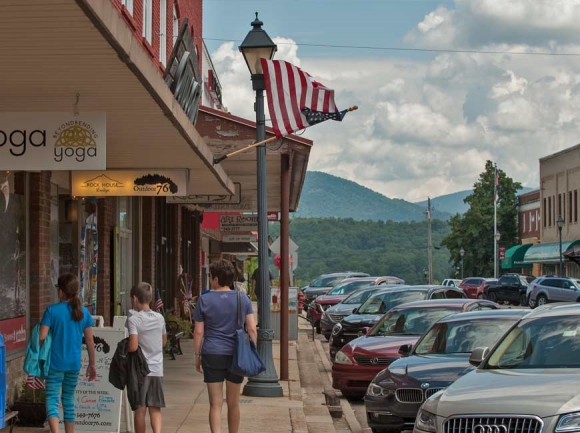 Outdoor recreation continues to be a major factor in Macon County's steady increase in visitor spending year after year.
According to Visit North Carolina, visitors spend more than $178 million in Macon County in 2018, representing almost a 5 percent increase over 2017. Visitor spending in Macon has been steadily increasing since 2009 after a small dip during the recession. The increase in tourism dollars ultimately helps the county's bottom line and takes some financial pressure off of local residents. In 2018, the state estimates each Macon County resident saw a $606 annual savings because of visitor spending.
During this year's budget process, County Manager Derek Roland told commissioners that he budgeted a conservative 3 percent increase for sales tax revenue for 2018-19 while actual sales tax revenues were up 4.55 percent through the end of 2018 with still six months more to go in the fiscal year budget.
Macon County, the Town of Franklin and the Town of Highlands currently levy a 3 percent occupancy tax that is paid when people stay overnight at a hotel, cabin or other accommodation. That revenue is collected and distributed to the three jurisdictions of the county to be used to promote and market the county's tourism draws.
Like the other small mountain towns in the region, Macon County's tourism industry is reliant on outdoor recreation inside and out of the Great Smoky Mountains National Park. Franklin is also designated by the Appalachian Trail Conservancy as an "A.T. community" for thru-hikers, with more than 500 hikers coming through town beginning in April.
Downtown Franklin has also become a bigger tourism draw with local merchants, restaurants and two craft breweries. The town of Franklin organizes several festivals and free concert and movie events throughout the year to bring more folks and more dollars to the downtown corridor.
Macon County organizations are also in the midst of creating a history and cultural tourism corridor from the headwaters of the Little Tennessee River to the Qualla Boundary to draw more visitor attention to Nikwasi Mound in Franklin and Cowee Mound in the Cowee community.
One visitor draw that sets Macon County apart from others is the Parker Meadows Sports Complex, which can host multi-day sports tournaments. Families travel from all over the region for their children to participate in sports tournaments, and the county's Parker Meadows facilities have been able to reap the benefits. Commissioners give Parker Meadows a lot of credit for the increase they've seen in sales tax revenues and were even able to pay off the $5 million construction loan early using that additional revenue.