Archived News
Big changes coming to N.C. Medicaid
Wednesday, September 04, 2019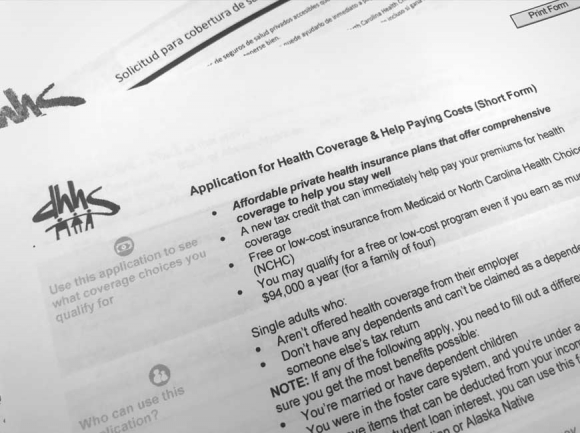 Open enrollment for N.C. Medicaid begins Oct. 14. Cory Vaillancourt photo
As the state of North Carolina moves forward with some bold new changes to how it will administer Medicaid, Haywood County's Health and Human Services Agency is trying to get out ahead of the makeover by letting beneficiaries know what they can expect.
It's called "Medicaid Transformation," and it differs significantly from the traditional fee-for-service model currently in place, called Medicaid direct. Soon, most people will transition to something called Medicaid managed care.
"This is so different from what people are accustomed to now," said Teresa Allison, economic services director with Haywood's HHS. "Ordinarily, an individual who applies for Medicaid, once they're deemed to be eligible, they get their Medicaid card, they go to their doctor. If they need a replacement card, if they have any questions, their primary point of contact is social services, or their doctor."
When Medicaid's open enrollment period begins on Oct. 14, around 1.6 million of North Carolina's 2.1 million current Medicaid beneficiaries will instead start dealing with insurance companies.
That includes more than half of Haywood County's 14,000 Medicaid beneficiaries — as many as 8,400 people — who will be made to choose from one of four firms the state has contracted with to provide managed care — WellCare, United Healthcare, Healthy Blue (Blue Cross/Blue Shield) and Amerihealth Caritas.
"What is going to happen and change is that in the near future, beneficiaries will be selecting a health plan, and the health plan will help them navigate through their health care needs and coordinate appointments with their primary care provider, ensuring that they get all of their medical needs met so that they can have good healthy outcomes," said Allison.
Enrollment brokers will help people navigate the plans by providing enrollees with unbiased advice on which insurer is right for them; each plan must provide mandatory minimums of service, but they all differ slightly in the sort of enhancements — say, care focused on the elderly — they will offer.
It is, however, important to note that the eligibility requirements for Medicaid itself will not change — meaning people won't be faced with losing coverage — but that also means Medicaid coverage won't expand to people who aren't currently eligible for benefits.
It's also important to note that North Carolina's Medicaid transformation has little to do with the "Medicaid for All" movement, which is currently the subject of an intense budget standoff between Democratic Gov. Roy Cooper and the Republican-controlled legislature. North Carolina is one of just 14 states that have not expanded Medicaid.
Democrats have been calling for the expansion of Medicaid, 90 percent of which would be paid for by money N.C. taxpayers already send to Washington, D.C. Republicans, however, are concerned about being left to pick up the entire tab if Congress ever decides to diminish expansion funding.
Medicaid Transformation, however, aims to cut costs and produce better outcomes for existing beneficiaries.
Under the current fee-for-service model, Medicaid pays providers for each service, test or procedure given to beneficiaries. That makes budgeting harder, because providers never quite know when someone will show up with a medical issue.
Medicaid managed care will pay providers a "global" fee for each beneficiary, and hold those providers accountable for the results. In theory, the better a provider performs, the more money they can make. The opposite is also true.
Not everyone will end up in managed care Medicaid though — at least, not right now. Although about 65 percent of Haywood's Medicare population will face a mandatory transition, roughly 35 percent won't, according to Allison.
"There will be some individuals that will fall into an excluded group, which means that they'll stay in North Carolina Medicaid direct," she said.
Those are likely to be people who don't qualify for full Medicaid benefits, like those who are only eligible for family planning services; it wouldn't make much sense to pay a provider a large global fee for a beneficiary who will make relatively little use of the full suite of Medicaid services.
Then there is an "exempt" group that can either enroll in the managed care model now by choosing from one of the four insurers, or remain in Medicaid direct until so-called "tailored plans" become available by mid-2021.
"A really good example of the exempt group would be the Eastern Band of Cherokee Indians, a federally recognized tribal entity," said Allison.
With all that being said, Allison wants people to be aware of how the process will work, and some important deadlines looming that could determine what Medicaid services, if any, will be available.
Managed care is being rolled out in two phases across North Carolina. In some counties, primarily in the north-central part of the state, the process is already underway. In the rest of the state, including the far west, that process will begin soon.
"The takeaways that I would want beneficiaries to know is that the eligibility process itself is not changing on the front end," Allison said. "The rules aren't changing, the criteria isn't changing. What will change is if they are deemed to be eligible and they fall into a mandatory group. After that eligibility, they will get information about enrolling and selecting a health plan, with information about how they can contact the enrollment broker to go through that step."
On Oct. 1, enrollment packets will be mailed out to beneficiaries by the enrollment brokers. Open enrollment begins on Oct. 14. A reminder postcard will be mailed a month after that, and then a month after that, on Dec. 13, the open enrollment period closes.
Those who haven't chosen a plan by Dec. 13 will be automatically assigned to one on Dec. 16, thus it's critical that Medicaid beneficiaries educate themselves on the plans and choose the one that's the best fit for them, Allison says.
"Everybody who is mandatory, if they do not select a plan, they are auto assigned in a plan," she said. "So I would encourage the community that receives Medicaid when they get an enrollment packet in the mail in October to call us, to call the enrollment broker."
Once enrolled with one of the four insurers, beneficiaries will receive a welcome packet from the insurer. Coverage under the new plans will begin on Feb. 1, 2020.
How to enroll in Medicaid
There are several ways in which eligible persons can enroll in Medicaid:
• Using a computer, visit www.ncmedicaidplans.gov. Enrollment specialists are also available to chat.
• Using a smartphone, search Google Play or the iTunes App Store for "NC Medicaid Managed Care." Download and install the app, and follow the instructions.
• Using a landline, call an enrollment specialist toll-free at 833.870.5500. Callers who require TTY service can call 833.870.5588.
• Using the U.S. Postal Service, email a completed enrollment form to N.C. Medicaid Enrollment Broker, P.O. Box 613, Morrisville, N.C. 27560.
• Using a fax machine, send the completed enrollment form to 833.898.9655.