Archived News
Free camping available for Dorian evacuees
Tuesday, September 03, 2019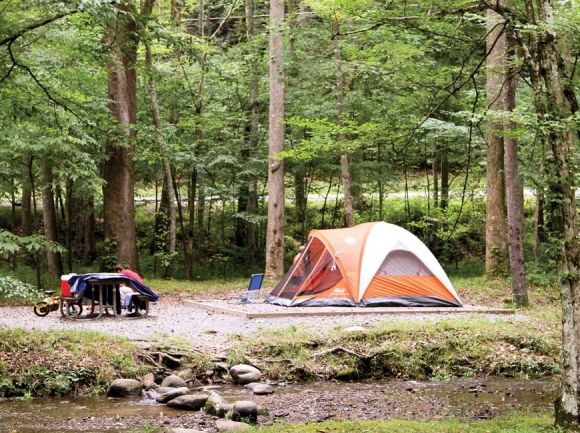 The U.S. Forest Service is waiving fees at campgrounds across its southern region — which includes the Pisgah-Nantahala National Forest — for people displaced by Hurricane Dorian.
People seeking shelter in a Southern Region Forest Service campground should:
Select a National Forest from the list below and call or check online to see if any campgrounds are closed.
Call the desired campground or check recreation.gov to see if space is available.
Upon arrival, notify the campground host that they are being displaced due to the storm, so that no fee will be collected.
Exercise caution and keep aware of changing weather conditions.

Some Southern Region campgrounds will be closed due to the weather, including all facilities on the Croatan National Forest in eastern North Carolina. The Uwharrie National Forest in central North Carolina may also be impacted by the storm, so visitors should stay alert to weather information and have a back-up plan. Follow the National Forests in North Carolina Facebook (www.facebook.com/nfsnc) or Twitter (twitter.com/NFsNCarolina) for updates.
For information on campgrounds in the Southern Region, find the "recreation" link on each forest's website:
National Forests in Alabama (www.fs.usda.gov/alabama)
Chattahoochee-Oconee National Forests (www.fs.usda.gov/conf)
Cherokee National Forest (www.fs.usda.gov/cherokee)
Daniel Boone National Forest (www.fs.usda.gov/dbnf)
National Forests in Florida (www.fs.usda.gov/florida)
Francis Marion and Sumter National Forests (www.fs.usda.gov/scnfs)
Kisatchie National Forest (www.fs.usda.gov/kisatchie)
Land Between the Lakes National Recreation Area (www.landbetweenthelakes.us)
National Forests in Mississippi (www.fs.usda.gov/mississippi)
National Forests in North Carolina (www.fs.usda.gov/nfsnc)
Ouachita National Forest (www.fs.usda.gov/ouachita)
Ozark-St. Francis National Forests (www.fs.usda.gov/osfnf)
National Forests and Grasslands in Texas (www.fs.usda.gov/texas)
George Washington and Jefferson National Forests (www.fs.usda.gov/gwj)