Archived News
Right from the source: Smoky Mountain Folk Festival celebrates 50 years
Wednesday, August 28, 2019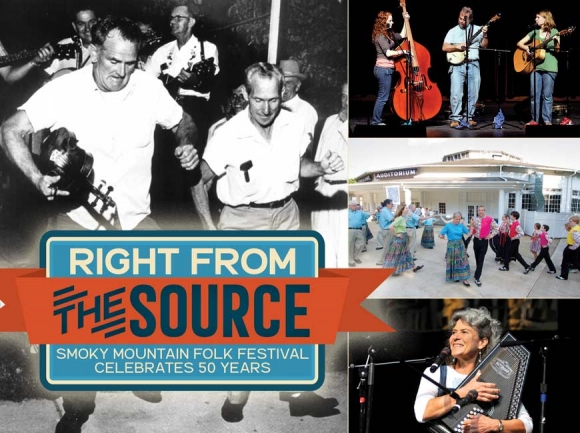 Atop a hill on the western edge of downtown Waynesville, just past the invisible line where the delicious smell of down home food stops wafting from nearby Bogart's Restaurant & Tavern, sits a picturesque century-old home.
With a fresh cup of coffee in hand one recent sunny morning, Joe Sam Queen sat in a rocking chair on the side patio of his serene abode and reminisced about the Smoky Mountain Folk Festival.
"Getting together to dance and play music has always been part of these mountains. People here in Haywood County and Western North Carolina celebrate the seasons, their lives, their culture," he said. "Back then, you'd work on the farm all the time and you wanted an opportunity to get together with your friends, family, neighbors and visitors — that's what dance and music has always been about."
SEE ALSO: In their own words: Smoky Mountain Folk Festival
Though Queen is well-known around Western North Carolina for his legislative career (currently a representative in the state House), he's probably more notable to the residents of his district as one of the founders and organizers of this longtime festival.
"The Smoky Mountain Folk Festival remains an annual occasion to introduce your children, grandchildren and relatives to the history of where they come from — it reminds you about your heritage," Queen said.
Within its half-century of existence, the Smoky Mountain Folk Festival has played host to thousands of talented musicians and cloggers. Brady Blackburn photo
And it was in the same year, 1969, that the 19-year-old Queen moved into that home when the beloved festival was launched. Alongside an array of local movers and shakers, Queen and his colleagues created the gathering as a way to preserve and perpetuate the artistic and cultural traditions of these mountains and its people.
"I was a college student at the time," Queen recalled. "The Town of Waynesville would have square dances and street dances. But, we were looking for a way to showcase all the local and regional talent in a true festival setting."
Now a half-century into its existence, the Smoky Mountain Folk Festival remains one of the last, true vestiges of mountain music and clogging, where the omnipresent ghosts of those talented souls who came before us will always have a place on the dance floor for generations to come.
"For centuries, we've been a hot spot for folk music and folk dance in America, right here in Haywood County," Queen said. "And there was an urgency, even when we started, to ensure the survival of traditional dance and music in Southern Appalachia."
In the year leading up to the incorporation of the folk festival, Haywood County lost one of its great cultural ambassadors — 80-year-old Sam Love Queen, grandfather to Joe Sam and a world-class clogger.
"My grandfather bonded a local man out of jail to work on his farm," Joe Sam said. "They had some kind of dilemma and the man shot my grandfather with his own pistol in the room he was born in. Over 5,000 folks from all over the area attended my grandfather's funeral."
A clogging legend, Sam Love Queen founded the Soco Gap Dance Team, a popular group who, in 1928, won the square dancing competition during the inaugural Mountain Dance & Folk Festival in Asheville, a gathering founded by banjo/singing icon Bascom Lamar Lunsford.
And it was the friendship and collaboration between Lunsford and Sam Love Queen that would lead to decades of performances for folks from all walks of life around the country.
When the King and Queen of England crossed the pond to pay a visit to the White House in 1939, it was Sam Love Queen (as part of a dance act put together by Lunsford) who danced for the Royal Family and also President Franklin D. Roosevelt and First Lady Eleanor Roosevelt.
"My grandfather was a genuine entertainer — if you saw him coming, you knew a good time was to be had," Joe Sam said. "He put on dances all throughout the year, and especially at the old mountain hotels with the hardwood floors. They'd dress up their Sunday's best and dance for the visitors and tourists staying at the inns."
An early installment of the An early installment of the Smoky Mountain Folk Festival.
Thus, in honor of the late Sam Love Queen and his legacy, Joe Sam and a handful of community organizers got together and decided to put on a folk festival in the summer of 1969.
The group was able to get a $5,000 grant that was put to use in purchasing equipment for the stage and getting the word out on the event. The inaugural gathering was held in the gymnasium and on the lawn at the local high school (now the Waynesville Middle School).
"Besides the clogging and mountain music, we also had Appalachian games, potato sack races, wheelbarrow races and log throwing," Joe Sam smiled. "Haywood Community College was just getting started with its crafts program, so they brought over all kinds of artists that were there to demonstrate their skills for everyone."
Eventually, the Smoky Mountain Folk Festival was relocated to the Lake Junaluska Conference Center & Retreat Center, where it has called the Stuart Auditorium home for around 30 years.
"Well, now 50 years later, the festival is still about preserving these traditions and sharing them with the locals and visitors — I think my grandfather would be proud to see where it is today," Joe Sam said. "And for something that started out as a harvest time festival, it has really become an institution for hospitality in Haywood County in sharing our history through dance and music."
Within its half-century of existence, the Smoky Mountain Folk Festival has played host to thousands of talented musicians and cloggers. Brady Blackburn photo
Finishing up the last drop of his coffee, Joe Sam gets up from his rocking chair and readies himself for the impending day. His cell phone rings. It's one of the longtime performers at the folk festival calling about last-minute details for the stage.
Once again, Joe Sam wrangles in what needs to be done to get the folk festival off and running, just like he and countless other community members have done for a half-century and counting.
"Place matters to me and I recognize place also matters to other people. And I feel just incredibly blessed to be from Haywood County. But, I recognize other people feel they are blessed to be where they're from, too," Joe Sam said. "And if you know where you come from, you've got a better feeling for where you'll be going in this world. Like I always say at the dances, 'let's all join hands in one big circle.'"
Within its half-century of existence, the Smoky Mountain Folk Festival has played host to thousands of talented musicians and cloggers. Brady Blackburn photo
Want to go?
The 50th annual Smoky Mountain Folk Festival will be held on Aug. 30-31 at the Lake Junaluska Conference & Retreat Center.
Two nights of the finest traditional music and dance of the Southern Appalachian region. The main shows begin at 6:30 p.m. on the grand stage of Stuart Auditorium.
Both nights will include a rich variety of the region's finest fiddlers, banjo players, string bands, ballad singers, buck dancers, and square dance teams as well as the marvelous sounds of dulcimer, harmonica, Jew's harp, bagpipes, spoons, saws, and folk ensembles.
Tickets for the main shows each night at Stuart Auditorium will be available at the door for $14 per night or in advance for $12 per night at the Bethea Welcome Center at Lake Junaluska. Children 12 years of age and under are free.
Admission is also free to everyone at the outdoor tents, where performers and musicians will gather and jam each night starting about 5 p.m.
www.lakejunaluska.com or 828.452.2881.