Archived News
Shining Rock faces charter renewal decision
Wednesday, August 28, 2019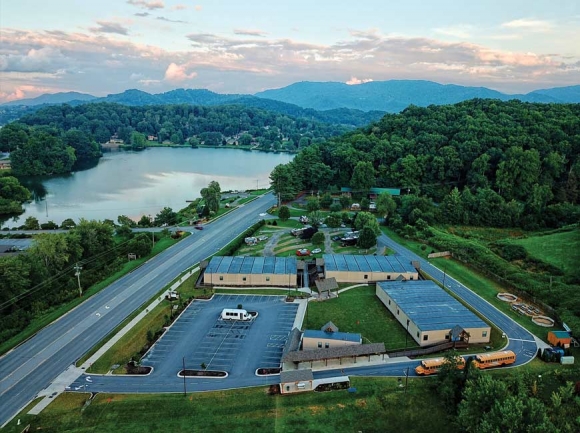 Shining Rock Classical Academy. A Shot Above photo
The next few months could prove fateful for Haywood County's only public charter school, Shining Rock Classical Academy, as a series of reports and performance reviews come due that will determine if, and for how long, the taxpayer-funded school will be allowed to continue to operate.
Schools like Shining Rock are called "charter" schools because when they first open, they're essentially given permission to operate by the state through a charter that must be renewed every so often, and can be revoked if schools aren't up to snuff.
The charter renewal process is a comprehensive analysis of the school's overall performance conducted by the state's Office of Charter Schools, and takes two years, according to Shaunda Cooper, an education planning and development consultant with the North Carolina Department of Public Instruction's Office of Charter Schools.
Shining Rock is now nearing the end of its two-year review process and has already completed several parts of it, including a recent site visit.
"The feedback that we've received was really what you'd expect from any kind of an audit or site visit," said Joshua Morgan, Shining Rock's head of school. "There were lots of positives but as you would want with any audit, there were opportunities to improve."
Among other things, the review process analyses compliance, finance and academic outcomes. Based on those factors, OCS then submits the review to the Charter School Advisory Board, which makes a recommendation to the State Board of Education, which then votes to accept, alter or reject the recommendation.
According to the OCS website, there are four recommendations that can be made — renew for 10 years, renew for seven years, renew for three years or no renewal at all.
To receive a recommendation for a 10-year renewal, a school must have no "current significant compliance issues," financially sound audits for the past three years and academic outcomes comparable to the local public schools (defined as being within 5 points) for the past three years, unless growth has been exceeded for the past three years.
A seven-year renewal requires the school have no compliance issues and financially sound audits for the past two years, and comparable academic outcomes or exceeding growth levels for two of the past three years.
Three-year renewals are issued to schools with compliance issues dating back more than one year "creating a pattern," financially sound audits for one of the last three years and comparable academic outcomes for one of the past three years or meeting growth levels for two of the past three years. Schools that receive a three-year recommendation are only eligible to receive such a recommendation once.
A recommendation of "no renewal" will be issued if there is a current and persistent pattern of compliance issues, or financially unsound audits in the past two years, or academic outcomes not comparable to local public schools in any of the last two years and if the school has not met growth in the last two years.
Cooper said in her three years conducting OCS reviews, such "no renewal" recommendations are very rare.
Of the three measurables, Shining Rock seems to be on most solid footing with its financial audits. An off-record source with knowledge both of the audits and the accounting principles used in their compilation said there weren't any obvious red flags, but a precipitous drop in enrollment on the order of 20 percent for this school year could change that because it directly affects the school's revenue streams.
Compliance, though, may be a matter of interpretation. Although Morgan and Cooper agreed that "compliance issues" usually center on exceptional children or IEP requirements, Morgan opined that board operations weren't part of that equation. Cooper said that's not right.
"Everything counts," she said. "It really comes down to, has a law been violated or anything that is supposed to happen by statute or by law or rule?"
Shining Rock recently cancelled a board meeting and suspended board operations pending a Sept. 15 board retreat in which its attorney, David Hostettler, is expected to address the school's history of violating public meeting notice requirements, abusing closed-session statutes, stonewalling public records requests and demanding fees for such documents in violation of state law, as well as holding at least two illegal meetings in the past two years.
"I think an illegal meeting is serious too," Cooper said, noting that she could not and would not comment on the specifics of Shining Rock's renewal application, but was instead speaking generally about the review process itself.
"Let's not undercut the severity of that because part of being a charter is having the trust of your community and to hear of things like that happening, that has an underlying current as well because you have to have the trust of your community for your school to flourish," she said. "That's kind of how charters work. It does matter if meetings are being held when they shouldn't be or if they're not being held properly so that the public has an adequate opportunity. That's an issue."
Perhaps more ominous an issue for Shining Rock's renewal — an issue less open to interpretation — is the academic performance of the school.
The renewal process considers the three previous years in its assessment and considers not only how the school compares to the local public schools, but also whether or not schools have met a target for growth.
The school's first year, 2015-16, was its best year academically, when Shining Rock's school performance grade outpaced Haywood County Schools. But that year won't be considered in the renewal process; performance data from the 2018-19 school year should be released in the coming weeks, and will be included in the school's renewal, along with data from the 2017-18 school year and data from the 2016-17 year.
During the 2016-17 school year, Shining Rock's school performance grade slipped slightly below Haywood County's, although state data says the school met growth expectations.
During the 2017-18 school year, Shining Rock's school performance grade slipped far below Haywood County's as well as slightly below the state's average, and state data says the school did not meet growth expectations.
That makes the forthcoming release of 2018-19 data an important piece of Shining Rock's renewal application. If the school is again determined to have "not met" growth scores like last year and academic outcomes didn't dramatically improve over that year, the school could see its charter renewed for a shorter period of time, or revoked altogether.
"I have confidence in what our teachers have done [over that year]," Morgan said. "Any time you have the type of spring like we had, you always want and hope for improvement and gains from there."
Spring, for Shining Rock, was a tumultuous one, with the hiring process of then-interim Head of School Morgan temporarily derailed due to formal allegations of improper disciplinary procedures levied by a trio of parents.
After an investigation by Shining Rock's own board-appointed attorney, Morgan was later cleared of those allegations by Shining Rock's governance committee during an illegal meeting for which required public notice wasn't given. Parents found out via letter a day later.
Morgan, though, remains optimistic about Shining Rock's renewal chances.
"I still think that we're still going to be on track for either seven or 10 (year renewal) because a lot of that comes into how the state tends to interpret that," he said. "My guess is, 10 is possible and seven is very realistic."
Shining Rock has never "exceeded" growth targets, making the 10-year and seven-year renewals a tougher target if OCS determines Shining Rock's performance isn't "comparable" to Haywood County Schools, the 14th-best school district in a state with 115 of them.
"If you're wanting odds on it, I'd put it somewhere like 70-75 percent for having that seven year renewal, and 25 percent for 10 years," he said. "OK, 1 or 2 percent — because you never say never — on a three year renewal, and then zero or 1 percent [for a recommendation of no renewal]. That's not even on the radar."
If all goes as planned, the State Board of Education will approve the release of the 2018-19 performance data during its Sept. 4-5 meeting. If that happens on time, according to Cooper, renewal reports will be completed in October and are presented to schools.
In November, any school not offered a 10-year renewal has the opportunity to appear before the board and make its case. In December, the Charter School Advisory Board reviews the reports one last time, and makes its recommendation. The SBE would then likely vote on the recommendations in January 2020.
Whatever recommendation is handed down to Shining Rock, Morgan says the opportunity for self-analysis of the process presented is a positive for the school and for his mission to return Shining Rock to being the best school in the county, as it was in its first year.
"The charter renewal process, I think, has been a positive for us as a school, especially as we make that transition from survival — which is what every charter school has to do when they get started — to being sustainable," Morgan said. "It's given us an opportunity to really look at where we've been and where we look to go. Our best days are still in front of us as a school, and I think that's the thing everyone here believes. We just have to make sure that we share that same vision and belief with everyone, to be able to move forward from here."