Archived Arts & Entertainment
Where the soul never dies: Richard Sterban of The Oak Ridge Boys
Wednesday, August 21, 2019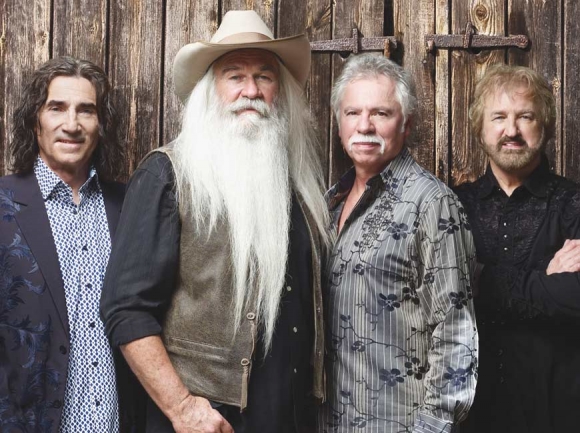 It's one of the most recognizable voices in all of American music.
When Richard Sterban famously coined the "oom-pa-pa-oom-pa-pa-mow-mow" bass solo during The Oak Ridge Boy's crossover 1981 smash hit "Elvira," he not only forever solidified his tone in the halls of country music, he also became a lifelong pop culture icon in the process.
And since he joined the legendary vocal quartet in 1972, Sterban, now 76, has stood alongside William Lee Golden, Duane Allen and Joe Bonsall for the better part of a half-century. In that time, the group has released 31 studio albums and 56 singles, including 14 top 10 country records and 17 number one songs.
But, what most folks may not realize is that the history of The Oak Ridge Boys goes way beyond its beloved Nashville roots. Initially called Wally Fowler & The Georgia Clodhoppers, the traveling gospel act performed in and around Knoxville, Tennessee, in the early 1940s.
During World War II, that original ensemble would be brought into the nuclear research plant in nearby Oak Ridge to perform for government staff (working on the development of the atomic bomb) and their families, hence the eventual name change.
Yet, it wasn't until the 1970s incarnation of The Oak Ridge Boys (Sterban, Golden, Allen and Bonsall) transitioned from gospel to country that the foursome found, and continue to find, immense success — onstage and on the airwaves.
Smoky Mountain News: So, how does a someone like yourself who's from New Jersey end up with The Oak Ridge Boys in Nashville?
Richard Sterban: Well, that's a good question. [Laughs]. I organized a group in college in New Jersey called the Keystone Quartet. It was a gospel group and we'd mainly sing in churches and revivals in the northeast.
One day, I got a phone call from the son-in-law of [bass singer] J.D. Sumner, who has Guinness Book of World Records title of "World's Lowest Bass Singer," and he wanted to hire a young bass singer to replace [J.D.].
So, I moved to Nashville right near the end of 1969 and joined J.D. Sumner & The Stamps Quartet. I was there six months when J.D. got a call from [his friend and collaborator] Elvis [Presley]. The Stamps got hired by Elvis and, all of a sudden, I find myself singing backup for the "King of Rock and Roll."
While I was singing with Elvis, I got a phone call from William Lee Golden, the long beard and long hair of The Oak Ridge Boys. But, back then, he was "Mr. GQ." He said their bass singer was going to leave the group and if I would be interested in taking the job. I really believed in what The Oak Ridge Boys were doing and I made the decision in 1972 to leave Elvis and be in The Oak Ridge Boys. I think time and history has proven I made a pretty good decision.
SMN: And when you look around you onstage, it's still the four of you …
RS: There's no question it's a very special group. You could go out on the street and you could pick any four guys, but to try and put a group together — it wouldn't be The Oak Ridge Boys.
Each man brings something different to the table, so to speak. But, I think that's part of our appeal. Over the years, we've learned to respect those differences and we've really become the best of friends. We all realized a long time ago that we need each other, you know, so we pulled together as a true team. We're a true brotherhood. And I think that that's a major factor in our longevity.
SMN: What is it about the country sound that still speaks to you? What about that genre sets it apart from other music?
RS: I think country music fans are very loyal. They will stick with you through thick and thin. And you know, we've been doing this for almost 50 years now. We just played New Mexico and Colorado this past weekend and we know some of our [longtime] fans are there — they always show up. They buy our tickets, our records and our merchandise. It's music that has touched peoples' lives. And the fans are the ones that really do keep us going.
Editor's Note: To listen to entire audio stream of this conversation, go to YouTube and search: "Richard Sterban Garret K. Woodward."
Want to go?
The 113th annual Canton Labor Day Festival will take place Sept. 1-2 in Sorrells Street Park in downtown Canton. The parade will be held from 10 to 11:30 p.m. Sept. 2.
Aside from a full schedule of events, including a handcraft expo, food trucks, classic car show, kid's village, and more, the live music at Sorrells Street Park schedule is follows:
Sunday, Sept. 1 ($10 at gate, $8 in advance)
• 2 p.m. Keil Nathan Smith
• 3:30 p.m. The Blackout Band
• 5 p.m. McKayla Reece
• 6:30 p.m. Joe Lasher
• 8 p.m. The Oak Ridge Boys
Monday, Sept. 2 (free to the public)
• 12:45 p.m. Super 60s Band
• 2:15 p.m. Jackie Lunsford & The Carolina Band
• 3:45 p.m. Ol' Dirty Bathtub
• 5:30 p.m. Ryan Perry Band
• 7:30 p.m. Balsam Range