Archived Arts & Entertainment
This must be the place: And we got to get ourselves back to the garden
Wednesday, August 21, 2019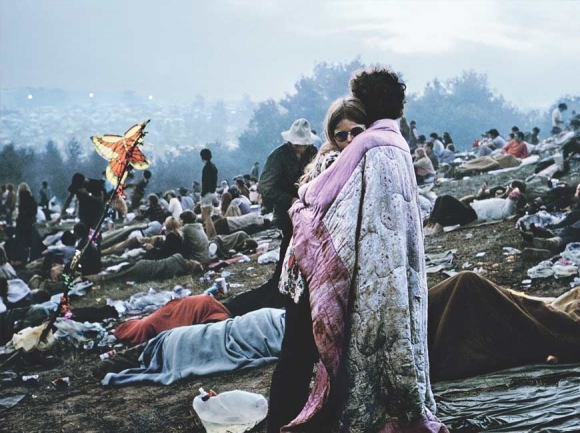 It was 50 years ago this past weekend that Max Yasgur, a 49-year-old conservative Upstate New York farmer, stood onstage at Woodstock in front of 400,000 youthful faces of the counterculture and simply proclaimed, "You've proven to the world that a half million young people can get together and have three days of fun and music and have nothing but fun and music …"
The pinnacle cultural moment of the Baby Boomer generation, the gathering — onstage and off — known as the Woodstock Music & Art Fair remains at the core of my old soul being.
The son of a 1960s flower child activist mother (she still is), I was raised on not only the ideals of the '60s counterculture, but also the music. The damn music, of which it all was the catalyst for a deep, personal lifelong passion for those acts, that scene, and writing about it all as a journalist.
At the beginning of the 1960s, you had President John F. Kennedy state during his inauguration speech, "My fellow Americans: ask not what your country can do for you — ask what you can do for your country." And it was just about three years later when our commander-in-chief was shot down on a sunny November morning in Dallas.
As the decade forged ahead, we then had the escalation and madness in Vietnam, a war that became a touchstone for anger and political change throughout the decade — a conflict found to be unjust as the American body count rose dramatically on the battlefields.
Not to mention the assassinations of Bobby Kennedy, Martin Luther King, Jr. and Malcolm X. And who could forget the violence and bloodshed between protesters and law enforcement during the 1968 Democratic National Convention in Chicago?
But, alongside the confusion and injustice was also a thick thread of compassion and change — the counterculture. Kicked off by the arrival of The Beatles in 1963 on our shores from the other side of the Atlantic Ocean, the Fab Four were the catalyst that set a young generation ablaze.
Soon, the Civil Rights Act of 1964 was signed and then the women's movement took flight, pushing aside stale social norms in hopes of a new day for equality and personal freedoms. Sadly, both are battles being fought in the 21st century — each a march of passion and pride already so far down an even longer road.
And yet, even when some point to Woodstock and say, "Well, actually, that was the end of the '60s," I tend to disagree. Sure, it may seem as if we're just going in circles every presidential election. But, I stand tall and point towards all of the changes made in our society in the name of racial equality, social acceptance and environmental conservation.
Obviously, we can (and will) do much more in those three realms, but the ball was let go to roll towards progress just about a half-century ago, when an entire generation of this country came together and stood up for what they believed was the right thing to do — help your brothers and sisters in their time of need.
The people in attendance and the music presented at Woodstock was about compassion and taking care of one another, that "we" could create a better tomorrow than what was presented before us today. And, for that, I'm an eternal optimist when it comes to the power of the human spirit for real, positive and tangible change in our society — I really believe it.
Aside from the 50th anniversary of the beloved festival recently appearing on the calendar, I'd also like to think the milestone is a moment for all of us to stop and reflect on what it is we're trying to do (and be, and are) as we're currently navigating choppy waters in dark, uncertain times.
Right now, there's a brand-new PBS documentary about Woodstock. I highly recommend any and all who read this column to track it down and dive deep. Regardless of age, the timeless message of hope and change remains as vibrant today (and tomorrow) as it did in that massive field in rural Upstate New York.
I've watched the original 1970 Woodstock documentary film dozens of times over the years, and I'm always so mesmerized by it: the live shows, the backstage banter, the beautiful people in the crowd and on the stage.
And it makes my heart ache and explode with such love and admiration for what a single person can ignite in our world: one spark that can start a wildfire of hope and change.
As iconic singer-songwriter Graham Nash once told me, "It's that peace is better than war and love is better than hate." Music is the universal language by which all understanding and change is possible. The ripple effect of Woodstock forever echoes outward into the universe, touching the hearts, minds and souls of any and all within its wake.
Life is beautiful, grasp for it, y'all.
Hot picks
1 The Marianna Black Library will present an evening with Fingerstyle Guitar Champion and Grammy Award winner Bill Mize at 7 p.m. Thursday, Aug. 29, at the library in Bryson City.
2 The Broadway hit "Mamma Mia!" will hit the stage at 7:30 p.m. Aug. 23, 30-31, Sept. 5-7, 12-14, and 2 p.m. Aug. 24-25, Sept. 1, 8 and 15 at the Haywood Arts Regional Theatre in Waynesville.
3 The "An Appalachian Evening" summer concert series will continue with The Kruger Brothers at 7:30 p.m. Saturday, Aug. 24, at the Stecoah Valley Center in Robbinsville.
4 The 10th season of the Concerts on the Creek summer music series continues with Troy Underwood (Americana/folk) at 7 p.m. Friday, Aug. 23, at Bridge Park in Sylva.
5 There will be a barbecue and craft beer tasting with Hoppy Trout Brewing from 7 to 9 p.m. Saturday, Aug. 24, on the Great Smoky Mountains Railroad, departing from Bryson City.